Ceramic Tiles 2023 – Fashionable Design Trends You Should Consider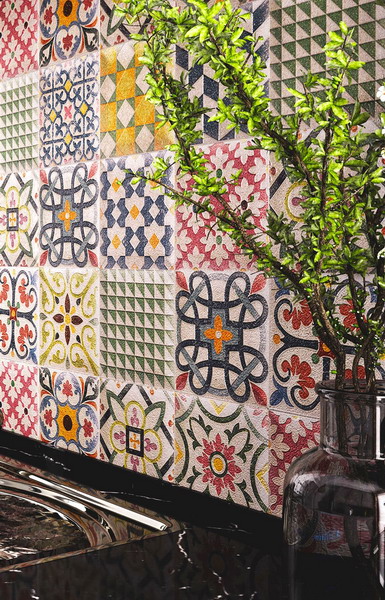 When decorating a bathroom, kitchen and even living room, we are constantly looking for sources of inspiration. At the same time, the fashion for some proposals has not passed for several seasons. What ceramic tiles will be most in demand in 2023? What colors are best for kitchen walls? What will look great on the living room floor? What tile patterns will add character to the bathroom? In this article we will try to answer all the above questions.
Beautiful collections of ceramic tiles 2023 – the main trends of the coming year
Choosing a tile for a home can be a daunting task if we don't know how to decorate a kitchen area, bathroom, or living room. What patterns, colors and shapes of tiles will be the most fashionable in the 2023 season?
Every year we are more and more willing to bring green shades and floral motifs to our homes and apartments. Living in the bustle of a big city, we want to surround ourselves with nature in the form of interior items. Plant motifs offer many possibilities for placement. Ceramic tile trends 2023 with flowers is a popular pattern in traditional and modern interiors.
Motives inspired by the natural world will wonderfully decorate the bathroom. They will brighten up the interior and bring a sense of freshness. One of the advantages is the versatility of floral tiles.
The manufacturers' offer includes tiles decorated with delicate hand-painted flowers, which are in harmony with the atmosphere of an idyllic country kitchen. In turn, for a loft -style bathroom, you can choose tiles with tropical leaves.
Ceramic tiles 2023 in dark colors are quite a bold decision. With the help of it, we will bring a little luxury to the room. For industrial interiors, matte tiles are suitable, and for apartments decorated in a glamorous style, it is better to choose polished porcelain stoneware.
You can lay out the entire wall with black tiles, diluting it with a different color or pattern if necessary. It looks great when paired with white tiles, marble or metallic tiles. The uniqueness of black is that it will look elegant and stylish in combination with any color.
Marble is considered the noblest material. However, in its basic form, it is not the most practical material for interior decoration. Therefore, lovers of marble design will be pleased that this season it will reign in many apartments.
2023 marble effect ceramic tiles are suitable for both living room and hallway floors and walls in the kitchen or bathroom. She makes the interior luxurious, sophisticated and very modern.
Marble looks best in large open spaces, but that doesn't mean we can't use its potential when furnishing a small apartment. Marble tiles can be successfully combined with wood, white and even black tiles.
Ceramic tiles 2023 – fashionable design trends
The timeless beauty of natural materials prompts designers to use them in the trendy 2023 ceramic tile collections. Stone and concrete are associated with austere interiors, but when placed correctly, they bring a warm atmosphere to our apartment. Such tiles will look especially organic on the floor.
Probably nothing will warm any interior as effectively and charmingly as wooden elements. They are commonly used in styles such as Scandinavian or Industrial, which are some of the most popular trends in interior design of the last decade.
Designer ceramic tiles 2023, the pattern of which completely copies the relief of the tree, has been present in our homes for several years. It makes the interior cozy and beautiful, be it the floor or the wall. It is a good idea to paste over the wall in the bathroom with tiles imitating wood (especially in the area of the shower stall).
When choosing wood-like tiles for a bathroom or living room floor, pay special attention to the wear resistance class. Unlike flooring, it will be more difficult to replace such tiles if they are damaged. The higher the class, the more resistant the material is to abrasion and damage.
The hit of the season and one of the latest trends in arrangement is ceramic tiles 2023 with a relief pattern. You can cover the entire wall with it, or select only a specific section. With the help of structural tiles, we will get a three-dimensional effect. It is perfect for decorating walls in the bathroom or above the counter in the kitchen. Structural tiles fit especially well with loft furnishings, glamor and modern interiors.
We will achieve a real explosion of colors with tiles in an eccentric and incredibly attractive patchwork style. The presented style is an ideal solution for the visual separation of the selected wall. In small rooms (for example, in a small bathroom ), we can successfully cover the floor with this tile. This practical patchwork tile is not limited to square frames and will perfectly accentuate the retro look.
The main trend of 2023 in modern interiors will be not only "patchwork" ceramics, but also tiles with a terrazzo pattern, which have recently gained popularity in the eyes of designers. This is a pattern imitating a stone, with crumbs of other materials of different colors interspersed into it.
Multicolored terrazzo tiles will fit both the aesthetics of industrial interiors and retro. It will appeal to fans of original design solutions.
The choice of tiles is so huge that sometimes it is difficult to decide on just one pattern. Therefore, interior designers recommend combining modern ceramic tiles of different colors, patterns and even sizes in one room.
In 2023, we will increasingly move away from minimalism in favor of eclecticism. The combination of tiles of different structures, shapes and colors will be one of the leading trends in interior design.
Using one-color hexagonal honeycomb tiles, we can create a classic composition. For designer interiors, you can use tiles with different structures, enriched with graphic geometric patterns, which go well with wood-like tiles.
Where to find trendy 2023 ceramic tile collections? Your best bet is to look online for inspiration. You can also buy tiles in a regular showroom, where we can not only check the actual shades of the tiles in sunlight, but also get a feel for its texture. In addition, we will compare the quality of the ceramic tiles and talk to a professional.