New Trends for Interior Doors 2022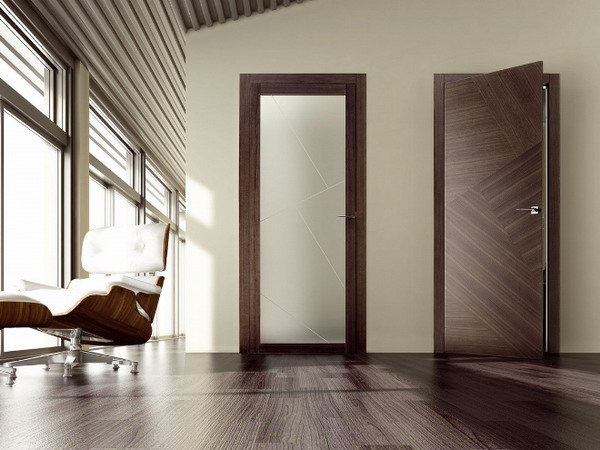 2021 promises to be bright and bold in design. Anyone who is interested in making his house look stylish just needs to know about top trends in the interior. In order for the interior decoration of the apartment to look holistic, it is imperative to think over the option with transitions from one room to another. Interior doors will help to complement the overall style and create the effect of completeness of each room separately.
Choosing doors takes more than one day, but to simplify this difficult task, we have collected in one article all the popular interior doors of 2022.
Interior door design trends 2022
The design of interior doors is extremely important, because they can become the main focus of the entire interior. You need to choose such a product so that it logically completes the overall picture. It also quite often happens that interior doors separate two rooms made in different styles. This complicates the task, but it can be solved. We invite you to familiarize yourself with our tips and a selection of current door trends in 2022.
Doors with moldings
Molding doors are recognized as one of the popular trends of the coming year. Molding is a thin, most often aluminum strip, attached to the door leaf in the form of a frame or some kind of ornament.
Classic white doors will perfectly complement the molding.
This design will appeal to lovers of modern European style. Refined and restrained decor will perfectly complement the interior, embodied in such styles as modern, hi-tech and minimalism.
The combination of gilded molding with ornaments looks sophisticated and sophisticated.
Moldings on various interior items are perfectly combined with each other, creating harmony in the room. Quite often, in addition to moldings, doors are decorated with milling, which gives them a special sophisticated look. Perfect combination of molding and glass door.
A common option for molding trim, if you do not need to focus on the door, but you want to decorate it. Even in the most striking interior solutions, the molding will look appropriate.
Invisible doors
The next interesting design solution is invisible doors. It is worth noting that they do not always look concise indoors. For example, if there are several doors, this will emphasize the enclosure of the space, or vice versa, it will create the effect of a walk-through room.
And sometimes an ordinary doorway just frankly spoils the look of the wall. Concealed doors are designed to help solve this problem. They are made of a special door leaf for painting, finishing and decoration.
Invisible doors are a suitable solution in order to hide the entrances to the bathroom and toilet located nearby.
The hinges in them are also disguised, and the door frame does not provide for platbands. Only the handle will help to designate the door, which can also be successfully "hidden" by designating it in the form of a vertical section of the canvas (especially in the case of sliding doors).
The ornament on the wall can not be interrupted, but can be continued on the door.
In standard swing designs, conventional handles are more often used for convenience. The door, being a continuation of the wall and merging with it, gives the interior an unusual appearance.
It is not at all necessary to paint the door in the same tone as the wall. It can be a bright color accent in a room.
The invisible door can be made in the form of a mirror sheet.
Sliding doors are especially popular now, because if you wish, you can create the effect of their absence, thereby connecting the two rooms.
Soft upholstery of doors
"Soft doors" are recognized as relevant in the near future. We are accustomed to the upholstery of only entrance doors, so in the apartment itself such a move looks very extraordinary.
Upholstery is usually made from dermantine and vinyl leather. The first material is now considered outdated: leatherette upholstery is actively used in modern design. It is used for various decor, including interior doors. Decorative nails are still used to give the product a special grace. There are many unusual options for their placement on the canvas, everyone can choose a pattern to their liking.
The advantage of this upholstery is its high sound and heat insulation performance. It is also worth noting their practicality and water resistance. "Soft doors" are often used to decorate workspaces and offices. They look quite massive, but if you choose the right color, you can make them a highlight of almost any interior.
A popular option for door upholstery in the office.
"Soft door" can be an excellent complement to the overall color scheme of the interior.
The shade of the door, neutral in relation to the general color scheme, will give the room lightness and create a feeling of coziness.
An interesting non-standard solution is velor upholstery of interior doors.
Decorative nails do not always suit the style well, sometimes the doors are pulled in stripes.
Solid wood doors
Natural wood products have always been considered a symbol of quality and durability. But before, only wealthy people could afford furniture made of good material. Today the manufacturer offers a lot of new models for every taste and wallet. Modern technologies make it possible to use an alternative to expensive varieties.
Nonetheless, solid wood furniture is still a luxurious and high-quality piece, and the most environmentally friendly. Wooden doors will perfectly complement and will organically fit into almost any interior. Today's fashion allows their combination both with a more classic style and with the most extraordinary new trends in the interior.
Doors made of solid oak with a pronounced wood pattern, especially in dark colors, will add rigor to the room, and also successfully dilute the light interior.
Solid alder is perfect for light rooms in warm colors. Ash is often used to decorate an apartment in the old style. Solid pine doors look harmonious in almost any room.
Walnut veneered doors
Veneered doors are unlikely to ever cease to be in demand. This is the most budgetary and common option. Veneer can be different, and this gives buyers greater freedom of choice.
There are synthetic species that are treated with various dyes and preparations to imitate more valuable wood species. There are also natural ones, made of such species as oak, larch, ash. Doors made of this material look quite natural.
The most popular among the fashion trends of interior doors in 2022 is the color "walnut". In the natural version, the unique live wood pattern and warm natural shade are especially appreciated. It suits most modern styles and goes well with a whole range of other colors. Typically, designers divide walnut veneer into the following shades:
light coloured;
red;
amber;
dark;
gold.
Light walnut is considered neutral, it is well suited for interior doors that separate rooms made in different styles.
Red walnut looks expensive and stylish. Walnut veneer in an amber shade is perfect for any space if you want to add light and warmth to the interior.
The dark version of walnut veneer interior doors matches perfectly with warm or cold colors in the interior.
The golden hue of walnut veneer will create a "highlight" effect on the door.
MDF doors nordic oak
One of the leading places in the ranking of fashion trends for interior doors in 2022 is occupied by doors made under Nordic oak. This design is well suited for an interior decorated in a Scandinavian or Provence style.
MDF doors are an optimal replacement for expensive natural solid wood products. According to experts, oak is a common and fashionable color in 2022. Such doors retain their consumer appearance and functionality for many years.
Nordic oak doors in a Scandinavian style interior. For light and white rooms, cold oak doors are perfect. The dark version of the door is often found in the Provencal style. Nordic doors made of bleached oak in the apartment. For a country-style interior, a dark version is also used.
The main color palette of interior doors
For a long time, the decorative function of doors was secondary. But now, when such a wide range of products is presented on the market, it has begun to play an almost leading role. In order to correctly select the door, the buyer must evaluate not only the functional properties, but also the material, decor and color of the model.
When choosing interior doors, the question of choosing a shade arises. It should be such that the product looks harmonious against the general background of the room. Doors can be combined with anything: with furniture, with a floor, with platbands, with skirting boards, with walls, or even make them completely unusual.
There is a rule that says that the color of the doors should be focused on the overall color scheme of the hallway, corridor and hall. Regardless, people tend to stick to neutral shades that would suit any room. These can be natural wood colors. It can be dark or light, reddish or yellowish, cold or warm.
It should be borne in mind that warm tones with yellowness will bring coziness to the house, dark ones will give the interior austerity, and light ones – lightness, and they will also visually expand small rooms.
Neutral doors have always been considered a universal option: white, beige, gray. They do not have to be combined with the general style of the interior. Such an original move is recognized as one of the best options for the selection of fashionable colors for interior doors. Also, doors are considered a modern stylish solution and a relative novelty in the design environment, one side of which is made in a single color, and the other has its own color scheme or is supplemented with decorative details.
Combination of doors with furniture. Doors matched to the walls. Choosing doors that are similar in color to the flooring is considered a safe bet. Sometimes the door, despite the fact that it is the only piece of furniture in its color, looks laconic and neat. Framing the rooms with skirting boards in the color of the door will bring the space together. The white door looks neutral and harmonious in almost any room.
Contrasting colors in door decoration
Every day there are more and more new extraordinary design solutions. For example, contrasting colors in the design of doors began to be actively used already this year.
Pantone, the internationally renowned American Color Institute, announced last season's ultraviolet color. There are only rumors about 2022. One of the assumptions is that the most popular shade will be called "Sargasso Sea". Deep blue looks expensive and luxurious.
The trend to paint doors in contrasting colors has been around for a long time. It is such a product that will become a bright accent of the room. It is able to create an interesting room format and add a kind of charm to it.
Contrasting colors can go well. The door is in one of the most popular colors of the current year. The blue door is suitable for decorating a variety of rooms. The choice of colors is endless. You just need to show your imagination.
Painting and drawings on the doors
With the help of door decor, you can add originality to even the simplest interior. There are many ways to decorate a product. You can simply paint the door with your own hands in one or more suitable colors, you can use hand painting or apply stencils. Stained glass windows, mosaics and author's images look great – such a bold decor will make the room special. Bright stained glass door in trendy colors.
The door in the children's room can be designed by the children themselves; for this, you can attach a drawing board to one of its sides.
You can very easily decorate the product yourself with a bright geometric ornament. Themed drawings are very popular now. Such a door will tell the guests of the house about the interests and hobbies of its owners. Graceful little designs will fit perfectly on your door if you don't want to overwhelm it.
After reading our recommendations, you can safely start choosing doors. A well-chosen product will not only fulfill its intended purpose, but will also organically fit into the interior. It will delight the eyes of visitors to the room for a long time.