Bedroom Design Trends 2023: Styles, Colors, Finishes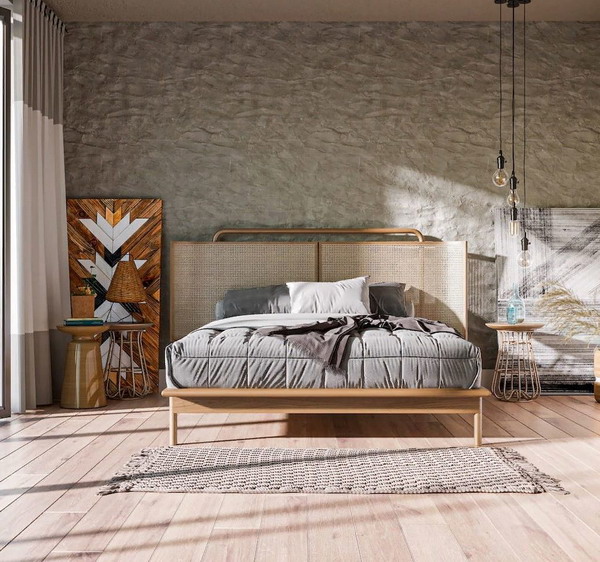 The bedroom is a place of rest, safety, physical and mental relaxation, where you isolate yourself from the whole world in search of inner harmony. Sleek and elegant design that brings pleasure is an integral part of the bedroom. If you want the design of this space to stay relevant for as long as possible, choose neutral, classic or modern touches first. At the moment, environmental friendliness and minimalism are among the leading ideas of the 2023 bedroom design trends. In addition, the trend is defined around the world as the unity of society with nature and measures to preserve it.
Natural materials, safe combinations, live plants, stone, wood, daylight are all part of the 2023 bedroom design. Another trend is the play of textures. Bold combinations of textiles can completely transform the look of the bedroom.
Cozy and modern bedroom design 2023
One of the most important places with a special relaxing atmosphere in the house, of course, is the bedroom. This is a private area, the layout of which must be taken with particular seriousness. It is a reflection of our design tastes, our outlook on life, our attitude towards comfort concepts. In general, the 2023 bedroom decor trend is closely related to ergonomics and simplicity.
In this context, given the size of an apartment or house, a bedroom can combine several areas, such as a sleeping area, a children's corner with a cradle, a dressing room and a small furnished office. Indeed, a cozy atmosphere promotes relaxation and allows you to escape from the daily routine.
The supporting elements of this interior are, first of all, chic, pleasant to the touch curtains, made in warm colors. We should also note the monochrome range of kilim and knitted rugs, as well as the furniture, which embodies the coolest trends in interior design. Let's not forget the strong presence of wood in the interior, sometimes in the form of ultra-modern wall cladding.
In addition, providing a cozy and complete relaxation and rest, the sleeping space performs a number of different functions. Thus, it should not be cluttered, but at the same time, the space can be adapted to fulfill the different daily needs of the owners of the sleeping space. In this regard, transformable pieces of furniture are often used in interior design today. They save a lot of space and can fit into the interior very harmoniously.
In addition, sofa beds, modular sofas, built-in models, such as drawers, niches in beds and wardrobes are used. A great option is to assimilate the space around the window. For example, as an option, include the space on the windowsills as book storage. In other words, anything that makes being in the bedroom enjoyable is okay.
Bedroom Design Trends 2023: Colors and Finishes
Beige, white and cream have long been the most famous colors in room decor that evoke calm and relaxation. However, it should be noted that shades such as dark brown, gray and even black have become popular in recent years. In addition, it is predicted that gray will forever settle in the interior, in particular, in combination with white. A room in darker grays certainly has a special allure, especially when the dark brown of the wood is also present as the ultimate color expression.
Another strong bedroom trend for 2023 is the use of black and white, a very dynamic and effective combination to create a contemporary bedroom. However, in order not to overdo it with the effect of dark shades, pastel shades are returning to the design.
Decorating a bedroom is definitely something very personal and many people want a calm and relaxing atmosphere that is conducive to rest and sleep. Others prefer a bright, energizing environment that breathes life into every morning upon waking. The use of bright colors can be one of the options for solving this problem. It is recommended to use bright colors in small details, such as a rug on the floor, decorative pillows or blankets. In addition, it may also encourage you to make wall decoration in brighter shades. One interesting trend is to paint only one of the walls in a room, opting for white or pale neutrals.
In fact, the variety of materials and finishes allows you to embody any fantasy in the bedroom. The bedroom decor trend of 2023 proclaims the use of furniture made from natural materials, the shades of which belong to a light and airy palette. The favorite of the season is white color, which is able to visually expand the space. It goes well with any other tone and brings a sense of calm and luxury. Of course, such a bedroom design solution can always be diversified with a contrasting detail like blinds or a carpet, a picture or a blanket on the bed.
Wall and ceiling decor options are also widely known. To make your personal style unique, you can focus on materials that imitate wood, masonry and stone. The items mentioned will add interest to the overall style of your room. Considering the overall design concept, it is now customary to focus on any element that plays a central role. For example, it can be a fireplace, a headboard or a canopy over the bed. The decorative effect of these elements is enhanced by various textured materials, embossed wallpapers or fabrics made from natural fibers.
Bedroom Design Trends 2023: Popular Styles
Scandinavian simplicity
If you're looking for an easy way to update your bedroom in 2023, consider Scandinavian style. Accurately shaped accessories, hanging bedside tables, open bookcases and massive Scandinavian-style bed frames are leading the trend. By the way, this particular style will help you create a more organized space, and warm gray and cream wood accents combined with natural light create a really calming atmosphere. The layered brick walls and soft textures also give the interior a unique charm.
The Scandinavian-style bedroom is both relaxing and understated. Simplicity is a key concept in any space that is based on the Danish concept.
Eco style
Green style fans will appreciate heat-treated wood, a new material that is growing in popularity. An accent wall with a wood pattern will add a touch of style to any contemporary bedroom. A massive custom-made bed, a durable bedside table, and a high-pile rug will please even the most demanding connoisseur.
Bedroom Design Trends 2023: Loft Concept
Minimalism is in fashion right now. The loft style perfectly matches his requirements. The interior of the bedroom, decorated in this style, has the maximum amount of free space. The atmosphere is complemented by large windows and interior skylights; the walls are covered with rough plaster or masonry. Ceilings in most cases are painted white or gray.
Art Deco style
Antique and oriental details combined with various materials are an integral part of the Art Deco style. The bedroom, made in this style, is designed for creative people who love to experiment. A large bed, paintings on the walls and massive ornaments in shades of blue, orange, purple or green best fit the 2023 bedroom decorating trend.
High tech design
Looking for something extravagant and modern? In this case, you can choose a high-tech design for your bedroom! Its main features are shiny metallic surfaces and graphic lines. Built-in cabinet furniture is welcome – a practical and unobtrusive method of organizing the interior. Finishes and textiles are selected mainly in gray, black and white. In addition, green, yellow or red decorative elements can be used.
Modern style
Soft lines, plastic shapes and sophistication are the main things that make an impression in a modern bedroom. For interior decoration, it is allowed to mix glass, plastic, stone and wood in unlimited quantities. For comfort and peace, pastel colors should prevail.
Key Elements for 2023 Bedroom Decor Trends
Original headboard. You can change the look of your bedroom with just one subtle but no less important detail – the headboard. Plus, you don't have to buy it from a store to be in line with this trend. Instead, you can make this piece of furniture yourself, if you have skillful hands, and embody your own style and preferences in the design.
A new take on classic wallpapers. The history of wallpaper over the past decades is incredible. Once upon a time, their use became an important part of interior design. Designers use them to add color and contrast to spaces.
Wallpaper is perfect for a room that lacks graphics and to complement a variety of interior styles. You can choose from bright hues or a more modest design that is meant to add variety without ruining the color scheme of the bedroom.