Modern Garden Decoration 2024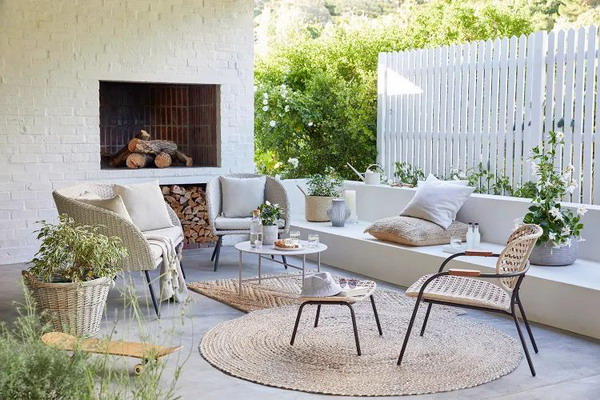 Summer is here and as soon as the temperatures rise, we move our lives outside as much as possible. After all, there is hardly anything better than enjoying the wonderful weather with a refreshing drink in hand.
Our own garden is our little oasis of calm and the perfect place for relaxation. Timeless, chic and inviting – the minimalist garden design is again one of the biggest garden trends 2024 this year. But to make the warm summer evenings even more comfortable, the right modern garden decoration 2024 should not be missing.
It doesn't matter whether you want to completely redesign the outdoor area or simply want to set great highlights, you've come to the right place: give your outdoor area an elegant touch and be inspired by our decoration ideas and design tips!
The modern garden as a garden trend for 2024
Clean lines, geometric shapes and materials such as concrete, wood and stone give the outdoor space a contemporary and modern touch. Mediterranean-style garden furniture is also typical and ensures a comfortable and cozy ambience. In addition, the modern garden is usually particularly easy to care for and therefore ideal for those who do not have that much time for garden care.
Modern garden decoration 2024: Simple shapes and lines are in trend
The modern garden decoration 2024 is a great way to unleash our creativity and transform the garden into our small, modern paradise. Rectangular and square outdoor areas create a bold and playful effect and frame the garden.
Wood, gravel and natural stone for modern garden design
Large lawns and magnificent flowers are usually out of place in the modern garden. Materials such as wood, natural stone, concrete and gravel are trendy and an excellent choice for an elegant and modern garden decoration in 2024. Wood as a floor covering for garden paths and walkways exudes a homely and cozy atmosphere.
Smaller areas, on the other hand, such as stone beds and seating areas, can be made very interesting with gravel. The combination of concrete and wood in particular creates a warm contrast and gives the outdoor area a cool touch. Are you dissatisfied with your garden floor but have no way of repairing it? Then you would be in good hands with an outdoor carpet as a modern garden decoration 2024.
The accessories are now available in all imaginable designs and sizes and set decorative and cozy accents in no time. In order to achieve a uniform overall picture, you should make sure that the outdoor carpet matches the rest of the furnishings and harmonises with the garden furniture. To keep the color and material fresh for longer, choose outdoor rugs that are weatherproof and extremely durable.
Simple colors for modern garden design
No matter whether for a rustic or modern garden decoration – which colors we choose for the outdoor area is always a matter of taste. But so that it doesn't get too colorful and overloaded, you shouldn't combine too many colors with each other. If fewer materials are used for the paths and co., this also applies to the color palette.
White and cool shades of gray as well as beige radiate timeless elegance and can be wonderfully integrated into the minimalist ambience. And if you like it a little more colourful, you can set great color accents with small accessories such as cushions or blankets. The most important thing for the modern garden decoration 2024 is that everything is color coordinated.
Modern garden lighting for a romantic atmosphere
So that the garden can also be used in the evening, the right lighting is an absolute must. Whether fine fairy lights, candles or solar lights – outdoor lights create a magical and romantic atmosphere and are an important part of modern garden decoration 2024. While lanterns are a timeless classic, candlelight is perceived as much warmer and more natural. With path lights, on the other hand, you make sure that you don't trip. Lampions and lanterns for decorating trees and walls are particularly popular this season.
The privacy screen in the modern garden
Whether fences or wood, stone walls or dense hedges – a privacy screen in the garden creates more privacy and conveys a feeling of security and comfort. This not only protects you from prying eyes, but also allows you to visually separate different areas in the garden from one another. In order to achieve a harmonious overall picture, you should of course choose a style that is in harmony with the rest of the furnishings and garden decoration.
Set great accents with modern garden accessories
Whether modern lounge furniture, a small seating area or robust wooden benches – comfortable seating and a garden table are the ultimate centerpiece of every garden. You have a free choice in terms of design and materials – anything you like is allowed. Rattan garden furniture is trendy and a great way to turn the garden into an extra living room. Modern garden decorations, such as colored cushions, blankets and baskets, round off the garden design perfectly and create a relaxed atmosphere.