Popular Furniture Colors In 2022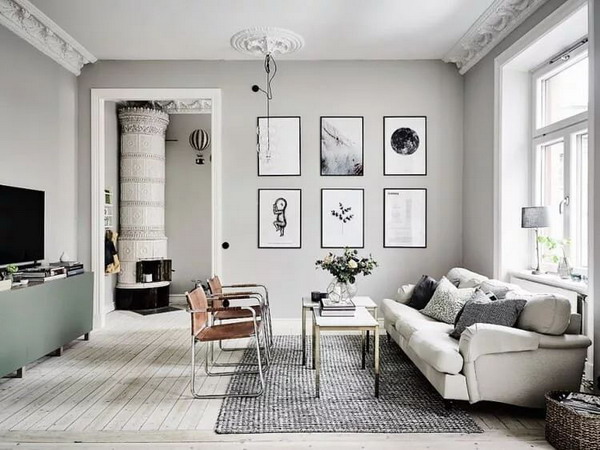 Tastes and preferences in housing design are not the same for different people. The choice of colors for the interior is of great importance because it affects the mood and perception of the space as a whole. Someone loves bright colors and tries to fill their home with them. Others prefer a calm range that promotes relaxation. From our article you will find out which trendy furniture colors in 2022 are used for interior decoration and what you should look for when choosing.
9 popular color trends 2022 for choosing furniture
Pink and any shades of it. Perhaps it's worth starting with pink, it is in favor this season. Its muted shades in various combinations are preferred. You can compose with fairly pale tones, or you can play in contrast, adding juicy yellow, green, deep blue.
Cocoon beds. It is these sleeping places that, according to modern designers, will become popular in 2022. That is, very cozy, lush, with an abundance of fabrics in the design of the headboard and footboard. This is a kind of house where you can hide and take a break from everyday problems.
Emphasis on geometry. In 2022, you should pay attention not only to fashionable colors of furniture, but also to materials, shapes, prints. The trend will be a striving for modernity, namely, asymmetric lines and an abundance of geometry. This also applies to the shapes of objects and the drawings on them.
Using natural materials. People are increasingly striving for everything natural, and modern designers are trying to satisfy this growing need, boldly experimenting with textures and materials. The trend is the combination of wood with marble, ceramic, metal or concrete elements.
Soft lines of forms. Regardless of what trendy colors you choose for your furniture in 2022, shape is also important. Rounded outlines, which were the trend of the 70s of the last century, are gaining popularity. Furnishings with soft curves look more elegant and give the whole room a cozy feel.
Blotches of metal elements. Metal is gaining popularity in interior decoration this season. Brass, bronze (including blackened) details, gilding are welcome. The room will perfectly revive not only the colors of furniture that are fashionable in 2022, but also metal figurines, all kinds of decorative elements, and unique art objects.
Striving for individuality. Many people try to decorate their home with unique items made in a single copy on a special order. People appreciate in such things not only the appearance, but also the story itself, a certain special subtext.
Attention to small details. In 2022, this will be emphasized. The efforts of the designers will be aimed at giving the home individuality precisely due to the smallest details in the interior design. This can be, for example, a unique type of seams on textile elements or unusual catchy fittings, a special shape of lamps, etc.
Contemporary Art Deco. The trendy trend of the season, implying luxury, an abundance of light, shiny and glossy elements in the design of the premises.
Fashion Trends in Furniture Colors in 2022
The combination of white with other colors
You can emphasize a particular shade in the interior by adding contrasting colors nearby, or neutral white. In 2022, you can safely bring to life even very unusual combinations of colors and shapes. Designers always find a fresh approach, come up with bright and unique interiors. The role of a contrasting detail can be played not only by decorative elements or furnishings, but even by the walls themselves. It is important that the entire space, combining unique independent art objects, looks entirely complete and harmonious.
Using trends from past years
Fashionable furniture colors in 2022 echo the trends that were popular in the 50s and 60s of the last century. As then, shades of brown and red, green, orange, bright yellow are now welcome. They look great in modern interiors, leaving an imprint of the fashion trends of the old days. This can be seen in furnishings, decorative and textile elements, and other accessories.
Nature paints
Among the trendy colors of furniture in 2022 are all natural shades, repeating the landscape colors of different parts of the earth. These are green, blue and blue, brown, gray, beige colors. Home decoration in such colors creates a calm, relaxing atmosphere, promotes relaxation and good rest. At the same time, it is very important that the design does not turn out to be too boring, inexpressive. Try to pick up discreet, but at the same time beautiful and graceful pieces of furniture (mostly made of natural wood), good textiles, noble range of shades.
Elements of luxury in the interior
In the arrangement of housing, considerable importance is attached to how comfortable a person feels in it. It is important to harmoniously combine furniture, textiles, decor elements and shades of colors in one space. Designers offer a wide variety of options for every taste. For lovers of luxury, thick saturated tones in the interior, like dark purple and black, are suitable. Metal decor looks noble, and crystal adds sophistication. The main thing is to collect in one space stylish, beautiful objects harmoniously combined with each other, and the effect will surpass all your expectations.
Among the fashion trends of 2022 are quite austere light colors of furniture. Best of all, they fit into strict interiors with a bias in geometric themes in the spirit of minimalism. At the same time, modern materials are more often used, which are distinguished by great strength and practicality. Interiors made in this spirit are spacious, laconic rooms filled with light, without unnecessary clutter with objects and decor elements. Everything is provided for the maximum convenience of residents.
The same principles are used in the choice of colors. The priority is modest natural natural colors, without sharp contrasting transitions.
5 popular neutral shades among trendy furniture colors of 2022
Neutral shades often serve as a base against which other, more active colors stand out brighter. Below are the Top 5 Neutral Tones That Will Trends in Fashionable Furniture Colors in 2022.
French vanilla shades. Any variation of light yellow, reminiscent of the gentle rays of the sun. This range is especially relevant in rooms where there is not much natural light. Creamy yellow vanilla shades visually expand the space, make it lighter. This is a great combination for any living room, bedroom, living room, nursery and kitchen as well.
Mint color. Another modern trend is mint shades. This is a trendy color for furniture in 2022, which sets a calm tone for the environment, promotes relaxation, relieves stress. It goes well with brighter details in the interior, it looks good not only in bedrooms and guest rooms, but also in the bathroom.
Shades of hazelnut. This refers to a light brown tone reminiscent of hazelnuts. Such interiors look quite neutral, but at the same time noble and respectable. In addition, the light shade in the decoration gives the room a more spacious look.
Gray-green paints. Fashionable furniture colors for 2022 are all sorts of shades of green, especially when combined with gray. Such interiors look modern, bright and surprisingly fresh. Moreover, gray-green tones can be used as a basis against which furniture in white, blue, beige colors will look great.
Warm gray tones. Gray has always been and remains a very popular shade. It is more suitable for decorating bedrooms and living rooms, creating a calm, pleasant atmosphere in them. Optionally, you can decorate the interior in contrast or use monochrome.
Trending stylistic trends for interior design in 2022
When decorating a home or other room, you should pay attention not only to the fashionable colors of furniture in 2022, but also to general features in the design of a modern interior. Now the priority is minimalism, laconic forms, an abundance of light and free, uncluttered space.
Listed below are the design directions that will become the most in demand in 2022.
Hi-tech style
A modern trend showing progress and high technology development. High-tech interiors are distinguished by completeness of forms, an abundance of light, and a calm color scheme. Add metal, plastic, and glass to this. As for furniture, it is in this style that there is a place for modern transforming sofas and an abundance of all kinds of household appliances.
Its distinctive feature is asceticism, restraint of tones, the advantage of white, cold gray, blue interspersed with warm yellow elements. Solid wood furniture, natural skins instead of carpets, a real fireplace, sections of walls made of stone or with visible brickwork are well suited for such interiors.
Loft style interiors
The loft is characterized by the features of an abandoned factory premises, simple rough details, a minimum of decor. In this vein, fashionable colors of loft furniture are also formed in 2022, with restraint and naturalness being a priority. Furniture items should be as simple as possible and made of wood. Add huge windows, rather rough wall trim, stone or wood flooring.
Eco direction
The recent trend is a departure from everything unnatural, a striving for natural materials, filled with tranquility, beauty and perfection. Trends in 2022 – real wood in interior decoration, natural colors, a lot of light and living vegetation. The interior should be harmonious and practical.
In general, the choice of direction in the design of your home is a personal matter for everyone. Here you can easily combine chips from different styles, break patterns, add your own extraordinary ideas. Minimalism, for example, goes well with elements from fusion and loft, vintage is friends with boho, and country with Provence. Show your imagination, taste and create a functional and at the same time cozy interior in your home.
Trending ideas for decorating a living room in 2022
The living room is the main room in any house; it is here that the whole family and guests often gather. What design trends and fashionable furniture colors will be relevant for living rooms in 2022?
In the first place – eclecticism in interior design. This refers to the mixing of elements from completely different stylistic directions, the ability to implement the most daring decisions.
Such unusual combinations look most organically in the living room; you should only carefully approach the choice of colors and successfully coordinate individual items with each other.
Important! Be extremely careful when choosing eclecticism as the main direction in the interior, do not turn your home into a kind of furniture warehouse.
It's not enough just to choose fashionable furniture colors for 2022, they still need to be organically fit into the overall design. For any surfaces (which can be painted or plastered), a light neutral range of shades is well suited.
Living room in a minimalist style. An excellent option, especially for rooms with a small area. You can combine the entire apartment into one large space, and then conditionally divide it into zones, or create a studio from part of the existing premises.
A non-standard feature of minimalism is fiberglass wallpaper. The beauty of this finishing material is that it can be painted, and in several layers.
Any multifunctional objects will fit well into the interior and make it as comfortable as possible. For example, such a piece of furniture already characteristic of minimalism as a transforming sofa.
When it comes to choosing a trendy furniture color for a minimalist style in 2022, neutral tones are preferred. Sea green items, for example, will brighten and refresh your living room.
Full wood trim is suitable if your living room is spacious enough. Floor and wall surfaces can be covered with wood veneer or panels, which will blend in harmoniously with furniture made from solid wood.
As a contrast, you can make the floors white using stone or tiles. And in order to refresh the space a little, add live plants to the interior, but do not overdo it with greenery, a sense of proportion is important here.
Fashionable furniture colors in 2022 – red and purple
These two shades will be very popular this season.
Moreover, there are many variations of purple and red, and they are all trends of 2022, competing with the equally fashionable pink.
The interiors, made in red-violet tones, look cheerful, bright, but at the same time they are not vulgar, quite refined.
Decor ideas for interiors 2022
An extraordinary approach is becoming a trend in decor, the embodiment of bold unimaginable ideas in interiors. Moreover, many of them are taken directly from the reality that surrounds us.
Star motives. Visualization of cosmic motives. This can be presented in different ways, for example, strewn the ceiling with star lamps or use wallpaper depicting planets and other objects in the galaxy. Show your imagination, let the lampshade look like a flying saucer, and the patterns of textiles also convey echoes of space. Fashionable furniture colors in 2022 for this trend will be deep purple and dark blue.
Every year the Universe reveals to people more and more of its secrets, hence the desire for the stars, even in interior design. The existing large number of modern accessories and materials will help to convey all the beauty of the galaxy.
Seashells, corals and waves. The sea is the current trend in the interior 2022. Elements of this theme are used in decorative and textile details, furnishings, etc. Best of all, all kinds of scallops, scales and shells will look at a fairly calm neutral background. The theme will be ceramic tiles that resemble scales in shape and color and are made in blue and silver tones.
Fringed elements. To recreate a modern interior, it's not enough to choose a trendy furniture color for 2022. Other interesting details like tassels and fringes on textile elements play a significant role. Such expansive fragments will be appropriate even on the pieces of furniture themselves, mirrors, lamps and other components of the situation. Tassels and fringes give the home a special atmosphere of comfort.
The luxury of velvet. Velvet always looks warm and at the same time majestic, even luxurious. When choosing a fashionable color for furniture upholstery in 2022, make it velvet as well – the interior will turn out to be unique and simply magnificent.
Brass fittings. The trend of this season is brass taps in the kitchen and bathroom. They look not only beautiful, but even exquisite, so their popularity is not surprising. For small kitchens, they will become a kind of ray of light. A spacious bathroom finished with marble (concrete, other stone) will add elegance and sophistication.
Glamorous urban details. This refers to all kinds of decorative glass elements that are becoming a trend along with fashionable furniture colors in 2022. The latest squeak is glass cladding panels in dark frames. The shapes of the structures should preferably be regular, rectangular or square.
In a similar way, partitions for space zoning, shower cabinets, window and door openings, etc. are designed. Such an urban touch goes well not only with modern stylistic trends, but also with the classics. Stained-glass windows will look great in panoramic, dormer windows, in the glazing of verandas.
Special attention to the fifth wall. The fifth wall means the surface of the ceiling, which can become a decoration of any interior, if you pay enough attention to it. It can be covered with wallpaper or painted in any color you like, in accordance with the general style and color scheme of the room.
Terrazzo finish. To create a modern stylish interior will help not only choosing a fashionable color for furniture for 2022, but also returning to old, undeservedly forgotten materials, such as terrazzo, for example (it was popular in the 80s of the last century). This is a high-strength, rather motley-looking cement coating interspersed with granite, marble, quartz and glass chips.
Once upon a time, this material was used mainly for floors or stairs, now the range of application is much wider. Terrazzo elements can be seen in furniture pieces, lamps and ceramic tiles, and other decorative details.
The most popular shades in fashionable interiors 2022
Modern designers boldly experiment with color. Shades of turquoise and mint are coming into fashion this season. At the same time, their positive influence on the emotional state of a person is emphasized. If you want comfort and tranquility in your house, add literally a couple of turquoise or mint-colored items to the interior.
A very fashionable color of furniture in 2022 is honeysuckle, and a special chic is to make velvet upholstery in this tone. This is an option for those who want to add a bright note to a calm, discreet interior.
Rooms with pieces of furniture made in mustard colors look unusually cozy. This palette is ideal for the kitchen as well: it is believed that mustard shades improve appetite and create a pleasant atmosphere.
Another fashionable color, including for furniture 2022, looks luxurious – Marsala. An incredibly warm and noble shade that goes well with light, restrained tones. The interior in Marsala color turns out to be refined and noble.
Gold and yellow, which embody sunlight and fill the home with warmth and comfort, will be no less popular this season.
Fashionable kitchen furniture colors in 2022
Regardless of the stylistic direction, dark shades are more popular in kitchen interiors.
Dark blue kitchens
Deep blue will look equally respectable in both large and small kitchens. Interior specialists emphasize that deep blue is even desirable for rooms of modest size, it will attract attention, thereby distracting from the lack of light or limited footage.
Blue looks great not only in furnishings, but also on walls, facade panels, island elements. It goes well with white and all kinds of shades of gray.
Black in the design of kitchens
Black kitchens will be trending in 2022. At the same time, the interior should include not one component of a given color, but, for example, immediately the ceiling, walls, cabinet doors. Decorative elements made of metal work well here.
If your design is almost all black, you can dilute it a little with live plants.
White combined with natural wood
Undoubtedly, the trendy colors for furniture in 2022 are white combined with wood. In general, any shade will play against the white background, and natural wood always makes the interior not only noble, but also truly cozy, pleasant to relax.
Materials popular in the interiors of the new season
Naturalness is a priority, so the following types of finishes will be popular in the interior:
all kinds of stone variations;
marble;
elements from granite;
natural wood;
glass components;
metal structures and decorative elements.
Also, natural textiles, flax, cotton, silk, and with them leather, are gaining great popularity. But washable wallpapers are losing their positions, yielding to fabric ones. Such textures will decorate any interior, while they are environmentally friendly, practical and last a long time. However, in pursuit of ostentatious luxury and the desire to demonstrate your high status, try not to overdo it with natural materials, because everything is good in moderation.
What will add coziness to a modern interior
The color scheme of the premises this season should be as simple as possible, both in shades and in shapes. Abuse of decor is not encouraged; preference is given to simple geometric lines. To prevent the interior from looking too boring, interesting elements in the form of carved backs on armchairs, chrome inserts on furniture are quite acceptable.
Here's what will add comfort to a modern interior:
contrasting color pillows;
large unusual poster;
photos inserted into interesting metal frames.
A minimalist interior should still be functional and comfortable. Fill the room with light, place more lights so that no corner is darkened. Leave as much free space as possible. The wide-space effect gives a gloss in design and spot lighting.
Fashion trends in the design of a modern bathroom
Of course, the trendy color of furniture in 2022 is important for creating a modern interior, but no less importance is attached to finishing materials. For bathrooms this season, for example, concrete is relevant.
This is a versatile high-strength material with a rather peculiar texture, which fits especially organically into the industrial stylistic direction. To protect against high humidity, a special substance is first applied to concrete surfaces, and then polished.
Concrete is used in different ways in bathroom interiors:
The floors and walls are made concrete. It looks somewhat brutal, therefore it is more often used in men's bathrooms.
A very stylish combination comes from a concrete floor, marble countertop and a simple oval sink.
An interesting solution is a concrete font. It is not very easy to implement the idea, but such an element looks unique.
Painting "concrete" is very popular in the design of bathrooms.
Metal fittings and decorative elements look good against the background of concrete surfaces.