Popular Home Interior Design Trends 2022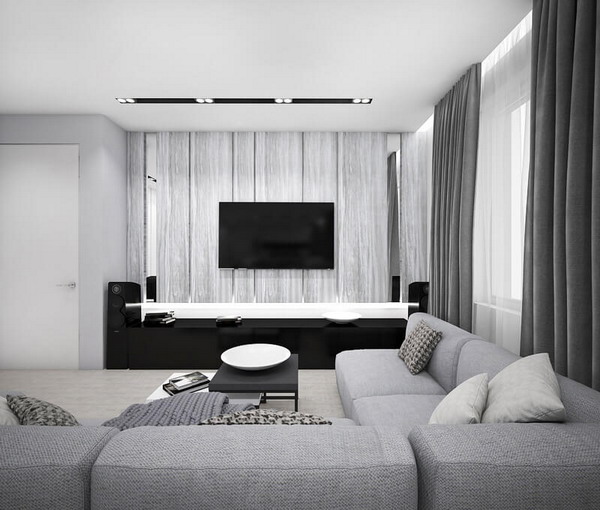 Interior decor trends is as changeable as catwalk. However, the dominant trends in recent years towards eco, natural materials, comfortable furniture, natural palette retain their positions. But, the design idea develops tirelessly, offering new, sometimes unexpected solutions to improve the comfort and mood of housing. Let's consider how designers see the design of a modern living space, what trends in the interior of 2022 are worth paying attention to, what original solutions are offered.
Latest Interior Design Trends 2022
Fashion calls for the creation of a personalized, thoughtful, calm, maximally spacious and somewhat democratic interior. Individuality is in the foreground. This trend opens up the maximum scope for creativity. Experiments with a combination of styles, textures of materials, unexpected, bright accents are priority design techniques that allow you to create a truly unique interior.
New trends in interior design 2022 that designers highlight:
Geometric shapes will be the highlight of the new design.
Natural light wood in furnishings is the main trend.
Even more minimalist design with artistic, sculptural wood details.
The black and white decor with vibrant terracotta details is a bold solution that will work great in any space.
Art Nouveau upholstered furniture and low armchairs are fashion trends in interior design 2019-2022.
Not boring, non-trivially decorated ceilings – an exact hit in the fashion trends of 2022.
A new trend feature will be objects with the levitation effect, creating the illusion of movement in space and visually increasing it. For example, installed in the bottom of the bed, bedside tables, LED-lighting under the shelves. This technique creates the effect of furniture floating above the floor.
The hot interior design trends 2022 are reflective surfaces and mirrors. This works great for "airiness", expansion of space.
Democracy is in trend, don't be afraid to experiment by combining different styles. For example, furniture, colors in one main style, and decor from another style, but laconically fits into the overall concept of the interior.
Natural materials are a key trend in modern design
Eco-style remains in trend. In trendy modern interiors, the dominant materials are natural wood, stone decor, rattan. Wooden panels are perfectly combined with silk wallpaper, decorative plaster. The trend is to use panels covered with linen or other natural fabrics. Carved like lacy wood panels, or with original geometric patterns. This is a great option for decorating a fragment of the wall, which will become a highlight of the interior.
Wooden headsets, stone podiums and stands, wicker furniture and decor elements, bamboo products – all these are fashion trends in the interior of 2022. Eco-style also provides for an abundance of indoor plants.
Fashionable interiors 2022 and current trends: current design styles
Designers identify 5 main styles for decorating modern, functional interiors without congestion of space.
Scandinavian style. It has changed somewhat, has become less severe, not so boring. The Scandinavian interior now looks a little softer and lighter. It provides for maximum environmental friendliness – wood products, laconic upholstered furniture that offers absolute comfort, woven carpets, fireplaces, natural shades. The key rule is organization and spaciousness of space. He likes people who prefer simplicity and absolute comfort.
Loft is preferred for youth housing. This style has also been slightly corrected, but its main features remain the same – natural elements, brickwork, some building elements are left uncovered, artificial light, unusual floor lamps, the most simple upholstered furniture.
Modern is at the peak of popularity for more than a decade. It is loved by designers for its unique practicality and versatility. It allows you to decorate the interior for any request: luxurious simplicity with refinement of design, romantic and delicate interior for a lady's apartment, a tandem of comfort and super-functionality.
Memphis (Milanese style). It is ideal for those who wish to see brightness, originality, avant-garde in their home. Modern trends in interior design 2022 provide for bright accents, but this design requires a skillful combination of colorful open colors, a combination of unusual forms of furniture and decor items, an abundance of patterns, pop art paintings.
Minimalism is still at its peak. It does an excellent job of creating a stylish and most practical space. Its key features are the absence of useless objects, no distracting brightness, laconicism in every detail, and functional use of space. Modern interiors in this style are a priority for business people who value convenience and spaciousness.
Emerging trends in interior design 2022
The concept of open-space (open plan) is out of the current trends. Progressive designers emphasize the privacy and comfort of the space. Today, many techniques are used that allow even a small room to be visually spacious. If you certainly want to demolish the interior partitions, the designers recommend to "dim" the complete openness by installing translucent partitions from floor to ceiling, which will not minimize spaciousness, give the interior lightness, and allow you not to give up cozy privacy.
The main thing when organizing living space is brevity and convenience. The new interior design trends of 2022 can be easily implemented with the right furnishings. Trending home furnishings are concentrated on one site – Furniture Paradise. Bedrooms, suites, sideboards, dressers and other furniture items are made mainly of natural wood, which is the main trend in fashionable interiors.
Current trends in interior color 2022
The 2022 trend is deep, velvety, muted colors. Greens will be trending, including the lightest undertones, Neo Mint. Combinations of green shades are quite casual. This color is pleasant, cozy, soothing, great in contrast to white, easily adjusts to many colors. Designers recommend combining it in decoration with bright palettes.
The most fashionable upholstered furniture will be marvelous, armchairs, poufs in blue, graphite, light gray. Pastel colors are still relevant: beige, sandy, pale peach. For bright accents, designers recommend using terracotta, purple, violet colors.
Apartment interior design trends 2022: designer tips
You should not use natural material in everything, it is better to emphasize it.
Laconic contrast, playing with tones in the color scheme will not allow the interior to look boring.
It is better to choose furniture for living rooms with a predominance of glass and openness.
Avoid splendor and pomp, the main emphasis on lightness, airiness.
Diverse lighting perfectly enlivens the environment. Use a backlight for anything that can be backlit.
Particular attention should be paid to textiles, it sets the cozy atmosphere.
Fewer decoration details, the main interior trends in 2022 are simplicity, functionality, environmental friendliness.