What Kind Of Interior Style Can Be Done In The Bedroom?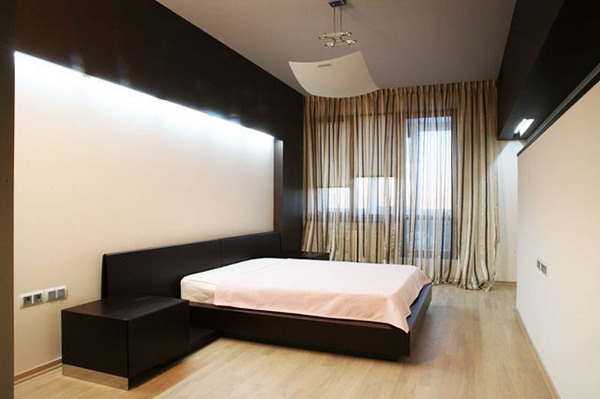 The interior styles of the bedroom can repeat the styles of other rooms and the whole house as a whole, but they can differ significantly from them, it is only important that they do not contradict each other.
Bedroom Interior Styles
Minimalism bedroom design
A distinctive feature of the minimalism style is expressiveness and utmost conciseness, and in all aspects: in the color scheme, the presence of furniture, decor and accessories. In general, this style is intended for lovers of space and ease of space. This style is especially good for cramped apartments, which in panel houses is perhaps the only opportunity to change and add free space and lightness to the interior. For fans of the classics, the minimalist interior looks poor.
If the style of minimalism is characterized by expressiveness and, at the same time, laconicism, and speaking of the standard of a minimalist bedroom, then this is certainly the Japanese style, from which a low tatami bed is borrowed, as well as natural shades with minimal furniture. The fact is that you can take different styles as a basis, equipping a bedroom in the style of minimalism. For example, it can be a classic style or high-tech, or a modern urban style.
Based on the chosen direction, the selection of furniture and accessories is formed. If the classic is taken as the basis, then the furniture should be wooden, and the accessories should be classic. If the basis is high-tech style, then the furniture should already be made of metal, glass or even plastic. Ethnic minimalist bedroom involves only natural materials or, at worst, very high quality imitation and, accordingly, ethnic decor. In this regard, for a start it is necessary to determine the direction, namely, the style that will be taken as the basis.
First of all, I want to note that no more than three colors should be used in the interior design. Usually, designers work in general with one color, and in most cases, non-color tones are used, such as white, black, gray and cream.
The classic technique involves a combination of white with a pastel neutral hue, for example, with gray or light brown. By the way, this option is a win-win. Or we can do without white, just take a combination of two neutral colors – it will look no less impressive. Well, if you use the third color, it is best to introduce it as an accent according to the principle: the brightest tone should fall on small surfaces, and two neutral colors fall on all other interior items and are evenly distributed among themselves.
However, you can do this: additionally highlight large and medium surfaces in two different colors.
Features of furniture in the style of minimalism
Regarding furniture, we can also say that it should merge with the floor and walls. This is an ideal option, in which the impression of airiness and spaciousness is especially created. It must be closed modular cabinets, as well as podiums and drawers with absolutely no decor (no carving or painting). Furniture should not be bulky and large. In sight there should be no things and no excesses. The bed should have a simple and concise shape, without decor. By the way, the beds have a central place in the interior. In most cases, this is a platform bed, the head of which is either completely absent or has a minimum of design.
The bed can also be on a stationary podium equipped with a storage system. The main thing to remember is that the difference between a minimalist bedroom is a low bed without a canopy, without a headboard and canopy with simple side tables on both sides.
Country style bedroom
Today's popular design for decorating the interior of the bedroom, which you can easily bring to life, is a country style. This style is best used in the interior design of a bedroom in a country house, but it will also be a good solution for a bedroom in an apartment. First of all, for this style you need to use only natural materials, most often: wood, metal, stone and natural fabrics.
The colors of the country style bedroom are soft and relaxing, so use pastel colors, light shades of green and blue. Everything in the bedroom should be harmonious, and nothing too bright should be present in the interior. Floors – necessarily from natural wood, light colors. You can cover them with patchwork rugs with ornamental patterns, but most importantly – with natural texture.
You can also cover the walls of the bedroom with wood or use rough stucco, embossed wallpaper. You can, of course, leave the walls smooth. Walls – an element of interior design in a country style, to which a lot of decor applies. You can decorate them with clay plates, and embossing, and macrame, and paintings with nature, and antique watches. It is very popular, writes iBud.ua, to place a fireplace in the wall, unfortunately, artificial fireplaces are most often used, but they also look very beautiful and original. The ceilings in the bedroom can be decorated with beams or made corresponding to the walls – roughly plastered.
An important role in the bedroom is played by lighting. The bedroom in a country style should be bright and comfortable. For this reason, the windows are either not closed if there is a beautiful view from them, or they are covered with a light transparent tulle during the day and at night – not with heavy fabric curtains. Curtains can have a floral ornament, and can be decorated with tassels or bows. Their color should be combined with the overall color scheme of the bedroom.
The piece lighting in the bedroom should be soft and diffused. As lighting elements, use lamps with wicker lampshades, medieval-style candlesticks, and antique candelabra.
The bedroom in the country style from other styles is primarily distinguished by furniture. It is made of natural wood, usually it is rough wood of light color and unpainted. You can use wicker furniture. In the bedroom, the main pieces of furniture are a bed, an ordinary armchair or a rocking chair, a chest of drawers.
Usually there are many furniture in the bedroom, for example, a dressing table, shelves with accessories, a small sofa, a wicker box for linen at the foot of the bed, a folding screen, etc. All the furniture that is selected for the bedroom in a country style should be functional and comfortable.
The bed should be either wooden or metal hand forging. The legs of the bed, chairs, chairs, table should be carved. The bed is usually covered with woolen bedspreads. You can use other fabrics, but most importantly natural ones (most often chintz, linen). The fabric should be floral or any other with rustic motifs.
For country style accessories are very important. Use porcelain figurines, embroideries, antiques, clocks with a pendulum, flowers in vases, pillows with floral patterns. Remember that convenience and beauty are made up of little things, so think over every detail of the bedroom interior and don't be afraid to create.
In Japanese style bedroom
The bedroom is designed to give rest, comfort and warmth. A good bedroom does not let everyday worries, anxieties and work negativity into its chambers – all this remains beyond the threshold. Here, the interior, decor and the whole general atmosphere should contribute to relaxation, good mood and the strength of family ties. After all, the heart of the hearth is located in the bedroom. And where, if not in the Eastern style, to look for such an atmosphere.
The East Japanese-style bedroom is the most sophisticated and unobtrusive. A large amount of air and light reigns here, and the interior is necessarily made of natural materials in a minimalist design. In such a bedroom there must be a lot of free space, otherwise it will be difficult to move positive energy. The Japanese bedroom is the personification of nature, naturalness and naturalness.
The natural origin of the decoration materials is a prerequisite for the eastern bedroom. Such materials are: wood, bamboo wallpaper, brick and plaster. The first thing that comes to mind when you think about the East is a lot of pillows. This is true, the inhabitants of the Middle Kingdom do not like tall beds, sofas and armchairs. They are characterized by low furniture and, of course, an abundance of pillows, for a comfortable and pleasant recline.
If you want to create an interior of a truly Japanese bedroom, then start thinking like the Japanese. Their culture is quite distinctive, they treat their housing as living. Therefore, eastern people do not litter their home with unnecessary or random things, everything there is only necessary and functional.
All elements of the bedroom in oriental style are simple and comfortable.
If you chose the interior of the Japanese bedroom, then everything should be concise, geometric shapes of furniture, no pretentiousness. The back of the bed should be simple, ascetic. The eastern bed itself is low, somewhat reminiscent of a mattress lying on the floor.
But another interesting and unusual option is possible. Bed – pedestal on the steps. It looks very original, reviving the atmosphere with its extravagance.
In addition to the furniture composition, place small and necessarily low bedside tables next to the bed, of a simple shape.
And, of course, no wardrobes or even wardrobes. For the eastern bedroom, only light niches or small shelves attached to the wall are suitable. Fans of ancient eras and for those who want to bring their Japanese bedroom as close as possible to the original, should pay attention to the sliding partitions that were found in every house of the inhabitants of the East.
You can also make a door in the form of these most sliding partitions. It looks interesting, beautiful and very Japanese. This oriental element can be made of rice paper, frosted or transparent glass, wood is suitable for the frame.
As materials for furniture, choose dark walnut, black ash, mahogany. And you can give preference to a light birch or beech. Oriental-style bedroom textiles add sophistication and sophistication. It is preferable to choose natural fabrics and colors, such as bulk alpaca, cotton, unbleached linen. In the modern oriental style you can find fabric with the image of bamboo, flowers in a small amount on a smooth field. For the interior of a more traditional Japanese design, take bright and rich colors, namely: flowering cherry (Sakura), birds and pagoda.
For walls in oriental style, choose calm and restrained shades, no riot of colors. It is not worth combining a lot of different colors, just select one or two. Designers often advise to make the walls of the Japanese bedroom calm and cover them with a white emulsion. And also it can be a bed palette.
Or the walls can be made in a darker version.
Although more often they choose shades of red for the eastern bedroom. It is more than others, found in Japanese subjects.
Scandinavian style bedroom ideas
The Nordic countries are dominated by the Scandinavian interior style, especially popular for rooms such as the kitchen, living room and bedroom. A bedroom in the Scandinavian style allows you to make the room very comfortable, "homely", fill it with objects that emphasize the unity with nature and the desire of every resident of the city to its roots.
To design a "Scandinavian" bedroom, you must follow certain rules, paying special attention to the details, because it is they who make the style!
The main color in the design of the Scandinavian interior bedroom should be white. The second color that fills the room is the color of light natural wood. Furniture made of such wood is the best you could wish for.
White furniture is also allowed, in exceptional cases – black furniture. Floors, frames, doors, "boxes" of doorways are white, the color of snowy fields. Walls can be painted in pastel blue or pale cream.
The rest of the colors used in the Scandinavian-style bedroom may be bright, but they act only as decorative accents.
Black is usually paired with white, and is found both in furniture and in textiles.
The bed should not be too wide and high, and next to the headboard there are nightstands on both sides. That's just their role can play, depending on the circumstances and the will of the designer, a variety of objects.
The Scandinavian interior of the bedroom allows the use of small tables, side tables, barrels, chairs or even stools as bedside tables. But, taking into account the Scandinavians' commitment to large spaces, as well as to facilitating interiors, as a rule, instead of curbstones, special shelves are hung at the head of the headboard.
As storage systems usually use low cabinets, door trim – white gloss. But an ordinary wardrobe also fits well into such a bedroom.
Cabinets can be hung on the side of the bed or even above it to organize additional storage space, while not cluttering up the space. This is especially good for a small bedroom.
The Scandinavian-style bedroom is characterized by freestanding pieces of furniture, original and at the same time functional. It can be shelves made in the form of a step-ladder, unusual open racks for clothes, for example, in the form of a portable ladder, rough wooden benches as a pouf at the feet of the bed.
Quite often, cabinet doors in the bedroom are replaced with fabric blinds, and instead of curbstones at the head, they put roughly knocked-down wooden drawers.
All design techniques in the Scandinavian bedroom interior can be divided into three groups:
black and white
accent
wood.
The first uses the contrast of combinations of black and white, the bedroom, decorated in this way, looks solid and businesslike.
The second option is more youthful, playful. It will help emphasize the originality of the personality of the master of the bedroom or his ambition.
The third option is the most traditional, and bringing together the Scandinavian style with the styles of ethno and eco. It is most often chosen by those who design the bedroom in a Nordic spirit.
Unusual pieces of furniture, fixtures of original shapes and colors, large photographs on the walls or posters of relevant subjects, paintings, knitted blankets, pillows with pillowcases made of natural fabrics, hides and furs, wicker boxes and living plants can play the role of decorative elements.
Modern bedroom decor designs
If you are a supporter of non-standard ideas and are not afraid to experiment, then it will be interesting for you to complete the interior of the bedroom in modern style.
Art Nouveau style is based on the use of non-standard solutions in the interior, and can combine elements of different styles. We give examples of such combinations. For example, in Figure 1 we see, as it immediately seems, a classic style, but this is not entirely true. Firstly, although the headboard of the bed is in a classic style, but its full face does not correspond to it at all, and the legs at the bed are by no means carved, but the most ordinary ones, besides low. Figure 2 shows us a variant of the Art Nouveau bedroom with elements of African ethnic style, Provence style and hi-tech style: an exquisite round bed, mirrored, shiny surfaces typical of hi-tech style and rustic curtains with floral ornaments in Provence style, modern the technique and elements of an African ethno, in which the former is generally unacceptable.
And here are some more interesting combinations: the Art Nouveau bedroom with elements of Provence style, minimalism and high-tech. A small amount of furniture, a large space in the style of minimalism, a lot of light, windows without curtains, shiny surfaces of bedside tables in the style of hi-tech, and finally a bed in hi-tech colors, but decorated with ruffles and bedding with floral patterns, which is typical for the Provence style. Also successful was the combination of minimalism and high-tech styles. The color scheme of the bedroom is black and white with one bright spot, a multi-level floor with a visual effect of expanding the space, a small amount of decor and furniture is a distinctive feature of the minimalism style, goes well with a large window that does not cover anything, giving a lot of light, smooth surfaces of walls, ceiling and furniture.
Also in the interior of the bedroom in the Art Nouveau style, you can mix not only styles, but also materials – wood and ceramics, bronze and mosaics, etc. This is the charm of the Art Nouveau style – to combine the inconceivable, but at the same time preserve the artistry and aesthetics of the interior.
Layout and the surface of modern bedroom
In the interior of Art Nouveau there are no patterns and restrictions. Choose a color scheme as desired. There are no restrictions here, but most often for the bedroom they use blue, lilac or shades of brown.
The Art Nouveau bedroom is characterized by a free layout, different levels of the ceiling and floor, expanded window frames and art surface painting. For example, walls can be decorated with various asymmetric patterns, wriggling lines or pasted with silk wallpaper with a fabric texture with the same ornament.
Art Nouveau style, if it does not include elements of other styles, is very bizarre, elegant and is built on the smoothness of lines in all details of the interior. Such a style can never be ruined by a stylized floral ornament or stucco molding. Often the stucco molding is done on the ceiling, which gives the room a certain aristocratic hue.
Window frames and doorways can have a twisted shape. If the door is with glass elements, then they must also have a complex floral ornament. The door may be wooden. In the bedrooms you can use stained glass, which when playing in the light will create a unique atmosphere.
The painted glass can also be used to decorate the ceiling. Although it may be ordinary white with an exquisite chandelier. Twisted lines and floral motifs decorate furniture surfaces.
Furniture in the Art Nouveau bedroom
In the Art Nouveau style, the furniture materials may be different, and its amount will depend on what styles you combine in the bedroom, or use the usual Art Nouveau style. For the usual Art Nouveau style, the bedroom interior is characterized by a typical standard set of furniture: bed, bedside table, chest of drawers, mirror, wardrobe. Such headsets are most often offered by manufacturers. Writes by iBud.ua, furniture can differ in quality and durability, depending on the funds invested in it. Furniture can be made to order, can be painted with original drawings. Often the furniture in the bedroom in modern style is covered with leather.
Modern bedroom furniture is often decorated with floral motifs, has curved and flowing shapes, combines various materials. It is good if the color of the furniture has something in common with decoration items, for example, with a floor covering, but nothing should merge at the same time.
Depending on the overall design in the Art Nouveau bedroom, an armchair is used as additional furniture, in which fabric stretched on a supporting structure is used as a back. It can be said business card of the Art Nouveau style.
In eastern style bedroom
If you can not decide on the interior style for the bedroom, you should pay attention to the oriental style. Of course, the choice still depends on the taste and preferences. Oriental style will help to make the room original and a bit fabulous.
It is not possible to thoroughly display all the subtleties of the interior of a bedroom in an oriental style. But to achieve the necessary atmosphere is quite realistic.
Oriental style bedroom design tips:
For wall decoration, red is often used in combination with gold;
Since red can exert psychological pressure on a person, colors are allowed: white, ivory and sand;
An important element of the interior of the bedroom in the Arabic style is the presence of various niches that are used to place clothes, figures, vases, lamps and so on;
Ceilings are decorated with ornaments or carvings;
The bed should be large and low;
The room should not have tall cabinets. Oriental style is characterized by patterned, inlaid small chests of drawers.
Also, the main features of the Arabic style are: stone floor, plastered walls, screens, carpets, drapery, canopies, curtains, pillows, carved furniture, vases and other decorative elements inherent in Eastern countries.
Having looked at the most interesting photos of bedrooms in oriental style, you will certainly want to surround yourself with such beauty.
Mediterranean bedroom
By the name of this style it is clear that in the interior there will be such elements that are associated with the sea, the sun and vegetation. The interior in this style creates an atmosphere of peace and tranquility. The design of houses in the Mediterranean style originated in the West: Greece, Italy, Turkey, Egypt and other countries. The main feature of this style is its simplicity in the interior. All elements combine creativity, comfort and practicality.
Very good handmade furniture. Most often it is made from bog oak or pine. Many use painted furniture to match the color of this style. The color palette in different countries is different. For example, in Greece these are cold shades (white, all shades of blue and emerald). In Italy, warm shades are preferred (yellow, red-pink, cream, terracotta, ocher yellow and brick).
In the Greek style, the ceilings and walls are painted white, despite this the finish looks rough. Therefore, this option is suitable for uneven walls, and this will save money on alignment and strength. The Italian style in the decoration of the walls combine several textures. For example, mosaic tiles, decorative plaster, wall painting and imitation of frescoes. In the Mediterranean interior, flooring is minimized. The main material is tiles in warm colors. Refinement of the floor is given by images of scenes of ancient Greece from marble mosaics. On a tile you can lay mats made of reed or algae. They are quite durable and create an atmosphere of proximity to nature. It is worth remembering that our climate is not suitable for such floors, so it is better to take care of arranging a warm floor in advance. You can use wooden floors instead of tiles. It is necessary to take into account that the texture of the tree is not striking and not be the center among the rest of the interior details.
In a traditional Greek bedroom, everything should be at a minimum. From furniture, everything you need is a bed, a nightstand, a linen closet and a small sideboard. To diversify the interior, you can use textiles: snow-white bedding, colorful rugs, bedspreads and rugs, as well as linen curtains to match the color of the walls. In the Greek bedroom, furniture is predominantly in bright colors, woven from reeds or pine. The same should be dressers, linen closet, chairs and a table.
In the Italian style, the furniture is made of black metal. Curved legs on the dressing table, symmetrical patterns on the headboard and wicker seats on wrought iron chairs – all this is the style of the Italian bedroom. The only wooden item in the bedroom is a wardrobe in dark colors.
English style bedroom
With strict classical traditions, compatriots mentally represent the English style of the interior. However, this is not entirely true, since the inhabitants of Foggy Albion are real romantics who combine in their homes the charm of a rural house with flirty floral wallpaper and painted furniture and the atmosphere of ancient aristocratic castles.
It is the bedroom in the English style that is most often decorated. First of all, we are talking, of course, about the design of the walls, since they form the space. For lovers of English classics, I recommend using moldings, panels and sockets. The base of a contrasting color will fit perfectly into the image – this is a traditional Victorian element, the panels glued with wallpaper with floral ornament look no less harmonious.
Traditionally, the floors in the bedroom are made of wood, on top they are covered with carpets, which are decorated with a floral pattern of soft colors. Uncomplicated wooden floorboards that contrast with the wall decoration will bring a true English spirit.
If a gentle blue color is used to decorate the walls in the bedroom, then I advise you to choose snow-white bedding decorated with colored embroidery. No less contrasting, but therefore even more attractive, the openwork headboard will look. Beautiful photos of the bedrooms also testify to this choice.
So, the English style is not so conservative, it is not at all boring. He has a number of characteristic features. These can easily be attributed to simple plank floors that have the texture of a natural wood. Also, the design of the walls using a plinth, moldings and panels, as well as the presence of a garden pattern on fabrics and wallpaper also belong to the English interior.
In such an interior it is customary to use bedspreads, pillows, draperies, rugs. But the combination of elegant details, such as silk and crystal, differs not only in the English-style room, but also in the Baroque bedroom.
It is impossible to imagine the decor of an English bedroom without textiles. It just helps to achieve charm, coziness, harmony and comfort. Moreover, such elements are quite capable of any hostess. Decorative pillows, rugs and bedspreads, draperies on the windows are a real expanse for needlewomen. This is exactly how the inimitable spirit of the Middle Ages is recreated, which has long captivated the female heart.
Loft bedroom ideas
The loft in the interior is such a modernized attic style: a combination of old and innovative, chaos and order, rude and artful. It was invented by creative people who did not have the opportunity to furnish their home beautifully, but became one of the most fashionable in Europe.
The loft style bedroom resembles a room converted from a warehouse, factory, production workshop or workshop. This is emphasized negligence, industrialism, "non-residentialness" of the room, high ceilings and bare walls without decoration.
To create a loft in the interior of the bedroom, it is not necessary to live in the attic or in an abandoned building – a competent styling is enough. Moreover, many do not even suspect that some features of the loft are already present in their interior. So, certain similar elements can be traced in the Art Nouveau style, Scandinavian style and even in the unfinished apartment of the neighbor… The main thing is to skillfully select them and tastefully embody them.
There are several basic rules that you must follow when creating a loft-bedroom interior:
choose simple and functional furniture;
use cold, natural shades in the interior;
minimal, but aptly use decor elements;
the use of non-standard, designer or home-made things;
the use of various textures and materials, the game of contrasts;
leave maximum free space;
large, tall windows;
minimalism and naturalism: a concise set of interior items, brickwork or rough stucco on the walls.
At first glance it might seem that such a bedroom would be uncomfortable and cold. But this is a matter of taste and habit. And since the founders of the style were originally representatives of bohemia, the taste should be special and subtle.
The loft style in the interior of the living room involves leaving some of the walls in the room in their original form. This means that at least one wall must be natural, not covered by wallpaper or other decorative trim – metal, brick, stone, wood, etc.
Actually, wallpaper as such does not practically occur in the interior of the loft style, and if there is, it is stylized, imitating natural materials.
In the untreated bedroom, as a rule, the central wall at the head of the bed is left. The rest is finished, but minimally. As a rule, it is a monophonic colorful coating or plaster.
Most of the walls should be occupied by windows, as the loft welcomes the idea of a comprehensive space and light. If it is not possible to install large panoramic windows in the room, you need to do your best to accentuate those that are. Firstly, do not curtain them with curtains. And secondly, paint the frames in an unusual, for example, black color.
A great option would be to combine a loggia or a balcony with a bedroom in order to sufficiently illuminate the room and use the maximum number of windows in the interior.
Ceilings are usually sewn up with a board or painted with white or gray paint.
Structural elements of the building must be preserved in order to reproduce the authentic loft as much as possible. It can be beams, crossbeams, rafters, which emphasize the industrialism of the interior.
In modern homes, these elements are usually minimized or completely absent. Therefore, those who were not lucky enough to live in an old building, create them artificially.
French bedroom
Refined atmosphere, luxury, romance – these are exactly the sensations that we have in our home interiors, made in the French style. Provence – the traditional style of the houses of France and the real charm of Paris! What should be the bedroom in the French style? How to choose the right finishing materials, choose a color scheme, textiles, furniture and various accessories? Let's try to answer these and a number of other important questions.
Provence can be safely called one of the most delicate interior styles. Perhaps for the bedroom this will be one of the most successful solutions. Especially often the style of the French bedroom is used by young girls and newlyweds. Indeed, in such a room there is always a pleasant, romantic atmosphere! For a sophisticated and dreamy nature, such a bedroom will be the most favorite corner in the whole house.
The most important characteristics of the interior in the French style are:
gentle tones of finishing materials (ceiling, wallpaper, flooring);
pastel-colored textiles with an elegant, delicate ornament;
Floral prints – moreover, the floral pattern can be both small and quite large, catchy;
elegant furniture made of light wood, often vintage (that is, with a touch of antiquity);
Numerous cute accessories and cute little things.
Any interior style has its own, characteristic color scheme, which allows you to set the desired mood and achieve the desired design effect. When choosing a coloristic solution for a bedroom in the French style, give preference to flowers that are dim, muted. Too saturated and, especially, neon colors here will be completely inappropriate.
Among the original and most suitable color schemes for the French interior are the following:
dark or light wood color;
gray green;
milk, creamy;
deep blue and aquamarine;
light pink;
lavender;
olive;
salad and many others.
Harmony, a sense of style and moderation – these are the basic principles that you should be guided in determining the optimal color scheme for the bedroom, made in the traditional French style.
Have you ever seen an interlocutor's expression of disgust, horror, or contempt at the word "Ikea"? In any case, as though some people were skeptical of this brand, we must admit that he has significantly more fans.
Their commitment to this furniture will be difficult to break. A bed is one of those places where you want to feel as comfortable and calm as possible. And, of course, it would be nice if it also reflects the personality of the owner, right, dear readers? In the end, this is our refuge and refuge! Then you will probably be interested to know more about some IKEA furniture models.
Bright bedroom in neutral colors
Furniture, the lower part of which is free from all kinds of drawers and storage niches, helps small bedrooms look more open and spacious. The FJELLSE bed and the HEMNES chest of drawers are a vivid confirmation of this.
These models are characterized by modern design, practicality and functionality. And yet, strangely enough it may seem at first glance, the owners of such furniture note that it is extremely comfortable and combined with well-chosen textiles creates an incomparable cosiness in the room.
Wardrobe PAX (PAX) has a considerable size and accordingly has a high capacity. At the same time, the appearance of this, no doubt, an important piece of furniture is so unobtrusive that it does not attract too much attention.
Doesn't it look like the two most common built-in modules? Against the background of such a cabinet in a bedroom, made in neutral colors, the MALM bed looks like a big soft cloud on which it is pleasant to lie and dream.
Have you ever seen something cooler and extraordinary than this room? Snow-white, noble gray and austere black – this win-win version of the color combination in the interior will never go out of style. And to the wall, as we see, the designers nailed the BEKKESTUA bed and, it must be said, did not fail.
This bedroom is worthy of even such a hostess as Carrie Bradshaw, the main character in the acclaimed television series Sex and the City. She really knew a lot about true chic and would certainly appreciate such an interior. Most likely, she would separately mark racks-hangers for clothes and those accessories that were involved in the design of the room.
Well, the star of this bedroom has rightfully become a lowered bed MENDAL. Look carefully and you will see how perfectly its wooden frame combines with the color palette of the room, especially with the white color that dominates it. A convenient built-in storage box became the finishing touch and at the same time a highlight of this interior.
A sudden burst of color in a pacified bedroom
This bedroom is filled with southern charm and harmony. It is sustained in a very calm, almost monophonic color scheme. Against this peaceful background, the LEIRVIK bed with its original design and bright, picturesque pillows served as an expressive accent.
No, not like that: it just looks like a fantastic burst of color! Blue textiles, lace and an umbrella add charm to the room. One really wants to dive into this bed with a cup of fragrant tea and curl up to indulge in reading Jane Austen's favorite novel.
How nice to see an example of a bedroom, where it is difficult to determine who was involved in its decor: boy or girl. This indicates the high skill of the designer, because achieving such a result is very difficult. A similar interior will appeal to both man and woman.
Due to the combination of juicy red with lilac white, the room acquires a very fresh and elegant look. I must say that, thanks to the universal design, the NORDLI bed can be safely compared to a blank canvas, on which any colors and shades fit perfectly. Looking at the delightful bedding, the name of the novel "Rose red, white rose" immediately comes to mind for some reason…
Whose room is this? HIS or HER? Well, in this case, you can also choose any answer option and again you will not be mistaken. Do you want to know what impresses me personally in this interior? Yes, the same as in the previous one – furniture in unisex style. Here we again see the MALM bed.
The photo clearly shows how just a certain set of bed linen can turn a bed from brutal, courageous to tender and feminine. And all this so that everyone feels in him as comfortable as possible, as they say, at ease.
Probably, at least once in a lifetime, every person was visited by a desire to be suddenly on a distant wonderful island, so that a light warm breeze blew in his face, and ocean waves splashed outside the windows of a beach house.
In fact, such a pleasant atmosphere is easy to organize even in your own bedroom. Enough to have the imagination, taste and bed HEMNES from IKEA. Take a look at the photo, it seems that this idea was a success to the authors of this interior. The room reigns comfort and harmony. Very bright and airy, it literally beckons you to go into it and stay there to live forever.
Dark and gloomy bedroom
Dark wood, heavy curtains and a blue plaid blanket…. But this room literally shouts: "I am intended for a gentleman!" Nevertheless, if you look closely, here you can find certain touches of femininity: flowers on bedside tables, items of a woman's toilet, an elegant round mirror on the wall and, of course, a HEMNES bed. As already mentioned just above, this bed has such an advantageous property as versatility, due to which it will look win-win in any interior.
This bedroom has something in common with the previous room. First of all, they are united by a combination of brutal sullenness and female identity. The Edland canopy bed (EDLAND) is literally mesmerizing with its beauty.
A super stylish, comfortable and unique bedroom can be created even with the help of quite affordable furniture, which has already won love and recognition all over the world.
What should be, in your opinion, a modern comfortable bedroom? Minimum furniture and everything is functional?
According to many current designers, the interior today is characterized by versatility. It can combine various styles and directions of design, use unexpected combinations of materials and be completely individual.
Proudly modern bedroom
Let's start with a set of images that show an exceptionally modern look at the sleeping room.
In the first image, the theme of geometric shapes is played. Straight clear lines of the main massive design elements are diluted with the delicacy of CB2 bedding. However, even symmetrical luminaires and parquet on the floor emphasize the general theme of design. They are joined by a chess mat near the bed.
It is worth remembering that a feeling of softness can be achieved using pillows of various shapes and colors. CB2 expands the horizons of white bedding with a variety of materials and patterns.
In the following photo, the basis of the design is created by the images on the wall. The theme continues with quality bedding offered by CB2. And the olive-green color of the bedspread explodes the atmosphere and creates an accent.
The bird theme is continued in the West Elm Organic Diamond Texture Duvet Cover + Shams textile, which is expressed in a geometric pattern and color scheme. She also corresponds to the drapery of windows and floors.
A modern minimalist look can be softened by using wood as the basis material for the bed. The company CB2 proposed to emphasize this design with pastel linen in black and white, which symbolizes the struggle of opposites.
Eclectic bedroom
The meaning of style is in mixing everything that you like into a whole. For example, West Elm textiles called Textured Atlas Duvet Cover + Shams may not have modern features, but they like the owner of the bedroom.
The next sleeping room showcases newly emerging industrial motifs. An iron bed with its rectangular geometric shapes, a metal lamp, the geometric pattern of the bedside rug, which is brighter in relation to the rest of the space, creates a charming modern bedroom interior.
An amazingly peaceful sleeping area is located below. Its calm color scheme, classic furniture elements, comfortable soft headboard create an atmosphere for self-knowledge. The painting on the wall at the same time adds movement to the interior and focuses on itself, forcing you to stop, consider the image for a deeper understanding of the world and the world within you.
In the next room, at first glance, everything is modern and minimalist, but in the second one you notice geometric patterns on the wall and carpet, and then you stop at an amazing and unusual chandelier under the ceiling. She attracts attention, becoming the center of space.
And then further retro elements are organically inserted into the modern design. An unusual but harmonious set of dark and bulky wardrobe, a rug with a geometric pattern and delicate textile colors, combined with white walls, soft bed upholstery and a classic chandelier create a feeling of coziness and comfort. The beautiful interior of the bedroom is fascinating.
It is quite difficult to determine the style of the next sleeping room, however, the apparent contrast between the old and the new eventually finds a compromise and creates harmony.
In the last photo from this section, we see a combination of opposites. The use of both ordinary furniture and antiques, a combination of expensive bedding and simple curtains, as well as the correct color scheme, makes this room comfortable. Thrills and surprises the head of the sleeping bed, which is usually much lower. In this case, it adds glamor to the interior.
Hotel Style bedroom
Sometimes people want to constantly remember their unforgettable vacation or trip and then they create a bedroom in the style of a hotel. The features of this design are such elements as heavy curtains on the windows, bedding made of expensive materials, incredible and unexpected configurations of the headboard, decadent details, such as a tray. An excellent addition are flowers: both live and in the form of bouquets.
Sometimes it's enough to use white pastel accessories to create a hotel atmosphere. The use of decorative embroidery on bedding is welcome.
Replacing light walls with bright wallpapers, you can create a sense of glamor without losing elegance in the design. Using texture patterns on textiles will help you get a luxurious interior design.
The last photograph in this section presents us with a truly chic sleeping room. The space allows you to install not only a bed and bedside tables with a banquet in the legs, but also a separate small table with a chair. Soft lighting, expensive textiles and zoning of the room creates the effect of the hotel. Perhaps this is the most luxurious bedroom of all the above.
The comfort of a small space
Sometimes even in small spaces you can create zoning and create an elegant and comfortable design. An example of this is the next room. A comfortable chair with a floor lamp will allow you to comfortably sit down to read an interesting book, and a classic wooden bed with a soft mattress will make it possible to have a good rest at night. Fluffy rugs and flowers on the bedside tables will allow you to feel the comfort and warmth of your home.
There is nothing to lose in comfort with a small apartment. Notice how vertical curtains add height and depth to the bedroom, albeit visually, but expanding the space.
The last photo shows a sleeping room made from natural materials, comfortable and functional. This is the design of a comfortable bedroom
Remember that your room is your world that can charge you with energy. And it depends only on you what this charge will become. If you like ultra-modern style, then throw out all the excess. If you like luxury and glamor, then bring them into your home.
If you are not closer to a specific image, but to convenience and comfort, use an eclectic look and mix everything you need. Let your bedroom be the embodiment of your dreams, and then you can turn mountains.
With pictures in the framework, not only the wall, but also the room as a whole looks completely different. And it's not necessary to buy ready-made ones. It will not be difficult to print out your favorite interesting pictures and find a suitable frame for them in order to enliven the wall. Both modern and unusual. And you can diversify the design with photos. The captured joyful moments of life will especially lighten the mood.
Categories:
Locations:…
Headings
Select tags Bath accessories (78) Home appliances and appliances (4) Bathroom (2) Wine cellar design (19) Loft style interior design (82) Room interior design (42) Girl room interior design (47) Room interior design for a boy (21) Interior design of a modern hallway (100) Interior design of a modern bedroom (250) Design of lounges (25) Home plants (1) Home textiles (9) Pet houses (27) Housekeeping (95) Famous interiors (5 ) Interior of billiards and games rooms (7) Dressing room interior (61) Home theater interior (2 2) Home office interior (237) Interior of apartments in Australia (12) Interior of apartments in Asia (34) Interior of apartments in America (7) Interior of apartments in England (43) Interior of apartments in Africa (4) Interior of apartments in Brazil (30) Interior apartments in Germany (10) Interior of apartments in Europe (67) Interior of apartments in Spain (15) Interior of apartments in Italy (25) Interior of apartments in Canada (9) Interior of apartments in Poland (28) Interior of apartments in Russia (44) Interior of apartments in Scandinavia (38) Interior apartments in the USA (62) Interior of apartments in France (14) Interior of apartments in the Middle East (15) Interior of unusual apartments (22) Interior of the dining room (69) Interior of the apartment (16) How to choose furniture (61) Piggy bank of useful tips (34) Beds (3) Kitchen (4) Furniture and fixtures (3) Wallpaper (2) Shoes (1) Balcony (199) Home gym (12) Arrangement of a basement (76) Clothing and wardrobe items (2) Windows (3) Original design of two-level apartments (30) Original design of attics and attics (98) Apartment decoration (311) Room decoration (138) Laundry and pantry decoration Modern interior design of living rooms (118) Modern interior design of children's rooms (548) Washing and ironing (1) Cleaning the house (7) Removing stains and dirt (8) Unique interior design of penthouses (157) Exclusive interior design of bathrooms (275)
Based on the individual desires and needs of a strong half of humanity, designers create the interior of the male bedroom in such a way that it differs in many respects from other rooms.
In most cases, the style of minimalism is used, implying maximum functionality and minimal use of details.
Stylistic solutions for the male bedroom
In addition to the previously mentioned style, high-tech and traditional classics are also considered the most popular.
What does it depend on? First of all, the choice of the design of the men's bedroom is due to the fact that this room is intended for relaxation and doing what you love. Such requirements imply the mandatory separation of space into zones.
Regardless of the final design decision, this room should be the most comfortable.
An important role is played by furniture. So, for example, closets, chests of drawers or a dressing room are perfect for arranging clothes.
In this case, it is important that all the necessary items are visible and that a reduced number of different parts are used.
As for the berth, there may be several options. A bed can be used in the men's bedroom with a good and practical mattress or a folding sofa, next to which you can put a stand with a modern version of the lamp.
The window space is best decorated with curtains made of thick fabric or hang blinds.
Important points when creating an interior
The creation of the interior of the male bedroom, in particular the work area, deserves no less attention. The main components of this part of the room should be:
Desktop;
good lighting;
seating;
cabinet;
cupboard.
All of these items must be in line with current trends.
As for storing things, almost all representatives of this gender prefer to hang clothes to prevent the possibility of wrinkling. In this case, an excellent solution would be to purchase a wardrobe, combining a wardrobe.
The technique is best installed on the wall. As decorations, modern paintings or figurines can be used. Their distinctive feature will be a certain unusualness.
Bedroom design for a young guy
In this case, practicality and comfort should be combined. As a color scheme can be used in a variety of shades. The most popular are: blue, black, gray, brown and beige.
It is better to use a dark-colored parquet board as a floor covering.
Zoning is recommended to be carried out through a variety of wallpapers, and wallpapers for a man's bedroom can be very diverse, regardless of whether there is a picture on them or they turn out to be monophonic. However, combinations of different materials look good.
If this room is created for two men, then in a small men's bedroom it is better to establish a bed in two tiers. For such a room, it is better to arrange the walls in light shades, which will visually increase the space.
For children, unusual bed options can be used, for example, in the form of a car, a rocket or an airplane.
Modern factories are ready to offer the most diverse solutions of furniture elements. It is better to use a large table, this is presented in the photo of the male bedroom, so that work activities are carried out simultaneously.
It is better to choose a cabinet as roomy as possible. Well, do not forget about the sufficient lighting.
Thus, summing up all of the above, it should be concluded that creating the necessary bedroom design for a man is not so difficult. First of all, one should take into account all the desires and needs of the owner.
Do not forget about the maximum functionality and practicality. It is important to correctly divide the space and then as a result you can create a real work of art.
Today, for readers, I have prepared a photo gallery of bedrooms with interesting and thoughtful interiors. And although the focus of my blog is the design of small-sized apartments, this time I retreat from the usual topics. Let's look at pictures of bedrooms of different styles for inspiration, without focusing on their sizes, maybe some ideas will come in handy when creating a unique design of your room for sleeping and relaxing. When looking at photographs of bedroom interiors, I advise you to pay special attention to selected color combinations, the skillful use of home textiles and the design of walls.
This country-style bedroom interior literally breathes freshness. The key to success: a combination of light shades of light green and blue, skillfully diluted with white. Embroidered flowers on the head of the bed and bedspread are in harmony with the pictures on the walls, chintz with a pattern in a cage is used on curtains and pillows.
A fine example of modern rustic style is this white bedroom with a functional bed and a beautifully decorated cornice. This design is perfect for small rooms.
See how fresh and airy this elegant vintage bedroom is. Signs of style: shabby wooden furniture, a metal bed with curved lines, old-fashioned handbags and a suitcase. A bedspread and curtains made of high-quality textiles give the interior of the great-grandmothers time a modern look.
It's amazing how soft and airy a bedroom with gray walls can be! To achieve this result, you need a lot of light and white flying fabric. About how to create a similar atmosphere can be read in the topic:.
The romantic interior of this bedroom is well suited for a small apartment. Femininity is also given to him with cream shades. A special chic is added by expensive materials in the decoration: leather headboard and ottoman, silk bedspread and pillows.
Another women's bedroom with elements of vintage and French romanticism. Niches are organized in such a way as if they were shelves of an antique store with various antiques and trinkets. There was a place for shoes too!
This stylish bedroom design will not leave indifferent any fashionista! The center of the interior is a large wardrobe with velvet drapes instead of doors, revealing a collection of your favorite clothes and shoes.
From light romantic interiors, let's move on to luxurious classic ones. In the design of the bedroom, it manifests itself in expensive wooden furniture, an abundance of velvet and silk fabrics, crystal and gilding.
The most comfortable and intimate place in the apartment of each person is rightfully a bedroom. In accordance with their tastes, people equip the main resting place, relying on the fact that this place is a repository of dreams and a place of rest.
After a long day of work, you always want to relax and enjoy your own home. And so the bedroom becomes the main place where a person prefers to relax. When creating a bedroom interior, someone is guided by various design and style options. But everyone is trying to create their own unique place to sleep. Modern people increasingly prefer to equip unusual bedrooms.
What is their unusualness?
How to create that highlight thanks to which your bedroom will become the most unique?
Most often, the simplest solution is an unusual architecture. Some people specifically try to focus on non-standard forms when choosing an apartment:
arches
stucco decoration
glass inserts and doors,
incredible sizes of balconies that allow you to make windows from the ceiling to the floor,
etc.
The modern market is widely represented by various stucco moldings that will decorate any part of the room. The most popular is the decoration of borders and lamps. The subtle baroque spirit in each element attracts attention and captivates the eye. All this creates a unique style in the room.
Niches in the walls have become a fashionable design solution for bedrooms, in which you can place gizmos that fit comfortably into the entire interior.
Calm warm colors are traditionally chosen for the bedroom. Delicate coffee shade for lovers of a long sleep. Light cream – for those who wake up with the first rays of the sun. For a non-standard bedroom, it is enough to choose one bold color, which will become central in the whole composition.
It can be both the color of the walls, and the color of furniture and other interior items. Some designers propose to make unusual color accents only in parts of the room, placing a bright spot in the choice of the window frame. Or by making color inserts on the walls. Here it all depends on their taste preferences.
Wall painting
Another interesting solution is wall painting. Someone prefers original wallpaper, with the image of peacock feathers and tails, huge geometric patterns, bizarre lines. And others are trying to create real works of art on their walls. Amazing paintings and voluminous drawings can perhaps be recognized as one of the most unusual and original solutions to make your bedroom cozy and not boring.
The next step in creating the interior of the bedroom are various materials, a reflection of them:
in furniture
art objects
or inserts.
Fireplaces, stone panels, wood inlays, glass elements and much more will become a hallmark in the image of a cloister of comfort.
Unusual bedroom interior decoration
One of the easiest ways to create an original bedroom is to place non-standard interior items in it. And in this case, the choice is unlimited! From a selection of amazing and unique statuettes and designer frames to wardrobes and bed choices. An unusual lamp or lamp of an interesting and non-standard shape will give the bedroom that very highlight that will set it apart from others.
If you are determined and make small accents – this is not for you, then there are many styles of interior design, which in themselves are unique and unusual. Over the past years, many have been trying to create a combination of uniqueness, comfort and naturalness. Eco-boom is capturing the attention of more and more people.
Fancy styles
Everything natural and environmentally friendly is in great demand, therefore ethnic styles rightfully occupy one of the first places in the ranking of unusual designs.
An interesting bedroom can be equipped with one of the most amazing styles – African. Exceptionally warm colors, dark-wood corner furniture, small "African" attributes, ethnic prints imitating animal skins, plants with wide leaves, all this will give the bedroom maximum comfort and create an unusual atmosphere.
Designing a bedroom in Moroccan style, you will surprise everyone with bright features and an abundance of decor. The quieter familiar colors for bedrooms are replaced by the brightest and sunniest: golden, orange, saturated yellow, red, coffee, terracotta, ocher.
Many small details and objects are decorated with paintings, mosaics and glazes, rich in ornaments with glaze. In the Moroccan style, your bedroom will turn into a fairy tale "1001 Nights." Using the art deco style, you can also create a highlight in the arrangement of the bedroom. In this style, lightness and abstract forms crossed, with which you can give an unusual look to the bedroom.
Avant-garde art, cubism, futurism, and much more is manifested in this style. This is a creative rise characteristic of the era of jazz.
Various faceted, zigzag, crystalline, stepped shapes and wide energetic curved lines, expressed in various bold colors, will make the bedroom unusually luxurious. The Chalet style was formed as the style of a country house, which is increasingly reflected in modern urban apartments.
Facing one wall with boards, a stone wall, protruding ceiling beams, aged furniture, natural shades and a fireplace will recreate the image of a small Swiss house located on the shore of a lake or river.
Many different styles will allow you to bring something unusual to your bedroom, whether it is the usual classic style, or bold modern. Fusion, tropics, baroque, retro, pop art, contemporary and much more will create a unique and non-standard bedroom, where you can enjoy the unique style and comfort.
The bedroom is the most important place in the apartment, a place of fantasies, love and dreams. No matter how unusual the bedroom is, it is always important to remember that first of all it is the "sanctuary" of sleep, where peace and comfort should reign even in the most vivid expressions.