Decoration Spring 2022: Ideas To Decorate Fresh And Colorful House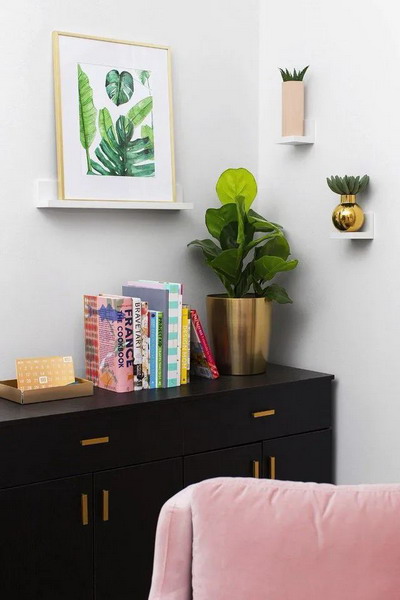 It may be time to start thinking about spring decorations.for our house, along with the prevention of the typical – and common – spring allergies, a much warmer climate and, oh what a wonder, much longer days. And it is that once we begin to leave behind the cold winter days, there is no doubt that the arrival of spring likes everyone, especially when we begin to enjoy more hours of sunshine outdoors, and even begin to spend more time in the sun., either reading our favorite book or playing some sport. There is no doubt that after a harsh and cold winter, spring tends to arrive with a much cooler and more relaxed atmosphere. And we can also dress our face with simpler, colorful and beautiful decorations, helping to easily refresh our own space. From pretty pastel colors to cool patterns, decoration ideas for spring summer 2022 that you will like a lot. Take note.
Coral accents in the bedroom
You may not want to be too complicated when it comes to changing the fall or winter decoration of your bedroom, and you prefer to choose some simple or straightforward options.
For inspiration, and to find an easy solution ready for the spring months, you can combine textured blankets with patterned pillows, which will help you achieve some depth and color.
On this particular occasion, salmon-colored tones are used with gray pillows, and luminous walls in a wonderful white color. What else for?
Wonderful rainbow-colored glassware
If you are as passionate about spring as we are, it may also invite you to improve your mood, and feel even a little happier and more cheerful. Since spring is color, luminosity, light and joy. And why not take some of its most wonderful colors to the shelf where we keep the glasses and glasses?
You can choose them by different shades, and then sort them by color… The result, if it remains the same as this proposal, is simply unique: wonderful !.
Authentic floral walls
The floral wallpaper can become a unique option to bring nature to any wall of the house, whether it be a living room or a bedroom, and is a simple and easy to turn a white wall in a Authentic piece worthy of Instagram.
In this sense, you can opt for a somewhat more traditional floral design, where branches and pink and reddish flowers are combined with birds.
Pastel shades
Spring decor doesn't have to be just flashy and colorful. They can also be cleverly played with pastel shades that break monotony and sobriety, replacing darker winter colors and accessories with pastel colors.
A good example is found with this beautiful proposal, where we distinguish lemon yellow tones with soft pink and egg blue. All this with a few simple cushions to place on your favorite armchair or sofa. In addition, they are also appropriate for the warmer months of the year (such as, for example, it could be the case of summer).
Tablecloths and floral pieces
If instead of changing the decoration of the whole house, you prefer only to substitute some specific elements, you can also opt for a floral centerpiece where you can use some fresh flowers in vases of pastel shades.
And combine it all with a garden-inspired tablecloth. Although it is a decoration option that is as simple as it is easy to apply (in fact, it will be ready in just a few minutes), it offers the possibility of achieving a truly beautiful and striking result, don't you think?
Shelves covered in plants (and other items)
Continuing with the simple and minimalist idea of the previous style, if you do not want to complicate yourself too much with the spring decoration of the house, but if you want to change some things, you can choose to update any wall by adding some white shelves (of similar colors or similar to the wall), and decorate with some pictures and fake plants in pots, playing with the shades of the pots.
On this occasion, for example, two copper-gold pots are used, with another pot a little more elongated in a salmon hue. The wood-colored box with a white background simply does the rest.