Furniture Trends 2023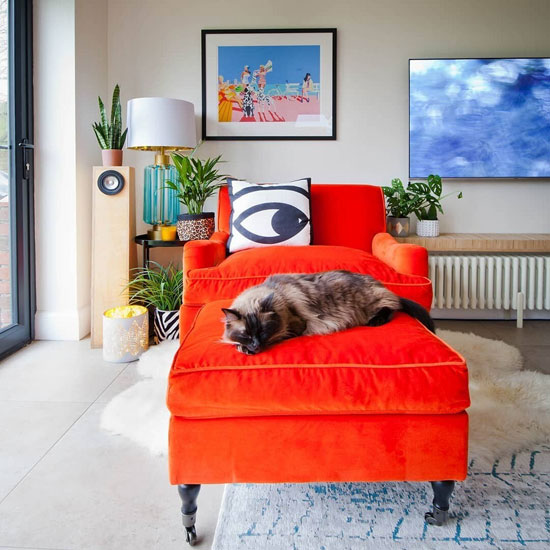 Furniture gives completeness and comfort to any interior. The task of furnishing is to personalize the furnishings of an apartment and a house, therefore, the emphasis in the new season is largely on handicrafts, products according to author's sketches. Many major manufacturers are striving for exclusivity, moving away from mass production. Antique piece things that have received a second wind are also appreciated.
Vintage furniture from the 30-70s of the last century, which has received an innovative sound, is in demand with classic shapes, rounded decorative details, noble upholstery tones.
Thanks to its pleasant external aesthetics and versatility, furniture made of transparent plastic has strengthened its position. It is practically invisible, does not clutter up the space, enhances the perception of space. Here are the newest furniture trends 2023.
Simple shapes plus metal
Smooth, wavy contours combined with straight lines are a trend in homes with modern design. Upholstered furniture with metal details will enliven and decorate even the simplest setting. Shiny chrome, black steel, bright yellow and white gold shine, painted in neutral tones of the construction are used.
Designers advise to choose furniture in ethnic style. Rattan chairs and bamboo items will look great. For a high-tech interior, chairs and tables made of transparent plastic or glass are suitable. Transparent furniture does not overload the interior with unnecessary details and creates the effect of invisibility.
In 2023, functional furniture will be relevant, as simple as possible, but at the same time interesting from an aesthetic point of view.
Ease of use and natural materials
The issue of concern for the environment and the need to create safe and durable things is firmly established in interior trends. And living surrounded by natural materials is noticeably more pleasant.
The design should be of high quality, attractive and green. Natural materials are used not only for comfort, but also for environmental reasons. There is a growing interest in recyclable and recyclable materials.
The trendy interiors of 2023 are expected to boom in dark wood, which will bring delectable chocolate, chestnut and coffee shades to the design of rooms. Wood of oak, wenge, mahogany, etc. can be seen not only in furniture, but also in wall cladding, floors, decorative structures.
The course for naturalness will remain: wicker rattan and bamboo furniture, coffee tables and stump stools. At the same time, furniture in the mid century modern style does not give up its positions. Do not rush to throw away grandma's armchairs and chairs.
According to the designers, in the future there will be demand for the most functional furniture made of natural materials that will last a long time, and at the same time have a 100% recyclability and do not harm the environment.
This trend sustains interest in Scandinavian style, natural, rustic lifestyles and traditionally simple design.
Compactness and invisibility
The emergence of smaller homes will continue to drive demand for space-saving furniture. Particularly in demand will be available prefabricated furniture and compact individual elements that can be adapted to different room sizes, customized for yourself. Living "on the second level" is in trend: from bunk beds, typical for children's rooms, to two-level spaces with mezzanines and a sleeping area on the mezzanine.
Try to imagine what kind of folding furniture would fit into your home. It really helps to visually simplify and free up space.
Crisp shapes and prints
Prints on fabrics and wallpapers, and the shape of furniture are some of the fastest-changing trends. In 2023, ethnic and floral designs will replace clearer shapes, graphic prints. It is also worth paying attention to furniture with rounded shapes. It will help dilute the severity of the interior and add grace.
Multifunctionality
Multifunctionality is dictated by a common long-term trend. The more roles each item can play, the better. There is a need for multifunctional furniture that marks living spaces or separates them from each other: tables that serve as dining and work cabinets, cabinets that can store things and zone space.
Housing of a small area is actively gaining popularity, so one of the main trends is the desire to make it as stylish and functional as possible, to create a comfortable life in a small space. For the sake of this, one has to abandon the usual furniture and look for appropriate analogs.
Unusual shapes and materials are in trend. Chairs and armchairs with three legs, fully upholstered in fabric. Small sofas for 2-3 people on legs and without a folding mechanism. This mini-talks format replaces the usual oversized sofas, due to the global trend of reducing the area of apartments and living rooms.
Close to nature
Outdoor furniture now not only looks like it has moved into the garden from the living room, but is also used at home – thanks to increased comfort, elegant materials and high-tech textiles. The trendy gray color for outdoor furniture is losing ground – now designers are betting on white outdoor furniture.
Smart design
Technology is becoming an integral, invisible piece of furniture and a leading trend. The bedside tables are equipped with wireless charging stations for mobile phones, sofas remember the individual preferences of the seated, and the beds are gently nudged into a different sleeping position.
Comfort
Compact, visually appealing upholstered furniture such as two-seater sofas or armchairs is a trend. Here, special attention is paid to ergonomics. Console tables, folding tables or small shelves provide a sense of order in everyday life and become an integral part of the interior. Stools and benches are provided with soft upholstery to add comfort to the kitchen and dining area. The sofas are adjustable and are complemented by built-in tables.
Leather armchairs
Interior design in 2023 predicts a buzz for leather chairs. Classic Chesterfield luxury pieces will continue to grace loft spaces, with original pieces in natural or synthetic leather getting their share.
The leather upholstery, which gives the space a discreetly elegant look, looks especially good in combination with marble and gold decorative elements.
Another trendy material is elegant refined velvet, which acts as furniture upholstery. This fabric attracts with its richness of shades, pleasant softness, grandiose overflows, some theatricality and irony.
Terracotta color – trend of the season
Color is a powerful tool in interior design. It plays a decisive role in how we evaluate the premises. Brown has the greatest impact, and can be used in a neutral or avant-garde way. Shades of brown are responsible for comfort and therefore are very popular now.
A specific red-brown-orange shade of baked clay will be in demand not only for furniture (sofas and armchairs with leather upholstery, coffee tables, facing the kitchen "island"), but also accessories: carpets, flower pots. In a lighter or more saturated version, it will do an excellent job of creating a bright accent.
Furniture trends of the year in the interior
Living room
More and more often, elements of furniture in the style of the 70s are introduced into modern apartments and houses – with smooth wavy lines, rounded silhouettes, bright blue, green, pink colors.
Interest in this period has been manifesting itself for several years already. This is not about literally copying models of the past, but about adapting them to minimalist, Scandinavian, art deco design. It can be one or two chairs of an unusual shape, an unpaired sofa – it is quite enough to give the atmosphere a characteristic intonation.
Kitchen
Furniture in a modern kitchen should be comfortable, practical and as reliable as possible. Chairs and tables should not have sharp corners. By combining all these requirements, you get a cozy and stylish space.
A characteristic trend in kitchen interior 2023 is to minimize the use of handles. The advantages of systems like "touch to open": convenient operation, compact surfaces, the possibility of non-standard distribution of cabinets, freer combinations of facade and finishing materials. Experts are convinced that the idea will be in demand for at least the next few years.
Bedroom
Bedroom beds become more comfortable and safer when the footboards and headboards are upholstered in soft textiles that are pleasant to the tactile sensations. It is more fashionable than ever to use soft headboards made of natural or eco-leather.
In addition, in the new season, such luxurious material as velvet, as well as upholstered furniture with suede or velor upholstery, comes into its own. The main thing is not to overdo it and pick up textiles, curtains and bedspreads from another fabric.