Top 10 Kitchen Trends For 2022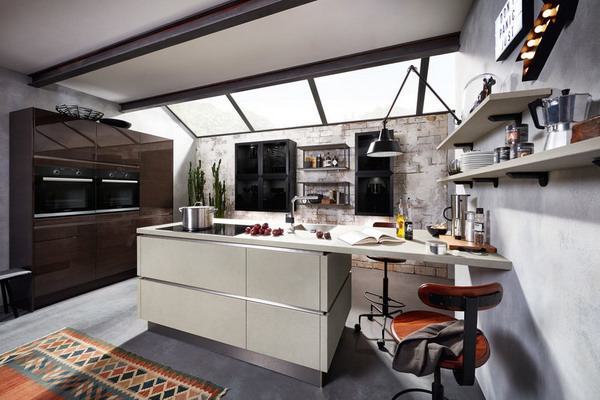 Are you interested in the 2022 kitchen trends? Of course we have put them together for you! The trend spotters from homedecoratetips were once again guests at the kitchen fairs and exhibitions of kitchen manufacturers this autumn in order to present the latest kitchen trends to you. In 2022, we not only expect new colors and materials in kitchen furnishings. A new type of design language and creative planning ideas also shape the current kitchen worlds. And of course technology highlights and innovative equipment options for kitchen design in 2022 should not be missing. Be inspired by the top 10 kitchen trends for 2022! Are you interested in the 2022 kitchen trends? You can read them below:
Kitchen trend 1: concrete and slate
We encountered this trend last year. Surfaces with concrete, slate and cement for the design of kitchen fronts and worktops are still very popular. In the coming year, the materials with the rough stone character will move even more into the focus of design options for the kitchen.
First and foremost, the kitchen manufacturers offer the surfaces as decors made of laminate. These impress with their insensitivity and good maintenance properties, but also with their attractiveness in price compared to real surfaces made of concrete and slate. Those who like it authentic, on the other hand, prefer kitchens with real filler concrete or slate veneer will be applied thinly to the surfaces. In this case, the surfaces are more expensive and more sensitive, but the real materials make for a more impressive look in the kitchen.
The appearance is particularly attractive when the large-scale concrete or slate surfaces are used in handleless kitchens. Incidentally, concrete in the kitchen does not mean that the room has to appear dreary gray. The color palette is diverse, ranging from light white concrete to stone gray concrete to dark, almost black concrete in slate gray. The stone kitchen fronts made of slate veneer are available in shades of silvery gray, through golden green-gray to dark anthracite.
Kitchen trend 2: Floor-to-ceiling kitchen fronts
A new furnishing trend for kitchens in 2022 is the design of the kitchen fronts down to the floor, so that no plinth can be seen anymore. If you open the cabinet doors, however, you will find the plinth inside. This design makes the kitchen cabinets appear larger, creating a massive and block-like look.
The design trend is particularly suitable for free-standing cooking islands, which thus appear like a monument in the room. With floor-to-ceiling kitchen fronts, you can achieve a very minimalist kitchen design that harmonizes perfectly with designer kitchens with a handle-free look, in which the handle rails or handle strips are placed on the cabinet doors.
Kitchen trend 3: kitchens in dark wood
The third kitchen trend is perfect for people who want to enjoy their new kitchen with all their senses. It starts with the sonorous names of the new kitchen fronts in dark wood tones: Cognac, smoke, espresso, nougat or tobacco are all the rage for kitchen design with fronts and worktops. Characteristic of the trendy wood decor surfaces are strong grain patterns with so-called synchronous pores. When you run your fingers over the surfaces, you feel the grandeur of the grain – in short, you feel what you see.
This very cozy kitchen furnishing style is the opposite of the Scandinavian furnishing trend, which is primarily known for its light to whitish wood tones. The new wooden kitchens radiate natural warmth without recalling the long-suppressed but popular "rustic oak" style. Especially when the dark wood tones are combined with a handle-free look and a modern planning concept, the result is a trendy designer kitchen that is absolutely trendy. If the all-over wood look in the kitchen is too much for you, you can opt for combination colors such as white or black kitchen fronts or a material contrast with a worktop with a concrete look.
Kitchen trend 4: stainless steel kitchens
After the trend topics of copper and gold in recent years, another metallic material is now conquering kitchen furnishings – stainless steel. Stainless steel has been popular in catering kitchens for many years – here, however, primarily for reasons of hygiene and easy care. A chic look plays a rather subordinate role in most restaurant kitchens. Not so with the new kitchen trend for the home: As a design element in domestic kitchens, stainless steel is an incomparable eye-catcher as a surface with a "scratched steel" look.
The metallic design in the used look brings a touch of industrial style to the kitchen, can be combined in many ways and goes with all colors and materials. Even the combination with wood, natural stone or concrete results in a great design. The metal look gives closet fronts, side panels, worktops and niche cladding a cool look in stainless steel.
Kitchen trend 5: Color accents for the kitchen
In 2022, too, the kitchen furnishings will focus on colored eye-catchers and individual accents in yellow, orange, green or blue. This means that individual kitchen elements are deliberately staged thanks to bright colors. For example, give selected cabinet areas such as the tall cabinets or base cabinets a little color in trendy tones. The niche back wall or open shelves are also ideal for adding color accents.
This trend is particularly suitable for all those who want color in the kitchen, but who find it difficult to get used to a complete kitchen design in a bright color. If the complete fitted kitchen appears in sunny yellow, fiery red or rich petrol, you will quickly get tired of it. If, on the other hand, there are only a few accents of your favorite color in the kitchen, you will feel at home for longer with the selected design.
Kitchen trend 6: Cubist kitchen planning
Anyone who has always wanted to try out creative interior design now has the opportunity with this design trend for the kitchen. In the "cube trend", the focus is on cube-shaped elements in kitchen furnishings. These are not boringly strung together, but are arranged in an unusual way and apart from the "normal" positioning. With this trend, for example, wall shelves can step out of line and be freely arranged on the wall.
Another cubist design option arises when kitchen elements and cuboids do not adhere to a symmetrical order, nor to fixed heights and depths: Individual cabinet parts protrude from the surrounding cabinets and give the kitchen concept a geometrically exciting design.
This design trend requires a bit of courage, but at the same time it opens up completely new possibilities in the design of a varied kitchen facility. To ensure ergonomic and structured work in the kitchen continues, it is worth relying on the expertise of a professional kitchen planner. With a bit of courage and creativity, you can create fascinating accents in the kitchen design that make even the Cubists of art history pale.
Kitchen trend 7: marble in kitchens
Marble announced itself as a new kitchen trend last year, but this year it is playing an even bigger role. Real marble is a wonderful material for the worktop or the back wall of the niche. Natural stone has its price, but it transforms every kitchen into a place of sublime appearance. Marble decors, on the other hand, are a bit more cost-effective and can be used as kitchen fronts, carcasses or as worktop or niche rear wall.
The marble look of the kitchen can be designed particularly elegantly and stylishly when light marble meets white fronts. Those who opt for black marble, on the other hand, will be rewarded with a striking contrast that looks extremely modern and extravagant. Depending on which marble you choose and which materials you combine it with, a sophisticated look can be conjured up for designer kitchens, as well as very cozy and warm country house kitchens.
Kitchen trend 8: kitchens with black handles
Small details play a major role in design trend no. 8: black handles. If these meet white kitchen fronts, there is an effective contrast between the two colors. But also tone on tone black handles on dark kitchen fronts in anthracite or black look great.
The trend appears even more coherent when black is used in other accessories and kitchen elements, such as open steel shelves, chair frames or metal baskets. The new kitchen design is made possible with a large selection of handle elements, either with classic bow handles, knob handles or black handle strips for handleless kitchens.
Kitchen trend 9: Dark country kitchens
Those who love the cozy appearance of a country house kitchen now have even more options when it comes to choosing colors. Country kitchens were popular primarily for their nostalgic, romantic furnishings in mostly light colors such as white, cream or magnolia as well as natural wood tones. However, if this traditional country house style is too harmonious for you, you will enjoy a kitchen in a dark country house style. Colors such as black, carbon, chocolate, navy blue or graphite are in the foreground.
The dark color scheme gives the new country house kitchens a modern, rough look that is based on the still popular industrial style. The look is completed by the right furnishings with accessories: wooden baskets, steel stools, nostalgic kitchen scales or faceted tiles create an unmistakable look of a trendy coffee bar.
Kitchen trend 10: Clever kitchen equipment
To make the kitchen even more practical and convenient, kitchen manufacturers have come up with new ideas in terms of equipment and technology. Practical accessories and furnishing ideas for the dining area can increasingly be obtained as all-in-one complete equipment directly from kitchen retailers.
These include, for example, items for child safety, which reduce the dangers in the kitchen. For example, drawers can be retrofitted with a child safety device so that pinched fingers can be avoided. Can be easily ordered as an extra when planning the kitchen.
Because more and more people are combining living space and kitchen, kitchen manufacturers have dedicated themselves to the design of the dining area. The dining table and bench are available in the same decor as the selected worktop, resulting in a harmonious and homely look. And the matching frames for table and bench are also available directly from kitchen dealers. The perfect solution for everyone who wants to furnish the dining and living area with kitchen elements in addition to the kitchen.
Another trend in kitchen equipment is order and storage space. You can only benefit from unlimited cooking pleasure if you don't have to search long for groceries, kitchen utensils and the necessary kitchen utensils. Functional equipment details such as practical organization systems, convenient pull-outs and clever accessories are impressive.
In addition, kitchen manufacturers are placing greater emphasis on the equipment in the utility room. Various furnishing ideas for accommodating the washing area with washing machine, dryer and storage area help to keep supplies, vacuum cleaners or cleaning products tidy and to organize the laundry.
Of course, we have also put together the top kitchen trends for 2021 and the top kitchen trends for 2022 for you!