Wallpaper Trends For Living Room 2024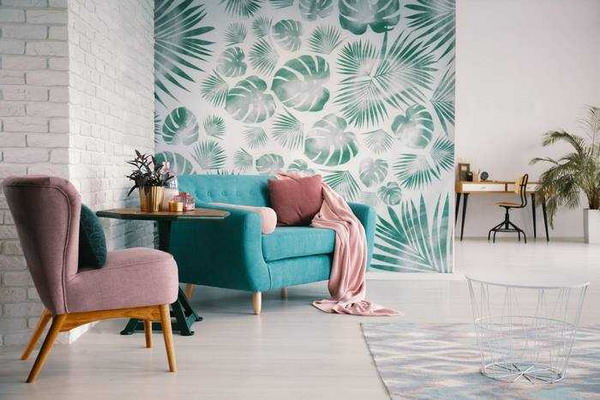 Wallpaper is the most popular finishing material for walls. Some of this year's design trends continue for the next season. Let's find out what will be the trendy wallpaper 2024 for living room.
Trends in wallpaper 2024 for the living room
The fashionable wallpaper 2024 for the living room, decorated in a knitted fabric, gives the living room a unique atmosphere, which can also be seen in the photo.
This wall design is especially relevant for a Scandinavian-style room. With this print, you can highlight a relaxation area in the guest room. A knitted plaid thrown over the sofa will complement the interior well.  Wallpaper with elements of French style Toile de jouy stand out with graceful lines.
The Scandinavian style is also relevant – white, gray, black colors and discreet ornaments. It seems that they are cool. One-color patterns against a background of white, beige or cream fabric look elegant and unique.
The main plot of the drawings is landscapes with scenes from peasant life, hunting, shepherds, girls with fruit, lambs, etc. Such wallpapers will ideally decorate the walls in the Provence-style guest room. Colors:
pink;
lavender;
blue;
green;
terracotta;
peach.
When choosing wallpapers for the living room, keep in mind that they should not only decorate the interior, but also create a pleasant atmosphere. Balance bright colors with neutral ones, use shades of the same range.
Textile wallpapers
If you are wondering what wallpaper is trendy in 2024 for the living room, you should pay attention to the fabric wallpaper. They are made from textured fabrics: jute, felt, velor, silk, linen, cotton, vinyl or non-woven synthetics. These wallpapers create good heat and sound insulation. Textile wallpapers are distinguished by sophistication, environmental friendliness, resistance to changes in ambient temperature. In addition, they do not change color over time.
Many designers prefer to use textile wallpaper for wall decoration. Silk walls look expensive and beautiful in any room, retain their quality for a long time. Linen wallpaper protects well from excessive noise. Felt surfaces are soft, pleasant to the touch. Such trendy wallpapers 2024 for the living room, thanks to their design, hide small wall defects well. Jute, if you look at the photo, looks natural, expressive, creates a cozy and comfortable atmosphere.
The liquid wallpaper
For 2024, liquid wallpapers are still in demand. This is due to their ease of use, the possibility of using on uneven walls. Viscous material hides small potholes, cracks, compares differences in height.
Fashionable liquid wallpaper 2024 for the living room and hall is presented on the market in a large assortment. You can easily choose the right color. The main thing is that it is in harmony with the overall decoration of the room. The advantages of liquid wallpaper include the ability to create surfaces with a variety of textures and without seams.
Ecology theme
The relevance of the environmental theme for 2024 is reflected in modern wallpapers. They are made with drawings in the form of lush greenery, tropical plants. They will look appropriate on the wall next to the fireplace, and the rest of the walls can be finished with wallpaper with a calm design.
The trend of 2024 is eco-style. Wallpaper in this style is not made of paper, but of bamboo, cork. The second option is indispensable if you need good sound insulation in the living room. You can decorate the relaxation area with wallpaper with herbal compositions, put a green fleecy rug near the chair, put a few pots with houseplants. Get an original and cozy corner.
Wallpaper with 3D printing
3D fashion wallpapers 2024 for the living room are very popular. Large pictures on the walls look very impressive.
Flowers and buds, geometric shapes and lines, animalistic plots, abstraction decorate the space. You can choose wallpaper with shimmering splashes or equip them with backlighting.
Wallpaper with 3D printing will adequately transform any room, add dynamics and sophistication to it. The main thing is to stick them only on one wall. Perhaps this is precisely the most fashionable wallpaper for the living room in 2024.
All other walls in the guest room are best made plain, but in the same color palette. Among the fashionable photo wallpaper designs are the image of shelves with books in beautiful bindings, a picture of a fireplace, etc.
Universal wallpaper
Classic modern style is chosen by 80% of buyers. As a rule, such wallpapers are depicted:
flowers, plants, animals, geometric figures;
urban and natural landscapes;
imitation of metal and marble.
Brocade pattern on a light background is also considered relevant in the case of universal wallpaper.
Ethnic motifs
Ethnic wallpapers will be fashionable next year. They look original, original, stylish. You can decorate the living room with the motifs of African settlements, in Indian, Egyptian or Arabic style.
Decorative pillows made of materials imitating the skin of exotic animals, carpets with a view of sand dunes, paintings with tropical plants will help to emphasize the style.
African-style wallpapers are characterized by colors that resemble the sun, hot sand, dried plants – sand, bright yellow, orange, brown.
Egyptian motifs – yellow, beige, ocher, ivory. An Egyptian-style ornament is placed on one wall in the living room, and the rest of the walls are made plain.
The new arrival of this season is mountains.
Indian-style wallpapers imitate rich fabrics with rich cherry, blue, emerald green colors. Arabic wallpapers depict oriental ornaments of fabulous beauty.
Luxury wallpaper
For lovers of luxury, leather wallpapers are suitable. They are glued in rooms with a large area on one wall.
The richness of the interior is provided by fiberglass wallpaper. They are made in delicate pastel colors and are used for zoning the living room.
Other types of trendy wallpaper in the living room 2024
The trend for non-woven wallpaper continues. During operation, they do not emit toxic substances, absorb moisture, and prevent the appearance of mold.
Geographical maps look very original on the walls. This design has gained popularity in recent years. The picture on the wallpaper conveys the scuffs and blurry outlines of the old map. This is an unusual type of decoration for the room, and a source of new knowledge.
Abstract patterns remain fashionable. Spots of various shapes and sizes decorate a room with a contemporary design.
Memphis-style wallpapers came to us from the 80s of the last century. This style combines art deco, kitsch and pop art. "Memphis" is neon colors, pastel colors, various geometric shapes.
Innovations in the field of mass production of wallpaper surprise with an assortment of materials, textures and patterns.
The gradient options look interesting. Smooth color transitions add dynamism to the room.
Geometric shapes (rhombuses, honeycombs, zigzags) and clear lines can be arranged arbitrarily or in a strict order. Depending on this, the interior of the room looks dynamic or calm.
Actual colors and patterns
In 2024, bright colors on a white background are in trend. A bold design solution in the form of colorful strokes looks trendy.
Vertical stripes remain popular. They look perfect in a small room.
Most often, lines of different widths and colors alternate on the wallpaper. With them, the interior of the living room will not be boring.
The fashion for black and white wallpapers is preserved.
Fans of everything exotic choose animalistic pictures for the next year. They are very decorative, look good in a modern guest room.
Blue wallpapers are popular. This color scheme is especially appropriate for a living room with south-facing windows.
Neutral shades combined with all colors are used: gray, white, sand, cream.
Pinkish, lavender, mint colors still remain relevant.
Golden flowers look beautiful on a white background. They will give the room sophistication and high cost.
In 2024, trendy wallpaper colors from the 50s will also be in trend: carrot, blue, bright green, red, a combination of black and white. From the 60s – floral ornaments and colors:
yellow;
violet;
turquoise.
From the fashion trends for living room wallpapers from the 70s, glitter, gloss, gold, purple, wood and vegetable drawing. From the 80s came in 2024 bright abstraction, shabby textures, pastel colors.
Fans of unusual solutions can be advised to wallpaper that imitates fabrics – denim, chintz, silk. "Watercolor" drawing with smooth transitions of colors looks romantic and unique.
Wall decoration in different styles
In the living room, design experts recommend decorating the walls in different ways. For example, one wall is pasted over with wallpaper with a bright or colored pattern, and the rest with plain or with patterns of a different color wallpaper.
To keep the wall design harmonious, keep moderation with bright patterns and colors.
If you chose the pop art style, then the color and texture of the walls, and hence the wallpaper, the living room should be combined with the general style of the house. With the help of bright wallpapers, one wall is completely or partially decorated, thus zoning the room.
Parts of the walls around the fireplace, in a green corner or next to a rocking chair can be trimmed with moldings with handmade wallpaper inserts.
New for the 2024 season are wallpapers with elements of neoclassicism. They are decorated with gilding, elegant floral patterns and add aristocracy to the living room.
Modern youth prefer high-tech wallpapers, which can be glossy and even metallic.
The range of well-known manufacturers includes wallpaper with a view of brickwork, stone, leather, wood, old plaster.
They allow you to recreate a real loft in the guest room. Walls with this design look surprisingly harmonious with modern furniture.
When choosing wallpaper, keep in mind that they should not overshadow the furniture. Wallpaper is the background on which you need to advantageously place everything else. Then the interior will be beautiful and harmonious.
The chinoiserie style is gaining popularity, combining classic European and Chinese trends. The trend is wallpaper with gold and silver embossing. Against their background, simple furniture looks great. "Chinoiserie" has 2 varieties:
restrained style – butterflies, flowers, fruits, scattered on a light background;
grandiose style – lush flowers, peacocks on a background of gold, camellias on a purple background, etc.
For a living room in a romantic style, floral motifs reminiscent of a herbarium are suitable.
Methods for wallpapering in the living room
To give the living room a noble look, you need to carefully consider what type of design suits you best.
There are several basic techniques for wallpapering in the living room:
full pasting;
combined;
zoning;
decoration.
Full pasting involves finishing all the walls. Here it is important to choose wallpaper according to the pattern so that it matches on different canvases.
Combined pasting involves the combination of different materials of manufacture and texture of wallpaper in the guest room.
For zoning, 2 types of wallpaper are used, which are glued so as to divide the room into two functional zones. This is especially true for living rooms with a small area.
Accent is used to draw attention to the main objects of the living room. Thus, you can hide the defects of the walls in the room.
If you chose dark wallpaper, then the number of colors in the design of the walls should not exceed 3.
One dark color, one light and one color accent will look harmonious. Dark color should not occupy more than 1/3 of the walls.
The main principles of wall decoration with wallpaper are simplicity, practicality, and comfort.
Modern wallpapers allow you to embody any idea. Their choice is huge, and the interior can be created from classic to avant-garde – for every taste.