Living room design 2024: what's new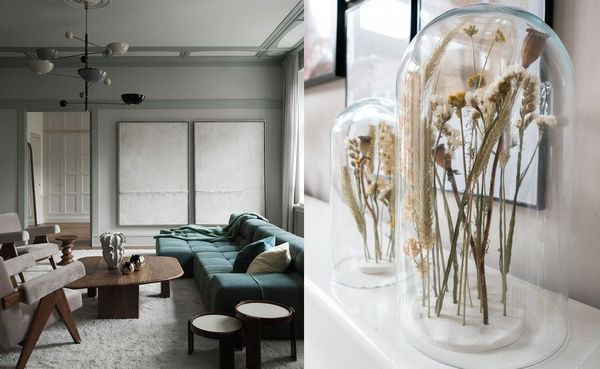 How to combine a living room with other rooms and turn it into a multifunctional space, what finishing material is now used not only in bathrooms and kitchens, how did nature inspire designers this year, and what furniture has become a must-have for a fashionable interior? All about living room design 2024.
One whole
The floor covering in the hallway and in the kitchen should be wear-resistant and unpretentious. On the floor in the living room and bedroom, parquet or laminate is most appropriate. And if the kitchen and living room share one room, the kitchen area should be allocated due to a strip or "carpet" of tiles or porcelain stoneware. Here's the outdoor scenario we're used to. In 2024, more and more designers are moving away from it in favor of single flooring.
A single flooring in the apartment, "flowing" from room to room, will visually increase the space, create a solid image of the interior, relieve the burden of choosing thresholds and fussing with joints.
In the kitchen-living room, a single floor covering will visually unite the zones. This approach was a logical development of the trend to turn the kitchen into an extension of the living room.
If the kitchen in your living space is present not only nominally, but also used for its intended purpose, you should choose a floor covering that is durable and tolerant of moisture. Practical quartz-vinyl is well suited for this role, but porcelain stoneware in living rooms is also not new, and moreover, it is a fashion trend.
Now in the living room
Porcelain stoneware and tiles are cool materials, making them a promising candidate for flooring and wall cladding in hot climates. Especially if the house or apartment is located near the beach, which means that sand periodically gets into the living rooms on the soles and clothes, which spoils the wooden flooring. In regions where hot days are a rarity, fashionable porcelain stoneware on the floor in the living room can justify an underfloor heating system "enhanced" by the presence of carpets.
You can also join the trend less radically. It is not necessary to use tiles or porcelain stoneware as a finishing material, they can be present in the interior of the living room 2024 as a fashionable accent: finishing a fireplace, coffee table, or as a decorative panel.
One room – many scenarios
If the apartment does not have numerous rooms, most likely in the living room you will not only receive guests. Someone can work here on a laptop, do exercises, learn homework, draw at an easel, practice yoga, arrange online conferences, organize photo shoots, and so on.
Situations are different, but the living room is one. The fashion trend is to make the room ready for any scenario: to give it the opportunity to transform from a party area to a quiet family cinema, from a cinema to an office, from an office to an extra bedroom.
This will help multifunctional furniture solutions. Low modular sofas that can be assembled into various combinations and move freely in space, built-in retractable minibars, shelving and consoles with flaps that can turn into a desktop, and other intricate furniture transformers are now at the peak of popularity.
Outdoors
Interior design has been heading towards imitation of nature for several years now. In 2024, in the interior of the living room, this trend reaches its maximum scope. The main characters are still the same: soothing natural tones, natural materials, smooth shapes echoing the intricacies of the plant world and natural landscapes, an abundance of indoor plants, floral prints and landscape wallpapers. And be sure to add green shades, this year they are an absolute hit.
The most unpretentious plants
Not only live greens in pots are in fashion, but also dried flowers, which have become another reference to the interior era of the 1970s, which still does not leave the list of fashion trends.
In 2024, dried flower compositions are actively used in living room interior design, they can be found on every second booth at design exhibitions.
Whether dried flowers will take root in real Russian interiors – time will tell. We often classify such decor as useless dust collectors. But it all depends on the point of view, dried flowers can also be called a practical choice: unlike cut flowers, they will live a really long life in the living room, will not require special attention, like whimsical potted plants, but still set the interior to a natural theme.
The old fashioned way
Vintage and antiques are an eco-conscious choice and a fashion trend that is not losing ground, but is gaining momentum.
Good tone: to settle in the interior not only vintage decor elements, but also large-sized vintage furniture objects. They can exist in a fashionable context both in a restored form and with traces of past years.
Vintage is friends with modern furniture objects. Partly because many of them themselves tend to resemble the models of the 50s, 60s and 70s of the last century. But even if there is no visual relationship between them, boldly combine vintage and modern furniture: a mixture of styles and emphasized individuality are still the main tasks of modern design.
In an unexpected color
The fashion for color blocking is also evolving. If last year geometric shapes on the walls and upholstered furniture acted as color spots, today saturated shades are increasingly trying on chairs, tables and cabinet furniture facades.
Sculptural furniture in rich colors is a must-have for the trendy interior of the living room 2024. Colors are used both deep natural and bright candy.
Modern interior trends are mostly flexible and loyal, it is quite simple to integrate them into the interior, and online shopping center will help with this.