Living Room Trends 2025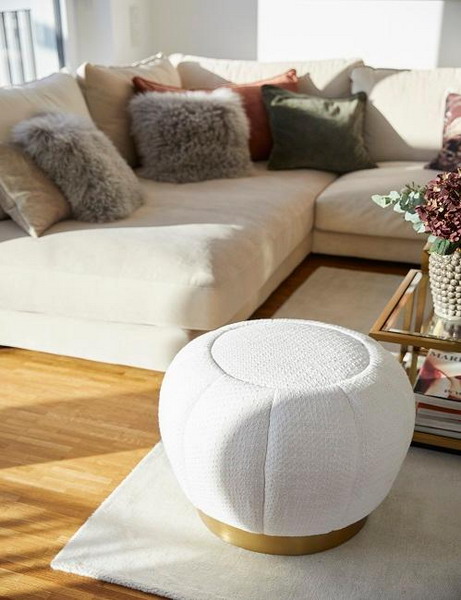 With the new year, new design elements and styles are also becoming a trend in the world of interior design. From exciting combinations of natural materials and gold accents to a simple Scandinavian flair and cozy room lighting, the new year brings a large selection of design suggestions. In the following, you will learn everything about the new must-haves and recommendations to design your living room according to the new year. Here are our living room trends 2025!
More pictures on the wall
Photographs are not only memories of experienced moments, but can also give every living room a stylish character. Picture collages can be put together especially individually, whereby the pictures contribute to a harmonious overall picture through a connecting color scheme or theme. The innumerable possibilities with pictures as wall decoration are brought to new life as living room trends 2025. Snapshots from family vacations, from friends, pets or relatives create a particularly cozy atmosphere in your own four walls. Those who prefer to keep the unique memories private in the photo album can fill the empty space on the wall with idyllic landscape photos or creative works of art.
Natural materials
The trends in interior design are strongly based on the respective trendy materials. The modern accent made of glass or stainless steel and the simple white of plastics have long been the favorites for the design of furniture for the living room. In 2025, the trends will become more natural. In addition to the dining room table and the wall unit made of rustic wood, you will find the natural materials of cotton and linen when designing sofas, pillows or curtains. These materials also create a cozy and inviting flair in your living room.
Neon signs
The fact that lighting is a decisive factor for the mood in an interior is now considered general knowledge. The Living Room Trends 2025 also give this assumption an individual touch. Illuminated letters not only provide an additional light source in your living room, but can also serve as a decorative element. An inspiring lettering stands out even more with subtle or eye-catching lighting.
50 shades of white
Who says that white always has to be simple and monotonous? In the new year you are at the right address with a clever combination of different shades of white. Bright colors are generally popular for reflecting the light in a room, creating a more open mood. Subtle accents in white retain this advantage without you having to deviate too much from the original color. With more shades of white than the wall color or with the design of the interior, you are in trend in 2025.
Hey monkey!
As already mentioned, a well-lit living room is a crucial part of the right atmosphere in the interior. Why should lamps always be practical and only adapt to the furnishings? How about a real eye-catcher that combines art and efficiency? The monkey lamps from Seletti are a real eye-catcher with their striking designs in classic colors. Whether as a ceiling lamp or floor lamp, the monkey lamps in black or white also give your living area a touch of jungle fever.
The living-dining room
The combination of kitchen and living area is not intended in every floor plan, but often the living room and dining room merge anyway. Whether it is about having dinner together at family celebrations or an afternoon snack in front of the TV, relaxation and nutrition are close together. The Living Room Trends 2025 also embody this fact with clever elements of the interior. Decorative plates can be real eye-catchers as wall decorations. With the round shapes you can skilfully contrast with the usual angular design elements such as picture frames, wall cupboards and art elements. Crockery sets can create a harmonious overall picture, but a mix of various unique pieces can also be presented on the wall. We'll tell you how to do thatSet up living-dining room !
The material mix
Variety is a crucial factor in making an interior interesting. Especially the trendy aspect of natural materials among the trends for 2025 invites you to live out your own creativity with exciting material combinations. The natural elements in combination with noble glass or metal designs combine a cozy flair with modern and chic accents. The mix of rustic concrete with elegant metal is also particularly trendy, as it builds a bridge between a cool, industrial atmosphere and a feeling of well-being through textiles and warm colors. You can find this mix of materials in modern collections from furniture manufacturers, but it can also be implemented by your own creativity.
Modern Scandinavian style
Clear lines, minimalist color accents and simple designs – all this is summarized under the trend of the Scandinavian style. The Scandinavian furnishings will also move into our living room in 2025, as cozy design elements move cosiness into the living area. It is usually very dark in the Scandinavian winters. Therefore, people in the far north like to furnish themselves with fresh colors, of course a lot of white is not missing. So they counteract the darkness. The furnishing style can therefore be optimally combined with the 50 Shades of White and the cozy natural materials. With white, gray and beige tones and a simple mix of cozy pillows and blankets, fresh plants and natural wooden furniture, the Scandinavian Style is the right place for you.
More is more!
Despite the fact that the previous trend focused on a simple interior design, this does not mean that the living room should only be minimally designed. Carefully selected decorative items show your attention to detail and give your living room more character. Decorations can match the color scheme of your interior or set accents deliberately with striking colors or shapes. The general rule here is – more is more! The small elements of your interior can remind you of important moments or simply be a pretty eye-catcher.
Gold finger
If the simple design of the Skandi style in combination with subtle natural materials is too simple, you can set shimmering accents with gold. The glossy surfaces bring a glamorous look to your living room, as they reflect light and literally provide highlights. With golden handles, doorknobs or chair legs, you will be completely on trend in 2025.
Natural light
In order to properly stage all the living room trends 2025 mentioned, we take a last look at the right living room lighting. Apart from the artificial light sources and bright wall colors, natural light is a decisive factor for the right atmosphere in your living room. Avoiding curtains or using translucent curtains is a trendy alternative to better illuminate the room.