Summer Decoration Trends 2022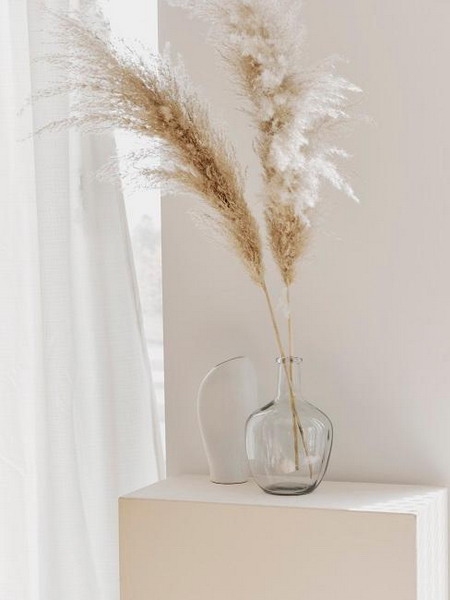 Our summer decoration trends 2022 has never been as popular as this year! No wonder, the extraordinary combination of casual boho elements and fine accessories instantly upgrade any home and gives summery freshness. So that you too can find exactly the right thing for your apartment, we will present our must-haves for every room and tell you our most important tips on decorating.
These colors and materials are particularly popular in summer 2022
In the warm months, we like our furnishings particularly naturally – after all, we then spend a lot more time outdoors and outdoors. So why not transfer exactly this wonderful feeling of freedom into our home? For this reason, use as many natural materials as possible for your summer decoration.
In addition to the classics such as beige, brown or cream, tones such as saffron yellow or a delicate pink can of course transform your home immediately. The warmer your color palette, the better!
As every summer, we find small pieces of furniture and accessories made of bast and linen to be perfect. But dried bouquets with materials such as pampas grass, cotton branches or cereal stems are currently upgrading our favorite ceramic vases.
Decorate the hallway in summer
The entrance area gives visitors the first impression of our interior taste. We would therefore like to leave a particularly inviting feeling here. Our motto is therefore: the brighter the better! Keep the whole room as friendly as possible.
In addition to a console or a sideboard made of light wood, a large mirror should of course not be missing here. This not only visually enlarges the mostly small room, but also helps you with a final beauty check before you leave the house.
With summer decorations such as a hand-knotted jute rug or a fresh bouquet of flowers with your favorite flowers, you can top off your summer entrance area.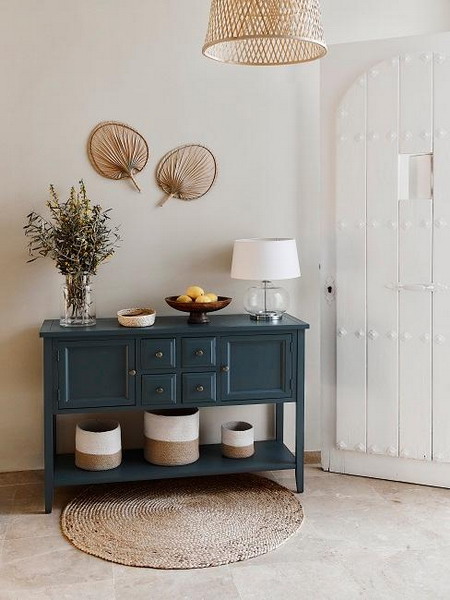 Of course, you don't just have to stick to light and neutral tones! With dark pieces of furniture you give every room that certain something. In combination with the materials already described, such as raffia or linen, you create an entrance area that invites you to linger.
Baskets in different sizes are not only the very last thing in this year's summer decoration, but also offer enough additional storage space for small things like the umbrella or the dog leash. Wall decorations made of wood do not neglect the natural component in this style either. A bowl full of lemons gives the last splash of color and reminds us of the Mediterranean style of furnishing.
Decorate the living room in summer
But of course the living room must also be fitted with appropriate summer decorations. Here we always rely on cosiness and cozy materials such as wool or cashmere. Even if this may seem a bit wintery at first, these summer accessories make your living room look cozy and cozy even in the warm months.
Choose friendly and warm colors here too. Small splashes of color in lemon yellow or fresh coral immediately make every room fresher. In combination with decorative pillows in summery patterns, you immediately achieved the desired effect in this room too. Our long-running pouf made of bast skilfully rounds off the look.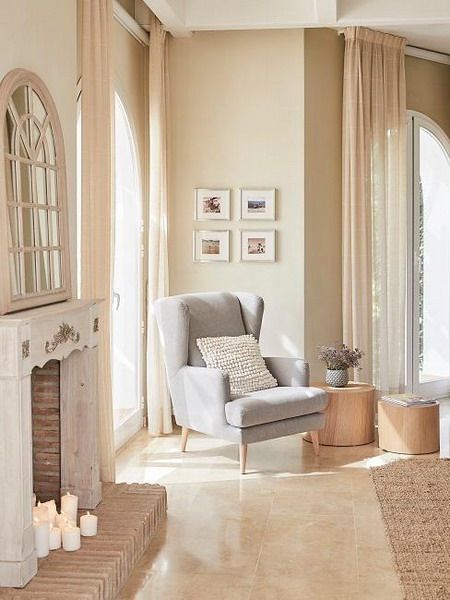 If you like it a little more noble, you should rely on a combination of wood and gold-colored accessories. For this look, keep your rest of the living room in neutral tones like white, beige, and gray. So you can decorate every season with as many accessories as your heart desires, without fear that they will not fit with the rest of your interior.
In this case, the summer decoration consists of two wooden order tables, a small collection of pillar candles in various sizes and a flower pot with a stylish houseplant. As you can see, you can achieve a great effect with just a few accessories.
Decorate the kitchen in summer
In the kitchen, it can also be a little more colorful! Since this room should initially remain practical, in this example we simply decorated with our kitchen accessories and dishes in summer. So choose your favorite colorful cups, bowls or glasses and present them in your open shelves.
It is not necessarily a question of a uniform overall result – thanks to the many splashes of color, a cheerful kitchen area is created in which one prefers to cook.
If you prefer something a little more monochrome, simply hand out colored flowers in your kitchen. So you do not disturb your rest of the furnishings or the functionality in this part of your apartment. We especially love purple and yellow flowers for summer. These not only look extraordinary, but also match any other color in your home. But you can also make a statement with a vase in the right color. Dare and choose colors that you would not use in your otherwise very neutral decor.
Decorate the bedroom in summer
Last but not least, we take care of the bedroom. Here, too, the summer decoration should of course not be missing. Our well-being and a particularly cozy atmosphere are particularly important to us in this room. Choose soft textiles and cozy accessories, similar to the living room.
An airy bedspread not only lends stylish summer freshness, but can also serve as an additional blanket on cold nights. Our favorite boho style pouf enhances any room. Exotic plants such as a palm tree or succulent plant bring the exotic flair and at the same time improve the air in the room.
Even if the rest of your rooms are not furnished in a hippie style, you can use summer decorations in a boho look. This creates a particularly exciting mix of different furnishing styles. Nevertheless, pick up on the existing colors of the facility. The hippie bedspread used here, for example, harmonises perfectly with the pink velvet pouf. The otherwise very bright room lets us focus all attention on the successful combination of boho and elegant.
Now you are asked: thanks to the appropriate summer decoration, let the sunshine and good weather move in with you. So suddenly you prefer to spend your time in the newly decorated four walls even with a bright blue sky. Feel free to discover our other inspiration for summer decorations !