Top 7 Most Popular Interior Colors 2022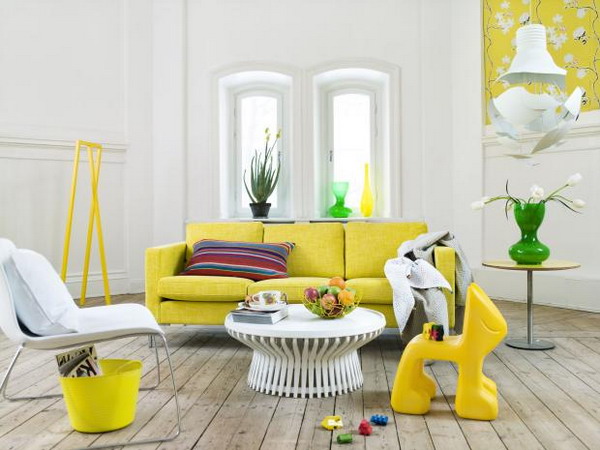 The upcoming interior season prepares us for a return to bright colors, new zoning ideas, unusual storage systems and upholstered furniture that is easy to "drown" in.
Bright colors come to the fore: trendy colors of interiors 2022.  The trend of the new interior season is an emphasis on rich bright palettes in the design of furniture, lamps, accessories.
A return to the intense palette of pastels is one of the clear trends of the season.
On the one hand, it is a natural expression of our busy lifestyle and thought processes. On the other hand, it is a manifestation of designers' nostalgia for the "eighties" with their strong designs and colors.
TOP-7 of the most fashionable colors in the interior for 2022
1. Yellow – an explosion of positive
Yellow. And not just yellow, but juicy, like in a cartoon about minions. It is not necessary to paint the walls with it, it is enough to place a colorful sofa, a neat coffee table, a bright poster in the recreation area in the living room. Such a situation is charged with a positive: you look – and you will certainly smile. The rest of the shades will also go into action: lemon, mustard, canary.
2. Closer to nature – rich green
The rich green has been a favorite for several seasons. Next year is no exception. Dark greens are still relevant, but there is also a clear trend towards a more natural range: the colors of sage, celery, avocado are in fashion. They go well with berry purple, matte blue, yellow, cherry and white. As conceived by the designers, such a palette symbolizes health and is great for living rooms in the spirit of soft minimalism.
3. A little drama – black
One of the trends in the interior of 2022 is stylish and sexy black. As a neutral, he is able to complement any palette and theme. If you want to add a little drama to your space, paint in black floors or hang a black chandelier.
4. The serenity of blue – blue-gray-green
As in 2019, the blue shades are again on the crest of the wave, especially one (called "In the Moment" in English) – a mixture of blue, gray and green. A cool, calm color in interiors inspired by nature is versatile and ideal for interior and exterior decoration in modern and classic styles:
In the kitchen, paint the walls with this shade to create a peaceful backdrop for crisp white natural wood furniture fronts and a glossy dining table. Lacquered wood in a natural brown palette will beautifully highlight the setting.
In the dining room, the gray-blue walls will contrast nicely with the white baseboards and ceiling.
In the recreation area against the background of smooth painted walls, moldings of the same color will stand out favorably. The result is a neat traditional relief. A few orange pillows, a white carpet on the floor – and the trendy home design is ready.
Outside the house, combine gray-blue-green lining with bright white trims on the windows and a brown deck board. Black wrought-iron lanterns complete the idyllic picture.
5. Blue-orange combination
Blue plus orange is a popular solution for living rooms, dining rooms and offices. Companion colors will fill the room with energy, due to the combination of warm and cool shades, temperature balance is achieved. The best place for a bright accent is upholstered furniture: a sofa, armchairs, poufs. Ultramarine or cobalt can be chosen for wall or modular painting.
6. Pink is gaining strength
The decision is final and not subject to appeal: in 2022, the pink color in the interior loses its gender color and is no longer associated only with ladies 'boudoirs and girls' rooms. From frivolous romance, it is shifting towards more complex shades and is now actively used in the design of living rooms, dining rooms and bedrooms.
Powdered pastel tones of the walls and armchairs are the perfect setting for brighter color accents.
The lacquered pink base with gold trim is a striking companion to the white marble countertop.
Dark pink and lilac walls in the bedroom are a convenient backdrop for white photo frames and a copper mirror.
7. Gold decor – work with color and texture
The trendy materials of the season – along with steel, marble and wood – are shiny and brushed brass (satin gold). They mix well with the rest of the design:
Brass and copper fixtures complement marble, polished concrete and contemporary furnishings perfectly.
Metal coasters and underframes look great surrounded by velvet and dark brown wood.
Bronze finishes have recently also been performed mainly in copper and gold shades. This emphasizes the nobility of the interior.
Gold-cast lamps look most impressive when placed next to marble countertops.
Internal partitions – from concrete to felt
A large space with no boundaries is a great way to get creative when dividing a room. Designers do not get tired of fantasizing in this direction, and here are the most popular options in the new year:
Concrete blocks. Brutal? Yes. It is also very fashionable and unusual. Due to the through holes, such a wall does not look like a boring monolith, but a translucent structure. Gray leather sofas and metal tables will support the neutral color scheme. For coziness, you need to add live greenery and two or three bright textile accents to the living room.
Handmade ceramics. Thanks to dry processing of ceramic powders using an innovative technology, a solid substance with a palette of very beautiful, natural saturated colors is obtained.
Wicker wooden partitions. Wood is a luxurious material in terms of a variety of textures, shapes and tones. Grilles are always a stylish way to delimit living spaces.
Textile mobile structures. Interior Design 2018 offers an idea inspired by traditional Japanese furnishings. A thickly woven legged plate is a minimalist and elegant way to create an intimate area in your living room or bedroom. Due to the colors, you can organically include these elements in the overall range.
Felt on a steel frame. The backing makes the baffle stable and the wool extremely pleasant to the touch. Simultaneously with zoning, the model performs the function of storage: here you can place records, magazines, funny pictures.
Living room 2022 – trends in upholstered furniture design
A rich gamut of monochromatic yellow, blue, green colors dominates here too. As for the form, sofas and armchairs in the coming season strive to offer a person the most comfortable position. What could be better than plunging into a deep backrest and drowning in a springy seat?
Puffy, puffy volumes are the trend of the season.
The low backrests that blend seamlessly into the seat look like one continuous pillow on a neat base. The armrests are also sloping. Such a model is a godsend for any fashionable living room design.
The goose feather pillows are resilient and soft at the same time. In such a chair you can sit like in a chaise lounge.
The forms of furniture and its design solutions in the interiors of 2019-2022 are drawn from different years of the last century (40s, 50s, 70s). Today they are experiencing a rebirth.
Modular storage systems – more openness
Shelves can cover the entire wall, and at the same time they will not look overwhelming – due to the combination of open and solid shelves. The current trend in interior design 2022 is mobile minimalist structures that can simultaneously serve as a space divider. They look elegant and fresh.