Top 100 Interior Decoration Trends 2025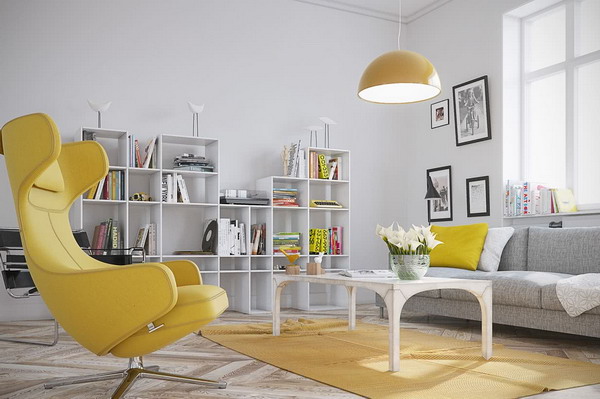 Interior decoration trends 2025 is a creative process involving bold experiments and a non-standard approach. Still, there are recommendations, the observance of which helps to make the results of creative search more harmonious. Therefore, if decorating a room causes some difficulties or leaves much to be desired, check with the advice of professionals. Surely in these recommendations there is a lot of interesting and useful.
1.       FEWER COLORS – A NICER ATMOSPHERE
Staying in the living space, where the entire color palette is collected, causes concern and anxiety. Therefore, if you want to create a pleasant and soothing interior, limit the number of colors used in it .
2.       LOTS OF KNICKKNACKS DESTROY THE DIGNITY OF THE ROOM
Many small decorative details make it impossible to focus on the interior or architectural features of the room. But if the task is to divert attention from old finishes or furniture, then an extensive collection of decor can help.
3.       "YES" SEASONAL CHANGE OF PARTS
Finding those who have in stock several sets of curtains and bedspreads is an extremely difficult task. In vain. After all, such a simple technique as a seasonal change of textiles can radically transform the interior.
4.       SMALL PHOTOS – ON A TABLE OR SHELVES, BUT NOT ON A WALL
Many miniature photos or other images decorating the wall are perceived as visual noise. But on a table or shelves, they look appropriate. It is advisable to arrange such decor in similar or identical frames.
5.       ATTENTION TO SCALE
A moment that at first glance seems obvious, but is not always observed – the proportionality of the details to the interior as a whole. So, a huge painting in a small bedroom will look like an alien element, just like a miniature sofa in a spacious living room.
6.       DECORATING WITH AN EXCLUSION METHOD – IT WORKS
In rooms where decor is redundant, it is worth trying the elimination method – just remove some of the little things. Leave only the most colorful, but at the same time simple things, the presence of which really benefits the interior. The free space looks much more comfortable than it is filled with knick-knacks.
7.       CARPET ON CARPET
One large carpet in a room may look a bit old-fashioned. But such an unconventional decoration method as placing several small rugs on it will revive the situation. We recommend paying attention to models with large patterns or embroidery.
8.       FREEDOM OF THE CENTRAL PART OF THE TABLE
Huge bouquets in the central part of the table most often look disharmonious, and also impede communication between people eating. A massive vase with large flowers is best replaced with a wicker basket or a decorative pot with several flowering plants. …
9.       MORE IMAGINATION WHEN CHOOSING A PLACE FOR ART
A painting hanging above the sofa is a standard option for decorating an interior with painting. But in this case, it turns out to be behind the back of most people in the room. Set aside a place for the painting where people will actually look at it. For example, in the hallway.
10.     HARMONY OF INTIMATE COLORS
The simplest, but really working method to create a harmonious color scheme in a room is to combine similar colors. For example, several shades of green. To keep the interior from looking monotonous, add some prints to it.
11.     LEARN COLOR MATCHING FROM GREAT ARTISTS
If you have problems with self-selection of colors or using the classic color wheel seems too boring, then try using the color scheme of paintings by great artists as a reference. Choose the masters who are closer to you – Matisse, Monet, Klimt … The list is endless.
12.     ORDER REQUIRED BY THE COLLECTOR
The best advice for collectors of medium-sized things, whether cat figurines or pebbles of an unusual shape, is to keep them grouped in one place, and not randomly placed around the room. Chaos from little things can spoil even a very decent interior.
13.     TIME MANAGEMENT IS ESSENTIAL IN THE CREATIVE PROCESS
After the choice of finishing materials is made, immediately proceed to their purchase or order. Refuse to be overly optimistic about delivery times. It is much more reasonable to assume that various delays and delays of suppliers are the norm, and not the exception to the rule. This principle will save a lot of time and energy. But do not forget to find a place to store all the ordered materials and things in advance.
14.     ACCURATE TEXTILE CALCULATIONS
If high-quality textiles are chosen for interior decoration, a purchase with a large margin can be a real test for a wallet. Therefore, it is better to calculate the exact amount of tissue in advance. A solid stock is necessary in cases where textiles with a large pattern are selected (after all, you will need to combine details), as well as in the absence of confidence in the professionalism of the sewing master. Don't forget to include piping and frills in your calculations, of course, if provided.
15.     LEAVE ROOM FOR MANEUVER
As practice shows, to fully plan the upcoming purchases of decor and strictly adhere to this plan is an almost impossible task. Therefore, it is better to leave some free space, which will be occupied by the fruits of impulse purchases.
16.     EXPERIMENTS WITHOUT FEAR
It often happens that things in reality do not look like in the picture. But such a discrepancy should not become a cause for grief. On the contrary, take it as a pleasant challenge to improvise.
17.     OBSERVANCE OF THE ORDER OF WORK
In order to avoid unnecessary problems, think over in advance the sequence of work on decorating and finishing the room and follow it. Otherwise, it may happen that the wall already covered with wallpaper will have to be ditched.
18.     STORAGE SYSTEMS: MORE IS BETTER THAN LESS
Storage systems are not only sliding wardrobes, dressers and mezzanines. No less important in the interior are boxes, vases and bowls, where little things are added. So the interior will give the impression of orderly and neat.
19.     INTERIOR AND DECOR – FOR THE RESIDENTS OF THE HOUSE, NOT FOR THE DECORATOR
If professionals are engaged in home improvement, it is important that upon completion of the work the owners do not have the feeling that they are in someone else's home. Therefore, the desires of the owner of the dwelling are a priority, and the task of the decorator is to find an acceptable and aesthetic form for them.
20.     BALANCING BREAKING AND FOLLOWING THE RULES
To create a truly outstanding room in terms of decor, you will have to step over a number of rules. But there are laws that are strictly not recommended to be violated. For example, among them are the rules for mixing prints, the non-observance of which will make any interior disharmonious.
21.     FURNITURE ITEMS: FIND COMMON GROUND IN DIFFERENT
If the room contains furniture from different sets, then it is important that some common features are present in its design. This can be the color of the upholstery, the material or the shape of the legs. Otherwise, the integrity of the interior will be compromised.
22.     THE CUSTOMER'S WISHES DO NOT INTERFERE, BUT HELP
A professional decorator considers working with a difficult customer not as bad luck, but as an opportunity to increase his own efficiency. A demanding client who is difficult to please encourages to search for non-standard solutions.
23.     THE CONVENIENCE OF FURNITURE IS MORE IMPORTANT THAN ITS AESTHETICS
Furniture, perfect in terms of design, but inconvenient – in the opinion of a professional, is of poor quality. No matter how beautiful a thing would be, but if it does not cope with its function, it is better to refuse it.
24.     WANT TO CHOOSE A STYLE FOR DECORATION – TAKE A CLOSER LOOK AT THE CLOTHES OF THE OWNERS OF THE HOUSE
One of the ways that professionals use to choose the style and concept of decoration is to pay attention to the casual clothes of the owners of the house. This will tell a lot about their personal preferences and help decorate the space so that customers like it.
25.     HOMEOWNERS AND DECORATORS ARE NOT OPPONENTS, BUT PARTNERS
The optimal scheme of interaction with customers that decorators adhere to is a productive interaction, about which we are usually referred to.
26.     A BEAUTIFUL ENVIRONMENT CAN IMPROVE YOUR LIFE
Surrounded by aesthetic and functional items, chosen with soul, the mood will be better than without them. As the proverb says, "houses and walls warm." In a beautiful and comfortable house – they warm twice.
27.     THE CHOICE OF PHOTOS AND PAINTINGS IS UP TO THE OWNERS, NOT THE DECORATOR
In the choice of paintings and photographs that will become the decor for the room, the deep preferences of the owners of the house are fully manifested. Therefore, it is better for the decorator not to interfere in this process, but only to choose suitable frames or mat. If the owner of the house does not like photos or paintings, then it is better to leave the wall empty.
28.     LISTEN TO YOURSELF
An inner flair is the basis for creating a style and a decor concept. Therefore, the decorator listens more to himself than seeks rational reasons for his choice.
29.     EACH ROOM IS A SPACE FOR A SPECIFIC PURPOSE
In the process of decorating, it is important to remember that any room is a shell of space and time, designed to achieve a specific goal. Decor, like design, should fit this space – match the way people live in it.
30.     THE BALANCE OF LIGHT AND SHADOW
In many ways, the appearance of a living room is determined by how balanced light and shadow are in it. Therefore, correct illumination is very important. For example, for the convenience of staying in residential lighting, a multi-level layout of lighting devices is required. Also, lighting affects the perception of colors.
31.     THE CONTENT OF THE DECOR IS NO LESS IMPORTANT THAN ITS FORM
In order to choose a decor that harmoniously fits into the interior, a good decorator should know how and what it is made of. After all, the content is invariably reflected in the form. For example, placing a flower pot on the window made of a material that is not resistant to fading, after a couple of months you can find it has lost its original color.
32.     UNFAIRLY FORGOTTEN CEILINGS
A non-standard step that can radically transform the space – increased attention to the design of the ceiling. Most often this is forgotten. For example, a black ceiling instead of the usual white will make the room exclusive.
33.     THE LUXURY OF COMPLEX TEXTURES FOR UPHOLSTERY
The usual version of upholstery for furniture is a dense, lint-free fabric. But it is worth abandoning it in favor of fluffy upholstery, and the interior will look in a new way. It is not necessary to decorate all furniture with artificial or natural fur. One or two items in the room will be sufficient.
34.     BEIGE IS NOT AS BAD AS PEOPLE THINK
In recent years, in professional circles of decorators and designers, it is generally accepted that the interior in beige tones is a relic of the past. But such a categorical approach to the choice of colors is not justified. Cream, ivory or cappuccino, ecru, powdery … There are a lot of shades of beige, and by combining them together you can create a truly impressive design.
35.     MORE LIFE THAN JEWELRY
When decorating a room, it is better to remember that the end result, which is worth striving for, is not a beautiful picture for a magazine, but a space where a high quality of life will be ensured.
36.     JUDGING THE COLOR OF THE PAINT AFTER APPLYING IT TO THE WALL
Having studied the paint in the jar, you should not make hasty conclusions about its shade. Apply some paint to the wall in the room where the surfaces are to be painted and wait until it dries. If the color is fine, then you can paint the entire surface of the wall.
37.     INCREASED ATTENTION TO THE BEDROOM
It is the bedroom to the maximum extent reflects the personality of the owners of the house. After all, here they are left alone with themselves or with the closest people. Therefore, increased attention to its decoration is necessary.
38.     POMPOUS CANTEENS ARE IN THE PAST
If the house has a separate dining room, then for unknown reasons they seek to make it as grandiose as possible. Probably, guided by associations with ancient castles, where the whole family decorously ate food several times a day. But times have changed, and a modern person will feel uncomfortable in a heavy and pretentious atmosphere. Therefore, it is best to strive to create a pleasant and relaxing environment in the dining room.
39.     REMEMBER MIRRORS
A mirror is not only a reflective surface, which will help to make sure that everything is in order with the appearance. It is also a decor that has almost magical properties. Mirrors visually increase the space, make it brighter, airier and more refined. Decorators never forget this during their work.
40.     DO NOT BE AFRAID OF MISTAKES
Not a single outstanding interior has been created without bold experiments. Better to make a mistake and correct it than to miss the opportunity to achieve impressive decorating results.
41.     DARK TONES – NOT ONLY FOR LARGE ROOMS
A small room, dominated by dark colors , looks no worse than a light one. Conversely, saturated colors dominate the boundaries of space, diverting attention from its modest size.
42.     CEILING IN THE COLOR OF THE WALLS – MAXIMUM COMFORT
The ceiling and walls of the same color are a great trick for decorators to visually increase the height of the room. In addition, another positive effect is achieved – the atmosphere in the room becomes as comfortable and relaxing as possible.
43.     COMPLETE REJECTION OF ARTIFICIAL TEXTILES
Most professional decorators strictly observe the principle of a complete rejection of artificial textiles in favor of natural textiles. Cotton, wool, silk, linen are becoming the only material options. Costs are increasing, but the result is worth it.
44.     STYLE IS CONDITIONAL
Denying the boundaries of existing styles is not part of our plans. But in the process of decorating a living space, you should not strictly observe them. Much more important is how the owners of the house feel themselves in it, and not the full compliance of the design with a certain style.
45.     ACCENT WALL INSTEAD OF FULL REPAINTING
If you are tired of the existing color scheme of the room, then completely repainting the walls is not at all necessary. Try creating an accent wall by painting it in a contrasting shade. It will take a couple of hours, and the refresh effect will be noticeable.
46.     FIND A SOURCE OF DECORATING INSPIRATION
When choosing the direction in which to move, choosing a decor, we recommend that you forget the concept of "style". A more reasonable step would be to search for sources of inspiration, images that I would like to see in the interior. Ideas can be gleaned from paintings, films, music. For example, a room decorated in the spirit of the famous film "Breakfast at Tiffany's" will look interesting.
47.     CHOOSE ONE OF THE THREE PRINCIPLES OF FURNITURE ARRANGEMENT
Everyone knows that it is better to refuse to place furniture along the walls. But what are the alternatives? The first option is a symmetrical arrangement, that is, around a certain point in the room (for example, the center of a room or window). The second is asymmetric, that is, not amenable to logic. The third is a circular arrangement, which differs from the symmetrical one in that the reference point may be a minor interior detail. For example, a chandelier or a pattern on a carpet.
48.     THE CLASSIC "RULE OF THREE"
Items collected in a composition of three should differ in three ways – shape, color and size. For example, you shouldn't put three identical photos on a mantelpiece. It is preferable to choose a photo, a vase and a book as a decor – objects that differ in each other according to all the mentioned signs.
49.     THE UBIQUITOUS GOLDEN RATIO
Decoration is one of many areas where the principle of the "golden section" can and should be applied. What is its essence? Suppose the whole is divided into two unequal parts. The greater part is equal to 0.618 of the whole, and the lesser is 0.382 of the greater. In this case, the smaller part relates to the larger one as much as the larger one to the whole. Such a ratio of sizes is perceived by the human eye as close to ideal.
50.     PERFECT SYMMETRY IS NOT PERFECT
A completely symmetrical room, equal parts of which look like a mirror image of each other, is perceived as uncomfortable to be in it. Therefore, such a room must contain at least one asymmetrical element. For example, a picture on the wall or a sconce.
51.     "CORRECT" CURTAINS – WITH WEIGHTS AND TAPE
In order for the curtains to form beautiful folds, a braid should be sewn in their upper part, and weights should be located in the lower part. The lining for curtains will not be superfluous: it provides excellent sound insulation and prevents them from fading under sunlight.
52.     GOOD TASTE IS CONDITIONAL
At first glance, the concept of "good taste" is fundamental in the design and decoration of the interior. But in reality it is conditional. It is better to focus not on observing the boundaries of good taste, but on whether a certain decorating solution is suitable for a particular room.
53.     MORE CONTRASTS
The abundance of monotonous shapes and colors can spoil almost any interior. Therefore, do not be afraid to use decor that contrasts with the setting and stands out against its background.
54.     CHEAP AND EXPENSIVE GO WELL
Show more courage when combining items from radically different price categories. Such a mixture will also benefit from an expensive thing that will look even more luxurious in a democratic environment, and cheap, acquiring the nobility that it lacks.
55.     ROOM INDIVIDUALITY – IN LIGHTING
Even the most ordinary room can be transformed, becoming unique due to well-chosen lighting . On the contrary, inappropriate lighting patterns can ruin the exclusivity of the environment.
56.     THE SAME COLOR OF PLUMBING IS A MUST
In pursuit of original solutions, you may get the idea to install plumbing in different colors. For example, the sink is white and the bathtub is black. It is better to refuse such a thought at the initial stage, because the result of its implementation will be a disharmonious interior.
57.     HALLWAY OR HALLWAY AS A BUSINESS CARD AT HOME
A corridor, hall or hallway is the space that we see first when entering a dwelling, and also last when leaving it. Therefore, these premises, the decoration of which is unjustly forgotten, are the hallmarks of the house. Choose a functional and compact decor, because the hall or corridor usually has a small area.
58.     BIG AND SMALL IN ONE ROOM
The rules of scale, according to which the size of objects must correspond to the area of the room, has not been canceled. But in order for the situation to acquire character and expressiveness, it is worth deviating a little from its strict observance. One or two large objects in a small room will contribute to a visual increase in space.
59.     REFUSAL OF AGGRESSIVE FORMS AND COLORS
Most professional decorators are of the opinion that the main and necessary characteristics of living space are comfort and a relaxing atmosphere. It is better to create a corner of calm in the house than to opt for aggressive shapes and colors.
60.     "YES" TO LACONIC SHELVES
Intricate shelves can beautify the interior. But if you put books, figurines and other little things on them, then in general such a composition will look overloaded. Therefore, if you plan to use the shelves for their intended purpose, it is better to dwell on concise models. For example, on hanging shelves without a stand.
61.     NICHES – FOR EXCLUSIVE ITEMS
The presence of niches in a home is often perceived as a disadvantage. This opinion can be justified if you fill the niche with many shelves with different-sized decor. It is recommended to place a collection of similar things in the niche, approximately the same in shape and size, or one or two exclusive items.
62.     THE RIGHT DECOR – THE RIGHT PLACE
A piece of decor that is perfect for a particular interior, looks different in different places. We recommend that you try several options for placement of the decor before choosing the final one.
63.     VERSATILE BUT SO DIFFERENT PILLOWS
Pillows are suitable for decorating any interior, the main thing is to decide on a suitable color and size. But it is equally important to choose the place and method of their placement. Large pillows scattered randomly on the floor will create a bohemian and democratic atmosphere, while square ones lying in a row on the sofa will create an orderly and neat one.
64.     TEXTILES SET THE MOOD
If the design of the room does not produce the expected effect emotionally, then change the textiles in it. This is the most affordable way to change the atmosphere of a living space.
65.     THE COMBINATION OF BLACK AND WHITE, WHICH SHOULD BE TREATED WITH CAUTION
White is considered one of the most versatile colors in the interior. In many ways, this opinion also exists due to the wide range of its compatibility with other colors. But professional decorators are wary of black and white color duos. This most contrasting combination looks too harsh for a living space. An exception are paintings in a black frame on a white wall, which subtly add graphicity to the interior.
66. PERFECTLY NEUTRAL – TAUPE
As a color that can become a neutral background for an interior, they most often choose between white, gray and beige. Professional decorators recommend paying attention to taupe. This color is harmonious in terms of the simultaneous warmth and coldness of its shade, and also does not bother for a long time.
67.     COLOR NUANCES THAT MATTER
The conventional wisdom is that all colors are divided into two groups – warm and cold. But in reality, each color, even white, can refer to one or the other group. It all depends on its shade. The same white can have a cold bluish tone (for example, the color of snow), or a warm brownish tone (ivory).
68.     TEXTURE IS INSEPARABLE FROM COLOR
Most books on design and decor show a tendency to separate color from texture. So, for the interior, they think over the color scheme, but no one thinks about the texture map. Professional decorators recommend initially considering color and texture in relation to each other. After all, the texture affects the balance of light and shadow, and hence the perception of color.
69.     THE IMPORTANCE OF THE VISUAL CENTER OF THE ROOM
One of the key challenges faced by a professional decorator is determining the visual center of a room. This is the point on which the gaze is concentrated first. For example, a large mirror, an unusual piece of furniture, or a lamp can act as a visual center. A room with a visual center looks more harmonious and orderly than not having it.
70.     OBJECTS ON THE WALL – A WORTHY ALTERNATIVE TO THE USUAL WALL DECOR
Volumetric objects on the wall, whether it is a collection of plates brought from travel, or animal figures, will be a great alternative to paintings or posters. This decor, decorated in a panel, looks more than original.
71.     NEUTRAL DARK TONES – "CHAMELEONS"
At first glance, neutral saturated tones, such as dark gray, look dull. But in fact, under different lighting conditions, they change hue. So, dark gray in the morning will appear bluish, and at sunset it will have a purple hue.
72. ROUGH TEXTURES – UNIVERSAL COMFORTING
If the room does not seem cozy enough, then for sure it lacks decor with a complex rough texture. It can be wicker baskets, a knitted blanket, a fur rug, a lamp with many facets.
73.     CALM DRAPERIES FOR THE BEDROOM
Decorating the entire living space with multilayer textile structures is redundant. But in the bedroom, draperies will be appropriate. They not only create a relaxing atmosphere, but also have good sound and light absorption properties.
74.     PEDESTAL OF HONOR FOR DECORATION
To bring a decorative composition to life, try raising several of the items that make up it above others. For example, on the dressing table, some of the bottles can be placed in a tall fruit vase. Such a simple technique, which is often used by professional decorators, will give the interior depth and volume.
75.     HOBBY IN SIGHT
Items that are used in the process of practicing your favorite hobby can also become a decor. For example, even a canvas by the window, skeins of thread with knitting needles or a sewing machine of an unusual shape can decorate the interior.
76.     STRENGTH OF LINES
Different types of lines are able to create a certain atmosphere in the interior. Vertical (for example, columns) give the atmosphere grandeur and severity; horizontal (lockers, sofas) – calmness and confidence; diagonal (stair railing) – dynamism; curves (round table or smooth arm arms) – sensuality and softness. In order for the interior to look expressive, it should combine different types of lines .
77.     THE IMPORTANCE OF RHYTHM IN THE INTERIOR
Rhythm is one of the key concepts in interior design and decoration. Rhythm is achieved through the use of elements with a repeating shape, color or texture. The interior, where the rhythm rule is respected, is perceived as holistic and harmonious.
78.     A TREE OF DIFFERENT SHADES IN ONE ROOM IS MOST OFTEN AN UNSUCCESSFUL EXPERIMENT
If the room contains wood of different colors, for example, dark and light, then the interior will not look like a single whole. Therefore, an experiment with a combination of shades of wood is better left unrealized. After all, the common color unites interior objects, for example, furniture that differs in form, into a harmonious rhythmic composition.
79.     CONVEY EMOTION THROUGH COLOR
To create an interior that makes a minor impression, professional decorators choose cold shades, and a major one – warm ones. The combination of warm and cold colors in one room conveys a complex and deep emotional range.
80.     DARK WINDOW FRAMES FOR DRAMATIC CONTRAST
Dark window frames are an interior solution that is perceived as bold and non-standard. Such a simple technique is able to transform the living space, creating an unobtrusive contrast with other interior items. Note the frames in purple, dark gray and black.
81.     FRESH FLOWERS ARE ALWAYS APPROPRIATE
Live plants in pots or flower bouquets are a win-win decor option for any room, regardless of its style and purpose. Even one flower in a tall glass vase will create a pleasant atmosphere.
82.     COZY LAYERING
Interiors, where all things are hidden in closets, look cold and uninhabited. An easy way to give them comfort is to use multi-layer decorative compositions. There are many options, from a stack of brightly colored magazines on a coffee table to a folded blanket with a couple of pillows on it.
83.     60:30:10 RULE FOR THE COLOR SCHEME OF THE INTERIOR
Formula 60:30:10 shows the ratio of different colors in the room. So, the main color occupies 60% of the surfaces, the additional one – 30%, and the accent one – 10%. At the same time, do not forget that the larger the surface area allotted for one color, the less bright it should be. It is better to choose matching shades as a complementary and primary color, and an accent one can contrast with them.
84.     NEW LIFE OF OLD THINGS
The abundance of old things in the house is a characteristic that speaks of the interior from a negative side. But you should not completely abandon them. Connect your imagination, and among the things that seem to have served their purpose long ago, there will certainly be something interesting. Some can be used in the interior in its original form, while others will have to be painted, upholstered or decorated with decoupage. The main thing is to strive to see the hidden possibilities in old things.
85.     A SUCCESSFUL DUET OF MODERNITY AND VINTAGE
The combination of things with history and recently bought in the store will benefit the interior. But in order for such combinations to look harmonious, choose which items in the room will be more – old or new. Combining them in equal amounts is not the best idea.
86.     A DROP OF LUXURY, ALWAYS APPROPRIATE
Even if a minimalist style is chosen for decoration, there is a place for a couple of luxurious details in it. Large items, for example, a sofa or a carpet, should not play their role at all. To save money, you can order tailoring of covers from high-quality textiles on pillows or furniture.
87.     EMPTY WALLS ARE NOT AS BAD AS THEY SAY
It is generally accepted that walls of a neutral color without any decor are a sign that the interior was designed independently, without the involvement of specialists. But empty spaces are needed. Including, in order to emphasize the expressiveness of the decor, to give rest to the look. Therefore, if the interior is full of details, then empty walls can be a suitable solution.
88.     THE NUMBER OF ORNAMENTS IS ODD
The rule that most professional decorators adhere to is that the number of ornaments in the room should be odd, and their pattern should be different. Floral patterns are in harmony with geometric prints, and rich ornaments are best combined with neutral ones.
89.     PAINTINGS OR POSTERS – AT A GLANCE LEVEL
The optimal height for placing pictures or posters is at eye height, that is, approximately 1.6 m from the floor. If a group of images is placed on the wall, then at the level of sight it is worth hanging the central element of such a decorative composition.
90.     STONE, METAL AND WOOD AS A GUARANTEE OF COMFORT
Natural finishes, such as a stone wall or a wooden beam, in a small apartment may look ridiculous. In order to make your home more comfortable, it is better to use decor made from natural materials. Suitable wooden frames for photos, marble busts, metal vases.
91.     DIY ART OBJECT
If you have an artistic flair , it is quite possible to independently make an interesting thing that claims to be an object of art. It can be a collage from your own photos, a painting, a poster or a papier-mâché sculpture. Make your artwork the visual center of the room by placing it on a plinth. If the necessary creative skills are missing, then purchase a ready-made art object. True, this pleasure is not cheap. The art object will make the interior unique and free from the need to purchase numerous small décor.
92.     DECORATIVE PLASTER – PROHIBITED
In pictures in glossy magazines you can see decent interiors where decorative plaster is used as wall decoration. But in practice, there are very few masters who are able to repeat a given effect. The result can be unpredictable or very far from what is expected. Therefore, professional decorators prefer wallpaper or painting instead of decorative plaster.
93.     THE SWING PRINCIPLE FOR ARRANGING FURNITURE
Tall furniture in the interior should be adjacent to lower ones, so that the gaze slides up and down, as if along the path of the swing. By the way, this principle is also relevant for small interior details, for example, decor. If things of the same size are placed nearby, then the interior will seem overloaded in some areas and empty in others.
94.     ELEMENT OF SURPRISE TO REVITALIZE THE SITUATION
So that the interior is not monotonous, it is worth bringing an element of surprise into it. These may be some details that are invisible during a cursory examination of the living space. For example, the back side of the cabinet doors is brightly painted with the restrained color of the remaining visible surface. The original print, the details of which can be seen only at close range, the upholstery of the sofa with an unusual texture … There can be many options.
95.     WINDOW DECOR BY THE RULES
A competent window decor is able to cope with not only aesthetic, but also practical tasks. So, if you hang the cornice 5-10 cm above the window opening, then visually the height of the window will increase. In a similar way, you can increase the width of the opening. To do this, choose a cornice, the length of which on each side of the window is 10-25 cm longer than necessary. Such techniques will not only enlarge the window, but also visually make the room more spacious and brighter.
96.     COMPETENT CHOICE OF A LAMP FOR THE KITCHEN OR LIVING ROOM
The kitchen or living room is not only the usual parts of the living space, but also the rooms where friendly or family gatherings take place. Therefore, competent lighting is especially important here. Do not hang the lights too low, otherwise they will make a depressing impression. The optimal distance from the chandelier to the countertop is about 80-90 cm with a standard ceiling height. It is also better to opt for lamps, the width of which is from a third to half the width of the table top.
97.     THE RIGHT SIZE CARPET – WHAT IS IT?
Too small or large carpet can disrupt the proportionality of the interior. Therefore, professional decorators are guided by a number of rules when choosing a carpet . The rug under the dining table should be wide enough for the rear legs of the retracted chairs to rest on it. It is necessary to place a rug under the bed, protruding from under it by 40-60 cm. Otherwise, getting out of bed, you will have to step on the cold floor with your feet. Another important point: regardless of the size of the room, the carpet should not fit close to its walls. If the room is large, then 30-45 cm of the floor remains free from the carpet, small – up to 20 cm.
98.     LAWS FOR THE COLLECTION OF WALL DECOR
If the wall is decorated with several photos, plates or large-sized posters, then between them there should be 8-10 cm of free space. Place the small decor closer to each other. Between the wall decor and large pieces of furniture under it is better to leave 15-25 cm of an empty wall.
99.     THE MAIN CRITERION FOR CHOOSING A DECOR IS POSITIVE EMOTIONS.
The external environment is often not the most friendly for a modern person. Therefore, professional decorators for living spaces prefer to use decor that evokes only positive emotions. After all, there is enough negativity outside the house.
100.   CREATIVITY IS MORE IMPORTANT THAN PRINCIPLES AND RULES
Knowledge of various rules helps professional decorators navigate the world of design, acquire a base for further development. But only part of the existing principles and rules applies to each specific case. Therefore, the creative component of the decorating process is a priority.