What are the decoration trends for 2024?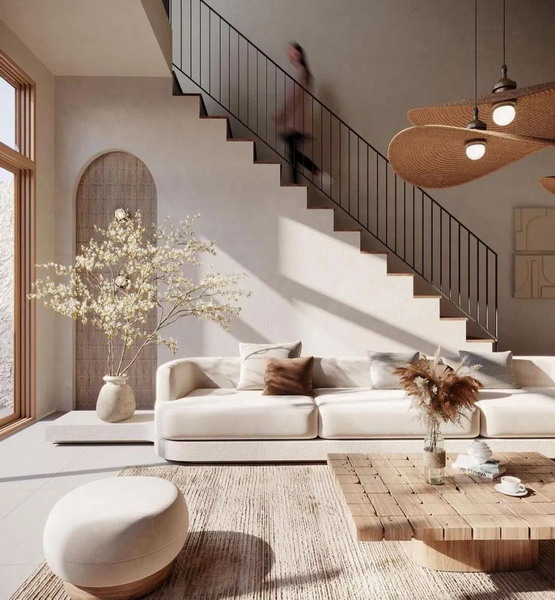 The year 2024 does not look like 2023 in terms of decoration! While some trends are timeless, others are emerging this year. Perhaps you will want to integrate them into your interior decoration! Overview of decorating trends for 2024.
What decoration trend in 2024?
Neo-rustic decor
If the neo-rustic style dates from 2015, it is in 2024 that it intends to seduce budding decorators. The neo-rustic decoration is close to the chic country decoration: bouquets of dried flowers, handicrafts, natural materials… We also favor upcycling, second hand and recycled or eco-responsible furniture!
90s decor
The nineties are back in your decor! Concretely, what does this mean? We install neon lights, translucent decorative objects, arcade games, fluorescent colors… but be careful not to fall into kitsch! Go in small steps, with sobriety.
Japanese decoration
Combine design and minimalism… you get Japandi decoration ! It's a style that mixes Japanese spirit and Scandinavian hygge. This requires focusing on the essentials, keeping only the functional furniture. Neutral colors and natural materials are in the spotlight. For an interior dedicated to well-being and tranquillity, this is the atmosphere you need.
Kilim rugs
Already trendy in 2023, kilim rugs have not said their last word and remain a safe bet in 2024. For an ethnic touch in your decor, the kilim is ideal with its patterns and warm colors. In addition, it is an extremely robust carpet, which will be able to follow you for several years!
What color trends for 2024?
Very Peri
According to Pantone, the color of the year 2022 is Very Peri ! An extravagant name that corresponds to a purple shade, quite close to periwinkle blue. It is the ideal color to enliven your interior decoration, by using it on a section of wall, on a piece of furniture or on your sofa.
Bleu horizon
Designated color of the year 2022 by Dulux Valentine, horizon blue is a soft, tender blue that will have no trouble finding its place in your decor. This pastel hue gives your living room a relaxing and uplifting vibe. It will also look great in a child's room.
Sage green
After Pantone and Dulux Valentine, colorist Benjamin Moore gives his opinion: sage green is his color of the year 2022! For a soothing atmosphere, sage green is a must in any room of the house.
It blends easily with all colors. With pure white, you will obtain a classic decoration. With mustard yellow or navy blue, you will have a bold decor.
Dark Terracotta
Already on trend in 2023, terracotta featured light shades. In 2024, we prefer dark terracotta, more powerful and intense. Color brings depth to your rooms. To accentuate its warmth, combine it with light shades such as nude, white or beige.
Turquoise
In 2024, the turquoise color is making a strong comeback in our interiors. Between blue and green, turquoise refreshes the decor and illuminates your interior. If you are daring, do not hesitate to integrate it on your walls or on your sofa. Are you more shy? Small decorative touches will suffice to brighten up your home.
What material trends for 2024?
Travertine
Much used in tiling, travertine is a natural stone in the process of replacing marble in our interiors. Today, we find travertine everywhere, in side tables as in decorative objects: lamps, presentation plates, vases, candlesticks, sculptures… It has the particularity of adapting to both design and classic styles.
Dark wood
In recent years, the star of the decor has been light wood, ideal for Scandinavian atmospheres. In 2024, it's over! Choose dark wood : ebony, teak, walnut, acacia or even rosewood to bring character and depth to your interior. You can combine dark wood with sober colors like beige, gray or white.
Brass
To create a cozy and warm atmosphere, choose brass for your interior decoration. It is available on decorative accessories, furniture or lighting. Brass goes wonderfully with dark colors: black, navy blue, burgundy, brown… You will obtain a decoration that is both powerful and enveloping.
What is the trend for furniture in 2024?
The curves
Round shapes have been popular in decorations for many years, and the trend will not fade in 2024. Curves soften your interior and are ideal for cozy and warm atmospheres. Whether your shapes are circular, oval or in waves, they will look great in your cocooning decoration.
Recycled furniture
Eco-responsibility has become the norm. What could be more natural than installing recycled furniture in your home? Furniture made from recycled materials, especially plastic, is very trendy in 2024. In terms of decorative accessories, DIY is in the spotlight with all the objects you can find to make your interior unique!
Modular offices
Confinements marked the years 2022 and 2023, so it is natural that teleworking has settled in our homes. Many French people have had to start working from home and therefore adapt their interior decoration to their professional needs. In 2024, we therefore expect a boom in modular desks, nesting or transformable tables, to save as much space as possible in a small space.