9 Interior Design Trends For 2022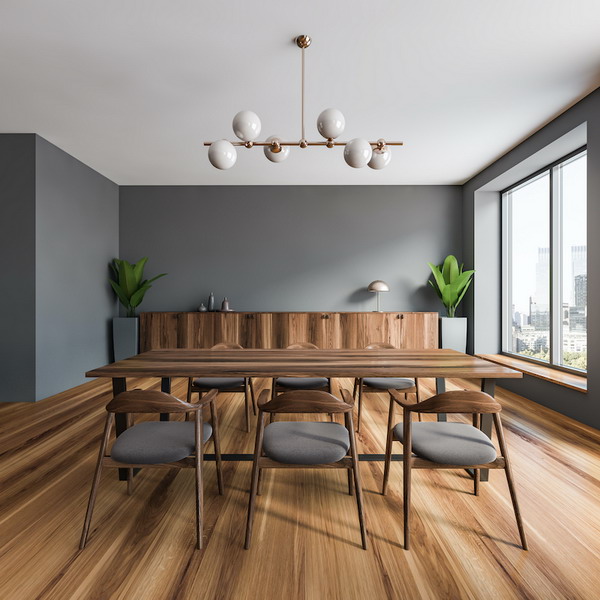 It has been a very difficult year in many ways. But, it is evident that despite everything, life goes on and our homes are (more than ever) that refuge that cannot fail. The new year is showing the paw, and with it the trends in interior design and decoration trends for 2022. Light tones, very soft fabrics, calm environments, dynamism on the walls and in general, fresh environments that anyone can achieve at home, following the advice that we are going to tell you about.
Latest trends in decoration and interior design for 2022
3-dimensional wallpapers
The wallpaper is a fantastic resource, we have seen with tropical prints and embossed effect smooth, glue or adhesives. Some even dared with the stickers.
This next year 2022 is expected to hit hard. We will see woven cane papers or even folded paper. Is it a 3D wallpaper? Surely yes. Its relief will give any interior a look that goes from bland to very stylish.
Concrete effect, white brick… many will be surprised to touch it and discover that it is paper.
Color of the year 2022 in interior decoration
We still do not know where the shots will go next year in terms of trends in wall decoration, but what is certain is that white will be present and it will be the color accents that give dynamism to all spaces.
In recent years, Classic Blue (this year 20), Living Coral (19), Ultra Violet (18), or Greenery (17) were fashionable Pantone colors, next year bells of many colors will ring, raising some voices on a sunflower-like yellow, and a bluish green, or ocean green.
What is evident is that the colors that illuminate and those that remind us of nature are always a winning bet, but there will also be those spaces in which dark colors masterly dominate the space and make us fall in love completely.
Will you be on the side of those who bet on colors with fun touches on the walls, or will you stick with the classic?
Living room decoration trends 2022
We know that you are going to look for it a lot because the living room is the central axis of all the houses.
They will surely continue to be spaces where the color palette will be clear or neutral, and the shapes of the furniture and accessories can be played with to give it a most interesting look.
Sofas with thin legs, mirrors with geometric shapes, curved furniture, armchairs with XXL legs, original shapes in tableware…
Shapes that attract attention and give dynamism to a very personal space. In the end, interior decoration trends may set standards, but the important thing is that you feel comfortable in them. Would you like to put a cart on wheels in the living room, a swivel chair and a blackboard in the living room? Well go ahead!
Sustainable design
I recently told you about it on the occasion of the publication of the latest IKEA catalog : a sustainable modern design is urgent.
The trends in interior decoration for the next year (and the following) cannot ignore this claim and every time, we try to buy less and do better.
We care about the origin of the raw material with which things are made and also about its recyclability.
Almost black kitchens
Rest assured that the white ones of all life do not go away, but since the middle of this year a spectacular boom in black kitchens is being noticed.
It will be because they are super elegant and original, or because IKEA already brings them out in its kitchen catalog 2022.
The fact is that we are going to see many appliances, furniture and utensils in the kitchen in black, combined with glossy white lacquer fronts or natural wood.
Everything can be smart
The TV, the fridge, the door to your house. It is true that all this innovation is not cheap at all, but it is going to get more and more inside our homes like mobile phones did, or the Roomba. Smart appliances are sold that claim to make life easier… We'll see.
The fashionable style in interior decoration 2022 will be…
Many bet on Japanese. Think that it is already being an inspiration in many decorative objects, lamps, tableware… Minimalism gains followers every day and this inspires to create environments with an original touch, zen and something chic.
NO leftover plants
" Urban jungle " style. We have been saying for a long time that plants are a fantastic decorating resource.
Every time we want to surround ourselves more with nature in our homes (especially after having " tasted " the subject of confinement in the first person).
Now more than ever we want nature to be indoors in the form of plants that are easy to care for and (if possible) that require little care and little water. Cacti, succulents, ficus, ivy… that's where the shots go.
Carpet trends 2022
In color, with lively and highly innovative proposals. The rugs that we are going to see next year will surely take into account the fashionable color. With striking textures and reliefs, they will give your home an extra boost of dynamism.
On walls or even floors, next year's carpets should be made of recycled and recyclable materials, and if possible, they should be washed in the washing machine.
We will see gradients, zigzag, rhombuses, geometric shapes. Many will appear superimposed on each other, many times using natural rugs as a base. Aim this tip if your floor is horrible and you don't plan on changing it for the moment!
Of course, if what you are looking for is craftsmanship, sustainability and resistance, while filling your floors with trends, yours are vegetable fiber rugs.