Color Trends 2022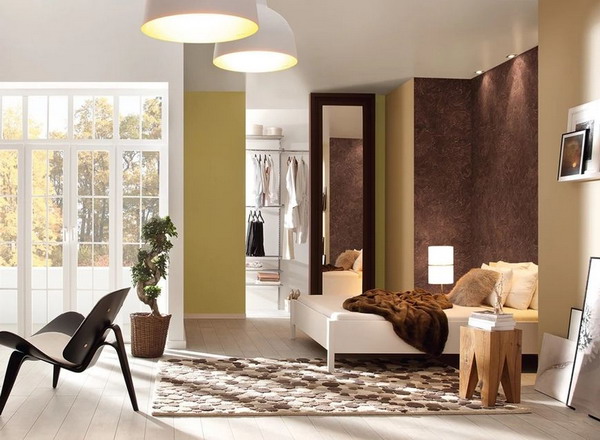 Color Trends 2022. What are they? The coming year was full of amazing events that somehow left their mark on everyday life. The secluded four corners have become a refuge, a place to work, meet and rest, which has radically changed the character of our home. Gray and white colors, so characteristic of the minimalist trend, gradually began to disappear from the palette of basic colors used in apartments. They are being replaced by more subdued, natural and inspiring. They are used both individually and in original combinations, full of warmth and harmony.
Warm browns – trends of 2022
For several years now, the trend of organic colors has dominated in interiors. And along with it is a palette of warm, soothing colors of nature that create an intimate atmosphere. These include earthy browns, deep moss greens, olive and sage tones, as well as beige and terracotta tones, ocher or peach. They have a relaxing, calming and comforting effect. These are the colors that will dominate not only the walls ! In 2022, you will find them in the range of ceramic tiles, furniture fronts or spacious sofas and armchairs. Thanks to them, the space will be filled with harmony emanating directly from nature.
Earthy colors are also a nod to this trend. This trend pays tribute to the need to return to nature. This is reflected in natural materials, sensual colors and forms that bring peace. This, in turn, means a turn of the trend towards natural materials. Such as rattan, vine, stone and, of course, wood, which visually warms the space. However, dark shades of wenge or bleached pine will not be in vogue in 2022. On the other hand, materials treated with oils are gaining popularity, maximizing the unique texture of precious woods.
Shades of green – trends of 2022
The colors of 2022 also feature green. Greens are both bright, rich, and emerald, imitating the juicy tones of fern, and enriched with hints of mint, in perfect harmony with delicate pastels. These colors have a symbolic meaning, as, due to their properties, they contribute to the relaxation of the eyes. Shades of green are associated with meadows, relaxation, the smell of the forest and long journeys into the unknown. This makes them an excellent recipe for creating a safe haven that will allow you to escape the fast-paced reality at least for a while. In 2022, tables, kitchen countertops, plush sofas and walls will go green. These accents will go well with wood, beige, brown and gray.
Sky colors – trends of 2022
Talking about the color trends of 2022, the shades of blue were not to be missed. They are the ones associated with relaxation and idyll. This rich palette of shades, including the pure blue of a cloudless sky, will surely brighten a room and make it optically bigger. Bright pigments will be complemented by details in wood, white and candy pink or mint. At the same time, gold, silver or gray will be the perfect culmination of a space dominated by rich ink tones. For a more extravagant character, invigorating fuchsia, mustard or turquoise are suitable.
Optimistic colors – trends of 2022
2022 is a time of searching for positive emotions. Juicy colors can cure blues at home! They should be treated both as an invigorating addition and as a neutral base consisting of natural beige and earthy colors. Cheerful tones will bring a ton of positive aura and improve your mood. Experts advise taking a closer look at the colors of a dark and dirty rose. They are best used in a classic style. For example, in the form of wall decoration or furniture. More unusual – as a grout between blue and green tiles. As well as textiles that can be quickly replaced depending on your mood.
Colors of spring and freshness
Trends for 2022 focus on natural inspiration, which is confirmed by the always trending colors of the sun! This is another of the joyful hues that will transform any interior. Optimistic, warm, enriched with muted browns, they will undoubtedly bring warmth to the composition and have a positive effect on well-being. They will look great in combination with a versatile gray or taupe that has an ashy undertones. This sunny accent will look great when paired with wood or stone.
Natural colors
The main color trends 2022 will be muted and natural colors and shades. In most design projects, these base colors take on character with more intense companion colors. For example, such as bottle green, taupe or anthracite. In addition to contrasting shades, it is also worth focusing on compositions in the total look version – using the selected base color and its derivatives. By changing the degree of saturation of the shade of individual paints and interior elements, the space will become more expressive. All this will allow you to achieve complete harmony. Indeed, in such monochrome interiors there is a lot of elegance and sophistication.
Surface texture – trends of 2022
Color trends for 2022 perfectly reflect the finest in nature. And it's not just about flowers! The unevenness of the planes, the expressiveness of structures and surfaces that affect all the senses that fill the world of nature, will also be transferred to the interior. The fashionable style will delight you with matt wall and ceiling finishes, metallic accents, shimmering furniture facades, unique texture of accessories and spatial motifs that will bring dynamics to the apartment. Such a finish in the company of fashionable colors will become an ornament in itself!
Trends 2022 is the interpretation of nature in interior design. These motifs create a sense of stability and security, as well as colors that define the atmosphere of relaxation. The apartments will become even more comfortable and inspiring. – thanks to this, the time spent in the seclusion of your home will take on a completely different meaning.