Garden Furniture Trends 2022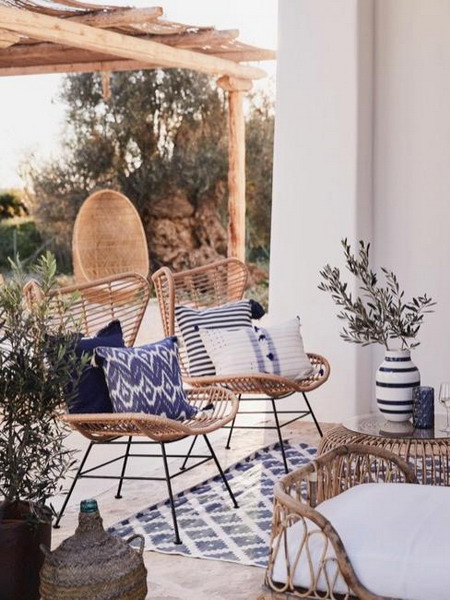 Summer is here and the gardening season is finally open again! Now it is high time to get the outdoor area in shape. Luckily, the garden furniture trends for 2022 are already on everyone's lips. And our interior experts have summarized the most important details for you. With our helpful tips, you can fix up your outdoor area. Let yourself be inspired by our expert ideas!
Favorite outdoor furniture trends 2022
Fact 1: Bamboo and rattan are still a trend topic that is difficult to ignore. Garden rattan furniture in particular lends a maritime flair to any outdoor area. Bamboo is particularly wonderful in a Japanese garden design, but can also be integrated in the form of lanterns on a city balcony.
Fact 2: Inspired by the Mediterranean flair, natural weave is in demand this season like never before. Whether as a piece of furniture or a decorative object, braided materials are a real must!
Fact 3: Round shapes and light natural tones as well as blue, turquoise and sea green transform your balcony or garden into a trendy oasis. With a white base, you provide the perfect prerequisite for atmospheric integration of muted colors in your outdoor area.
Fact 4: Plants in bast baskets are the trend theme of the season! Leave the old flower pots in the basement and place your container plants in baskets made of natural wicker.
Fact 5: Home gardening is currently very popular. If you have a garden, you can create your own small bed and plant tomatoes, cucumbers and various herbs. Make sure that the plants are suitable for the respective lighting conditions. If you are the happy owner of a balcony, plants can be placed in pots there. Or you can design your own raised bed with your favorite herbs.
With this outdoor decoration they are now very trendy
Indoor accessories are becoming increasingly popular outdoors! The garden or the balcony are seen as an extension of the inner living space. And thus decorated accordingly. Make yourself as comfortable in your outdoor room as within your four walls. In addition to comfortable and stylish rattan garden furniture, accessories also play an important role. Solar lights, fairy lights and outdoor carpets create a cozy atmosphere. Console tables and side tables give your second living room a nice ambience. And offer enough space to turn off the delicious summer drink. If your space is limited, green plants can be dangled from the ceiling in stylish macrame hanging lights.
Tip: naturalness and sustainability! This year too, the garden is mainly based on natural materials. So how about a privacy screen in the garden made of plants? Or a swimming pond instead of a pool?
Like on vacation! How to upgrade your garden furniture
Give your outdoor furniture a fresh summer color! Of course, you don't have to paint your garden table or the balcony furniture in bright colors. But wooden patio furniture in particular can do with a new coat of paint in the warm months. So that the color also covers uniformly, you should sand down and glaze your garden furniture set well before working with the actual color.
To give your garden furniture a new look, you don't necessarily have to paint it or buy completely new interior pieces. Even small changes like textiles have a big impact. Invest in new decorative pillows and seat cushions. Monochrome styles in black and white are currently popular. But natural earth tones are always welcome in the outdoor area.
A mirror in the garden? In the current outdoor trends, an unusual use of materials is capitalized. Blur the differences between inside and outside. So it is no wonder that mirrors can be found in the decor on more and more terraces and balconies. An outdoor mirror not only doubles the view, but also makes the outside area appear larger.
The mix of different styles and materials is still very popular. If you want to be particularly trendy here, mix marble with romantic elements from now on.
If, in the beautiful weather, you are also driven outside into the garden, onto the terrace or balcony and you feel like adapting your outdoor area to the current trends, you will find everything the interior heart desires at WestwingNow. From garden furniture to decoration to outdoor textiles. Search and find your favorite items and enjoy your new outdoor room!