Hottest Outdoor Furniture Trends 2022 – that's the trend!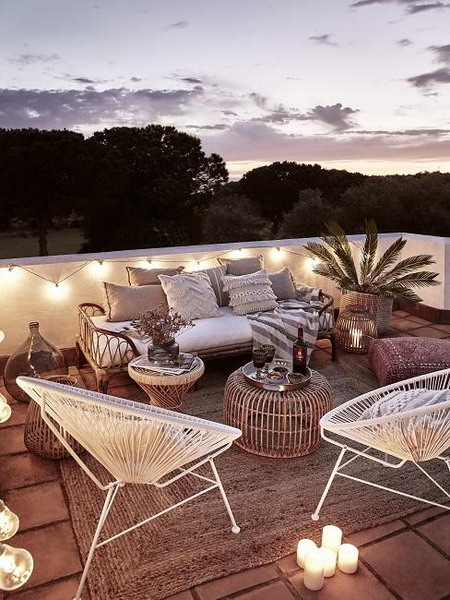 Summer is getting closer and so are the longer and longer days in the fresh air. We are now not only spending more time in nature, but also our open-air oases at home are being used more and more. Would you like to give your outdoor area a new year upgrade this year? Or are you looking for cool trends for the garden, terrace & Co.? From the most popular colors for the balcony to the right furniture to the latest decorative accessories that you absolutely have to try: Here we tell you the hottest outdoor furniture trends for 2022. Let yourself be inspired!
Stylish decorative accessories to make you feel good. From the lid vase for individual flowers to the bamboo lantern for soft candlelight.
Modular furniture
Mix and match: thanks to modular furniture, you can perfectly adapt your outdoor area to any situation. For example, do you want a separate lying area on which you can relax and sunbathe? Or would you prefer a large sofa on which all your friends can sit comfortably? Neither problem!
Cozy outdoor living room with lounge furniture
A place to feel good and relax: just create a cozy outdoor living room with lounge furniture in your garden! An absolute must is a cool outdoor carpet as well as a coffee or side table. If you prefer a more casual look, you are still well served with a comfortable hanging chair or a hammock.
Sustainable design outdoors
Keyword sustainability: Of course, we also want to pay attention to sustainable materials and an environmentally friendly design outdoors. You can therefore rely on renewable and natural raw materials such as wood, bast or linen. But recycled materials or locally produced furniture and accessories are also the right choice. This way you not only decorate your garden with the latest outdoor trends, but also protect the environment. What more do you want?
Incredibly space-saving: foldable outdoor furniture
Small outdoor balconies or narrow terraces in particular will be delighted by this outdoor trend: folding furniture is not only more popular than ever at the moment, but can also be stowed away again in a space-saving manner. The so-called director's chairs are our absolute must-haves in this category. The combination of the comfortable fabric seat and the foldable wooden element looks particularly stylish and can be set up in no time if necessary. A small space miracle!
Braided natural materials with boho flair
The boho style should not be missing in any summer decoration. That is why the furnishing style is of course again among our top outdoor trends this year. And this is how it works: Play for the ultimate hippie look with different natural materials such as bast, wood, linen and rattan. The tone-on-tone look in beige and cream tones is particularly popular. No wonder, because with this outdoor trend we immediately feel the relaxing holiday flair.
Atmospheric ambience through fireplaces
In the summer months we don't just want to savor every single ray of sunshine. Thanks to the mild temperatures, we like to sit outdoors with our friends until late at night. And of course the matching fire bowl or a noble outdoor fireplace should not be missing here. For the modern look, you should pay attention to a straightforward look that does not distract from the rest of the decor or the blazing fire. Models in geometric shapes are currently among the most popular outdoor trends.
Extra tip: You have no possibility for a large, blazing fireplace on your terrace or balcony? No problem! With candles and small torches you can still follow this atmospheric outdoor trend.
Outdoor kitchen and outdoor dining
We all know: love goes through the stomach. Therefore, of course, no ultimate outdoor area should lack its own small outdoor kitchen or stylish dining area. We currently love the monochrome look in black and white. In combination with a metal dining table top and plastic or rattan chairs, the look is particularly cool and contemporary. Or do you prefer a different style? Then let our other ideas for outdoor dining convince you!
Stylish sun protection: the slatted roof
As much as we love the sun, sometimes we are happy to see a little more shade in the warm months. Especially our outdoor dining area does not have to be in the blazing sun. In addition to the classics such as an umbrella, the sun sail or the awning, we currently also love the slatted roof trend. The advantage of this variant: Thanks to the mostly adjustable roof construction that is built on the scaffolding, you can let as little or as much sun shine through as you want. The perfect place for your next picnic.
Outdoor trend daybeds
Of course we also have to mention the daybed in any case. After all, this is an absolute classic! Simply choose the model that fits the rest of the outdoor trends in your garden. This is how you draw a common thread that runs through every corner of your outdoor area. The next pool party can come!
Hygge – now outside too
The hygge style reminds us of cozy days in front of the fire and a cup of tea while it is storming outside. Do you think that doesn't really suit the hot summer months? Let the opposite convince you! After all, this outdoor trend is only about a cozy atmosphere – in this case, however, just outdoors. In addition to your classic garden furniture, use cozy accessories such as blankets, pillows, carpets and small tea lights for this look. You will find that hygge can also be summer.
Natural trend colors
Our golden rule: color is always possible! With this motto you can not only spice up your existing furniture, but also quickly create a completely new look as you wish. Muted tones such as sage green, cream, cashmere or beige are particularly popular this year. Simply choose one of these colors or combine several tones. This creates soft blobs of paint that immediately enhance any outdoor area.
Urban jungle
It is so green! In order to create the popular outdoor trend Urban Jungle, you don't need much more than exotic flowers and plants on your terrace. Since the focus here is on your green thumb, the furniture and the decoration can also simply turn out accordingly. But place extra value on high-quality planters. These act as decoration at the same time. For the ultimate safari look, however, we love rattan furniture or embroidered decorative pillows with fringes.
PS: More tips and nice ideas for outdoor decoration can be found in our article!