Ready for summer: the garden furniture trends 2022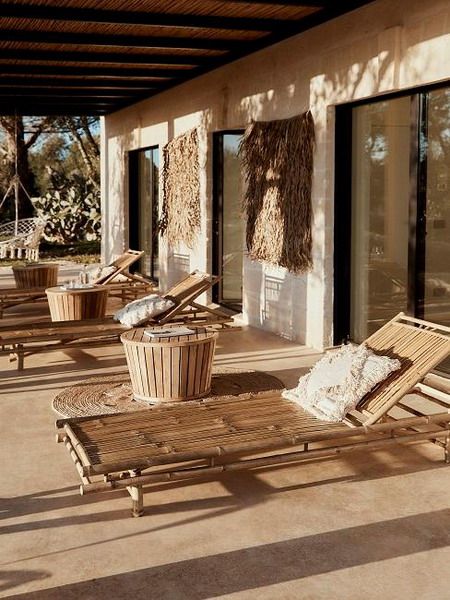 The first gentle rays of sun already announce spring and make it clear that summer is also not long in coming. Finally sit comfortably outside and end the evening with friends over a delicious BBQ. Wonderful! It is best to relax on lounge furniture, sun loungers etc. on sunny days – because the garden furniture will make your outdoor area a perfect outdoor room. Extend your living dreams and be inspired by the current garden furniture trends 2022! Seating groups, comfortable loungers, benches and lots of natural charm make your outdoor area a popular retreat where the whole family likes to be.
Sustainable garden furniture as a trend
What applies indoors is also the absolute mega trend outdoors! The factors for this: high quality and thus a long service life, natural or recycled materials and sustainable production. Of course, production in Germany is also advantageous for this.
Boho garden furniture trends
Boho is a trend and not just within the four walls, but also outside. The bohemian style takes the plunge into the fresh air and it couldn't be nicer. With trendy garden furniture in boho look you create a Mediterranean holiday feeling in 2022. Pure relaxation! For a harmonious overall picture, you should rely on many natural materials and braids. The highlight this year: Rope, a braid with a cord look. Jute, sisal, cotton, linen and rattan are just as popular as wood or bamboo. However, poly rattan is also a popular and robust alternative! In contrast, dark colors, which you combine with the rest of the ambience, provide an exciting contrast. Ethno patterns add the finishing touch. A great match: Hawaii parasols as accessories!
Boho textiles
If Boho Interior is among the trends in garden furniture Trends 2022, then the right textiles are of course not far away. So it is clear that we are completely at the mercy of the bohemian look this season. Whether decorative pillows with colorful tassels, blankets with delicate patterns or braided storage baskets made of bast – everything is allowed. Make your outdoor area a relaxing oasis of wellbeing!
Minimalist in a round shape: the Acapulco Chair
Of course, the Acapulco Chair should not be missing from the list of the coolest trends in balcony furniture in 2022. After all, the chair from Mexico is a stylish all-rounder that can be used variably. The timeless design always fits and can be combined with many styles. Whether equipped with colorful pillows or completely pure – the popular piece of furniture is impressive and is a real eye-catcher.
The outdoor kitchen
Would you like to capture as many rays of the sun as possible in summer and prefer not to go in at all? How about a stylish outdoor kitchen, for example? Of course, you don't have to have a completely new kitchen island built into the garden. But a cozy seating group for the whole family brings the hustle and bustle around the dining table outside. You can set up a practical grill station to go with it. This is a great place to prepare a crunchy salad, while sausages or vegetable skewers frizzle on the grill.
Jute – floor cushions, placemats & much more!  
Nothing beats jute this year ! The trend material can be found especially in summer in all versions on our terrace or balcony. Whether accessories such as a placemat, seat cushion or decoration – jute is a must. The material is not only convincing with a lot of naturalness, but can also be combined with many different facilities. The jute it pieces harmonize best with boho chic. Another advantage: jute is easy to clean. You can vacuum up crumbs and gently rub out light dirt with a damp cloth.
Cozy outdoor lounge with height
We also attach great importance to comfort outdoors. How practical that the Trends 2022 garden furniture produces particularly comfortable lounge furniture. Perfect for an outdoor living room! These are a bit higher, which makes it easier to get up and sit down. By the way, the focus this year is no longer just on oversized lounge furniture, which almost takes your breath away on small balconies. The Trends 2022 balcony furniture is based on space-saving two- and three-seater sofas. These can be combined excellently with loungers, benches and stools or an armchair or hanging chair. Add a table and possibly a cozy table fireplace, done! Parasols should of course not be missing here as a shade. Our tip: Weatherproof materials that you can leave outside all year round!
Orient feeling
Warm colors, natural materials and subtle gold elements – give your terrace or balcony a trendy oriental touch. The combination of different nuances ensures more comfort in your outdoor area. So that the look does not look too massive, you can choose the color white as the basis and complete your interior with decoration in oriental chic. What shouldn't be missing at sunset: lots of candles. Metal lanterns in the typical Oriental look also simply match the ambience.
Colorful mix: outdoor dining groups
In terms of dining group, "Mix & Match" is the trend this season. The rule here is: the more colorful, the better. Pastel is also on the rise. Combine chairs in various colors and shapes around teak garden tables. Be brave! Of course, the classic dining set with a uniform look is still convincing. But if you love bright colors, you can give the atmosphere a modern upgrade with an exciting dining table group. Incidentally, this also applies to materials: Here too, a casual mix is desired!
Retro: the director's chair
Who has never dreamed of a director's chair with their own name in prominent letters? The garden furniture trends 2022 make this dream come true (almost). A stylish director's chair that folds is not only practical, it is also quite comfortable. And he looks cool anyway. Whether made of leather or colorfully covered with a summer canvas cover – beautiful director's chairs have many faces.
Teak furniture
They are the classic among garden furniture and a real eye-catcher on your terrace or balcony every year. Yes, we also love the robust character of the teak furniture. Thanks to their high quality, teak furniture is still very much in demand – especially for garden tables. In addition, these pieces of jewelry have the advantage that, unlike other types of wood, their material no longer works. As a result, the garden furniture does not warp. At the same time, the honey brown color is a real guarantee of a cozy flair!
Cozy loungers
After a stressful day, we just want to put our legs up and enjoy the evening sun. Cozy loungers are just perfect for that. Especially made of solid teak, the garden furniture looks a lot and looks really great. Decorative pillows or a special edition optimize the comfort factor and let us dream of the next summer vacation.
Robust: aluminum, plastics and stainless steel & the combination metal & wood
Robust materials are still trendy! Solid stainless steel, weatherproof plastics and frames made of light aluminum are simply too practical for tables, deck chairs and the like in the outdoor area. And at the same time, they still look pretty nowadays – especially in combination with wood. Look for yourself:
Color trends
In addition to black, white, gray, natural brown and bright colors such as yellow, pastel shades are trendy! You notice – you have a large selection here! You should only decide on the basic concept so that the color selection also matches the garden style.
We hope we could inspire you! Your homedecoratetips team!