New Home Decoration Trends 2022 In The Design Of Apartments And Country Houses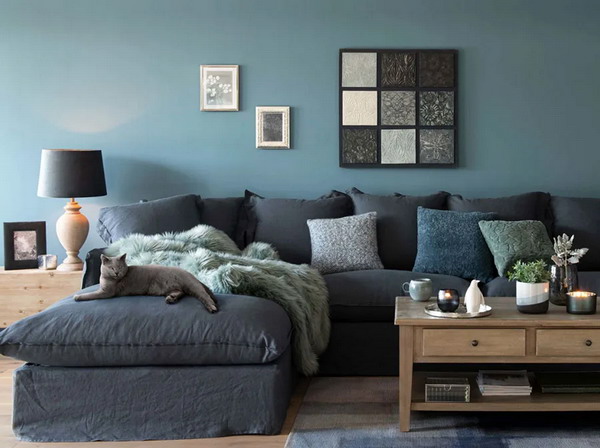 From delicate pink to deep blue, from strict geometry to playful floral prints… – what is fashionable in the interiors of houses and apartments in 2022?
Today, most designers refuse to follow trends, relying on individuality and exclusivity. But still, some tricks and elements prevail over the others. If in past years the interiors tended to minimalism, practical luxury and cleanliness of lines, today everything is focused on a healthy lifestyle and the creation of ideal comfort: large light spaces, comfortable soft armchairs, pastel colors, natural plants, natural materials and accessories that emphasize warm and cozy atmosphere.
Another important component of 2022 interior design is attention to the environment. Thanks to the latest technical and scientific developments, many companies strive to promote sustainable design – from materials, terms of their supply, and ending with their production and processing. What other trends can you see in this year's interior design?
From this article you will learn about:
popular interior styles 2022,
the most relevant shades,
trends in the world of furniture,
modern materials for decoration, etc.
Popular Interior Style Trends 2022
Scandinavian style has been a favorite for several years now. His philosophy of living comfort " hygge "  is very relevant today, especially when many inhabitants of the planet are forced to stay at home during a pandemic. However, the characteristics of this Northern European style have changed slightly: more texture, color, softness and handicraft items are added. This phenomenon was given the name Scandicraft (Scandicraft), which is going to gradually replace the cold and strict Scandi.
The love of Japanese interiors and gardens flared up with renewed vigor and spilled over into the Japundi style hybrid (Japandi). It has absorbed the best of Scandinavian, Eco and Japanese styles. It takes into account all modern trends: natural motives, simplicity and brevity, natural materials, functional furniture and layout, correct geometry and natural palette.
The industrial style also does not lose its positions. Unlike previous years, it has noticeably softened due to cozy decor items, greenery and smooth lines. In a modern loft, bold intersperses from the Scandinavian style, Art Deco, eco and retro are increasingly found. Luxury items are used as accents: Tiffany lamps, gilded tabletop, velvet sofa.
Retro and country styles, or their echoes, remain popular: white wooden furniture, checkered tablecloths, wrought-iron decor. They are partially rethought, adapting to new realities, becoming more refined, laconic and comfortable.
For those who find it difficult to make a choice, a diverse and unifying eclecticism is always ready to help. More and more Russian and foreign designers choose it as a defining direction.
Popular Color Pallets 2022
Listening to the main lawmaker of color – Pantone Institute, designers actively took up the main color of 2022 – blue and all its variations. It is called "new black" or "new gray", used not only for emphasis, but also as a basis.
Adjacent to blue is no less popular today – pacifying green. He was born with love for eco-direction. In years past, green has been distinguished by dark, deep forest tones. Today in work – green-gray, khaki, emerald and turquoise.
No less natural, warm palette is formed from terracotta, sand, mustard, beige shades. They bring calmness and relaxation to the interior. They are sometimes diluted with pastel echoes of light pink or ash pink.
Black and white union is eternal. In addition to Scandinavian geometry on carpets and floors, it is easy for them to highlight, zone and create visual effects. The classic combination looks great in a minimalist interior, on bright stylish posters, furniture, sets of dishes and textiles. Black and white kitchens and bathrooms are booming in 2022.
Furniture Trends 2022
Rounded shapes, curved lines, natural and pleasant to the touch upholstery – 2022 furniture offers maximum comfort. Huge modular sofas crammed with heaps of pillows and high-backed velvet armchairs make a statement even in the most casual interiors.
The play of materials and textures becomes key: consoles with a corrugated body and a perfectly smooth surface, velor armchairs with natural fur cushions, sliding wardrobes made of voluminous cane panels, coffee tables on brass legs with a suede-upholstered table top. A real paradise for kinesthetics!
The four-poster bed, known since ancient times, returns to the bedroom. Made of natural materials and wrapped in airy fabrics, it looks very gentle, romantic and luxurious. Designers assure that on such a bed you can relax as much as possible and have a good rest.
At the interior exhibitions of 2021-20, more and more projects are dedicated to home libraries. Whether this is due to the return of fashion to reading paper books, or designers are thus trying to bring it back, but furniture for books is one of the current trends. This is a high, full-wall book shelves, and comfortable chairs with shelves for books, and multifunctional coffee tables.
The idea of comfort continues outside the home. The design of outdoor furniture today more than ever resembles home. The only difference is more durable and practical materials.
Upholstery And Textiles 2022
Velvet, capturing the pedestal in 2021, confidently holds its position, combining luxury and comfort. If earlier this material was often associated with red theater or museum chairs, now a variety of shades of velvet are used. Designers especially love blue, purple, mustard, turquoise and yellow.
Fabrics with deep pile – boucle, mohair and sheepskin – are no less in demand in 2022. They are used to make not only blankets, pillows, bedspreads, but also upholstery for furniture. They add a degree of warmth and softness to the interior.
Textile has become a favorite this year, thanks to its natural origin, practicality and dense texture. Compared to the usual cotton, linen curtains, tablecloths and linen bring to the house a piece of something primitive, as close as possible to nature and our history.
Decoration Materials 2022
Moving a little away from exposed brickwork and heavy metals, designers opt for a soft, textured wall decoration that resembles unprocessed plaster. Acrylic and oil based paints with unpleasant VOCs (Volatile Organic Compounds) are used less and less. Instead, water-based products that do not contain harmful elements are gaining popularity.
Designers have been paying attention to concrete and marble for several years now. But if earlier they were only partially present in the interiors, then this time they are used to decorate entire rooms. For example, a stylish brutal bathroom in the loft style. To simplify the task will help ceramic tiles that simulate concrete and marble.
Ceramics are unlikely to lose ground as a finish, as modern technologies allow them to imitate a wide variety of surfaces, from wood to stone. In 2022, plus-size tile is especially relevant, especially under stone or marble.
The metal mix is held in high esteem again. Gold, tin and copper, or silver with iron and bronze work well together. But you can not overdo and mix more than three different metals in one space.
From the 90s, the Venetian terrazzo is returning – a mixture for the decoration of marble chips and clinker cement. It covers floors, walls, kitchen aprons and even entire bathrooms. Terrazzo elements are found in the decor of carpets, lamps and accessories.
Decoration Trends 2022
One of the best ways to make a wall stand out is with a vibrant wallpaper. In 2022, they are relevant not only on one side of the room. The whole room can be decorated with wallpaper with a colorful pattern. Popular motifs for prints are flowers, exotic plants and animals. The drawings are distinguished by more abstract lines and rich, contrasting shades.
For those who love to travel, they can highlight their hobby with the new trend 2022 – a mix of decor items and styles from different countries. From Australian landscaping to Indian living rooms, from Spanish bathrooms to French antiques.
In order to slightly expand the strict framework of minimalism, experts propose to group the same type of decor items by color, materials and form.
Along with the popularity of ecostyle, "living decor" has become a real "masthead": green walls, succulent florariums, massive containers with palm trees. In 2022, designers are proposing to have entire indoor gardens and living walls.
The arch – an architectural decor characteristic of the Art Nouveau style – in 2022, designers are no less interested. The modern arch gravitates towards a wider design and bright fashionable shades. It decorates not only openings, but also doors, cabinet facades, mirrors, niches, awnings.
Tired of boring and monotonous shades of interior doors? Discard them in favor of bright and rich colors to match furniture or textiles. This year, such door experiments are welcome.
The range of modern lamps and chandeliers is striking: from spot spots to a luxurious massive chandelier. Unique handicrafts made from glass, metal, rattan and fabric are getting more attention this year. These lamps are a great way to add accents to a laconic interior.
The general trend in design 2021-2022, which cannot but rejoice, is eco-awareness. More and more people are trying to purchase household items from durable, high-quality materials, as well as from raw materials that can be recycled.
Do you like the article? We invite you to read another article on the  home décor tips.