Newest Trends In Bathrooms 2024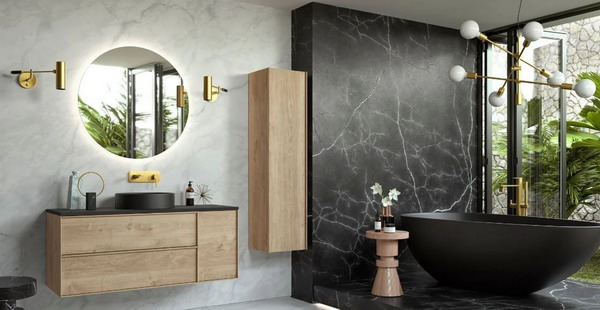 Do you want to build your bathroom from scratch or are you going to renovate your bathroom and you don't know where to start? There are endless possibilities when choosing the elements and decoration that you are going to include in your bathroom. If your goal is to build a modern space in the bathroom with a fresh and modern touch, join us!
There are a wide variety of trends in bathrooms, so it is important to choose one that suits your needs and that lasts over time. The first thing you have to do is identify the style or styles that you like the most for your bathroom: modern, classic, simple, vintage, rustic, Spa-type bathrooms, etc.
ENVIRONMENTS IN BATHROOMS
The latest trends in bathrooms 2024 are diverse but, at the same time, combinable. As for colors, the latest trends in bathrooms say that fashionable colors will range from the most vivid or pastel colors to black and white. Blue, green and, especially, pastel shades stand out among the fashionable colors.
Another trend in bathrooms will be natural finishes such as wood or marble that can be combined with one of the trends in bathroom decoration that never goes out of style: include a variety of plants that give the feeling that you are in the middle of nature.
On the other hand, the trend of vintage styles is extended, especially in furniture combined with retro-style toilets and decorative elements that accompany them.
Among the trends in bathrooms, the merger of shower and bathtub in the same space also stands out, compatible with the fashion of the aesthetic spa. Have you ever thought about creating a spa in the bathroom of your house? Well, now it is a trend and it is available to everyone.
Once you have chosen the trend or style you want in your bathroom, the time has come to take a look at the elements that will be in trend this year. Below, we show you the most fashionable options for each of the elements that you can include in your bathroom to make your job easier.
2024 TRENDS IN SHOWER AND BATH ENCLOSURES
Shower screens are an essential element in any bathroom. Contrary to popular belief, modern shower enclosures do not have to be an inconspicuous bathroom fixture. According to the latest trends in bathrooms, shower screens get a greater prominence this season, giving way to fresh and innovative designs that you would never have imagined but with which you will fall in love at first sight.
1. CURVED LINES IN SHOWER ENCLOSURES
Shower screens are an element that is not usually given much attention but that occupies one of the most important places in our bathroom.
Curved lines are one of the bathroom decoration trends that will take on greater prominence, especially in mirrors and screens, an ideal fashion to take advantage of if you do not have much space in your bathroom, since the straight lines in a small bathroom make it even noticeable. plus the end of the elements, while curved lines or circles have no end and give an appearance of greater width.
If you have a small bathroom, you will need to review models of screens for small showers or screens for small spaces such as folding or folding screens. One of the best options following the trends in small bathrooms is to choose to place your shower faucet in a corner, so you will have both shower walls free and more space for movement.
2. DECORATIONS IN THE GLASSES OF THE SHOWER ENCLOSURES
Being daring is in fashion in this 2024. You can get a different touch in your bathroom by joining one of the latest trends in more daring decoration in bathrooms: the decorations in shower screens. A screen-printed partition is not something new. What is in fashion are the daring, striking decorations, which make your screen the main element of your bathroom.
A solid color, green, blue or pastel shades – these are colors that are the latest trends in bathrooms – partially or totally covering the shower screen are very interesting options offered by Seviban, one of our suppliers.
3. DIAPHANOUS SHOWER SPACES
Are you looking for your bathroom to be a spacious space? This is one of the trends in bathrooms that best suits any type of bathroom. You probably prefer the shower screen to be an element that goes unnoticed in the room, and you're in luck. Another trend in bathrooms is the "invisible" screens that create an open space, without cuts or striking elements that stand out too much.
At Homedecoratetips we have several options for modern shower screens that bring light to your bathroom with a fresh touch, totally in line with the trend.
One of the elements that can help you create this effect of visual amplitude are the cladding panels made of the same material as your shower tray. This will prevent cuts between your shower tray and the bathroom tiles, so the space will be much more homogeneous. A tip: light colors such as white or pastel and neutral tones help reflect light and provide greater luminosity.
We leave you here, an example of changing a bathroom with cladding panels.
4. LARGE SHOWER CABINS
Another of the trends in bathrooms is about "everything in a big way". A shower tray with a large screen is one of the latest trends in bathrooms. In addition to aesthetics, placing a large shower cabin will be very comfortable in your day to day life.
If you have enough space to fit a large shower enclosure, you will need a screen that suits it and one of our suppliers offers different models of large screens that combine perfectly with the trend of open shower spaces. To join this bathroom trend, there is also the possibility of opting for customized shower screens that adapt to your needs and your bathroom.
2024 TRENDS IN SHOWER TRAYS
Did you know that shower trays no longer have to be simple, plain or just one colour? There are endless options of shower trays to choose from. Modern bathrooms with shower trays that are a trend are the best option to bet on today.
Shower trays have never been as prominent as they are now. It has gone from placing an acrylic shower tray, one of those of a lifetime, to starting to put shower trays with different textures, colorful and showy models that steal the limelight from any other element in your bathroom.
1. NATURAL STONES AND MARBLE
Natural stone shower trays are highly expensive and are hardly manufactured since, in the long run, being natural stone and being in constant contact with water and humidity, they are damaged, but don't worry, they are not manufactured in stone does not mean that such decorations cannot be used. In addition, natural stone trays tend to slip a lot, so we recommend an alternative: resin and mineral-filled shower trays.
Resin shower trays with imitation stone or wood decorations are the answer to this trend. Marble shower trays will provide the luxury and sophistication you are looking for in your bathroom. Visually they offer the same effect as a natural marble shower tray but, as they are made of resin that imitates stone, they obtain the condition of non-slip shower trays. In addition, they are manufactured and designed with the maximum resistance that can be given to a shower tray to guarantee the durability and resistance of the tray against water and humidity.
There are countless decorations that can be captured in resin shower trays, as well as various possibilities of marble finishes. Here are three examples of imitation marble resin shower trays in different finishes:
Within this trend in bathrooms, not only are marble shower trays included, but also slate shower trays. These plates do not have a smooth texture but have a rough texture or directly imitate the texture of natural slate, something that at first glance looks beautiful in any type of bathroom.
2. WOOD ALSO IN THE SHOWER
Another trend in bathrooms is the wooden shower trays. The wooden shower trays will bring a natural air to the bathroom, just like the imitation marble shower trays. Our suppliers offer a large number of possibilities in terms of wooden shower trays that can be combined with wooden bathroom furniture if you are looking to follow the most natural bathroom trends.
3. COLORFUL AND DECORATIVE MODELS
Designs of colored shower trays or with geometric prints, there are endless possibilities. Choosing a bold design can be a great option for small bathrooms with a shower tray and give your bathroom a striking touch. The NUOVVO brand offers a huge number of possibilities for shower trays with geometric decorations. Among the shower tray options offered by the brand are those from the 'Creative Skin' series, one of the most sought-after trends in bathrooms.
2024 TRENDS IN BATHROOM FURNITURE
Bathroom furniture is no longer a simple accessory, but rather takes on great prominence if what you are looking for is to design modern and functional bathrooms.
There is a wide variety of bathroom furniture but the main thing is to analyze the space you have when it comes to distributing them. There is a wide variety of small bathroom furniture to choose from or you can also opt for bathroom furniture with a countertop sink to make the most of the drawer space. If, on the other hand, the dimensions available in your bathroom are larger, the ideal would be to opt for larger bathroom furniture.
Suspended bathroom furniture is also one of the bathroom trends that continues over time, now combined with suspended toilets. This trend, in addition to aesthetics, is functional since, as it does not have legs, cleaning the bathroom is much easier and more accessible.
We present the latest trends in bathroom furniture:
1. COUNTERTOP WITH MARBLE FINISHES
Bathroom furniture with sinks on countertops or tops in marble finishes are one of the latest trends in bathrooms, as is the case with marble shower trays. In the latest trends in bathroom furniture, the predominance of natural finishes using stones and wood is maintained.
One of the clear examples of this trend is the Coycama bathroom furniture with a marble-finish countertop, it is the brand's MYTHO model. It is a bathroom cabinet with integrated or countertop washbasin in these finishes.
At Homedecoratetips we have the Coycama bathroom furniture brand and its catalog with a wide variety of modern bathroom furniture and designer bathroom furniture that adapt to bathroom trends and combine with your needs.
2. WOOD FINISHES, NATURALITY
Bathroom trends this year include natural finishes that incorporate organic elements for a spa-style look or typical rustic bathroom décor. Spa-type bathrooms are one of the trends in bathrooms that will be seen the most, both in this and in coming seasons.
Wooden bathroom furniture is one of the trends in bathrooms that, for several years, has established itself as one of the most important. Having wooden bathroom furniture combined with decorations such as plants in the bathroom or paintings for bathrooms will be a total success in any case.
Among the wooden bathroom furniture there is a fairly wide variety of finishes. If you prefer a lighter finish, the OPTIMUS model in bathroom furniture with an elegant and subtle touch that will give your bathroom the perfect naturalness.
If, on the other hand, you prefer wooden bathroom furniture with a darker finish, it is the 'Oak Eternity' finish that you can choose in the ATTILA model, by SALGAR.
3. VINTAGE FURNITURE
Vintage bathroom furniture is a sure hit if what you are looking for is to give a sophisticated touch to the bathroom decoration. Choosing to join this trend in bathroom decoration will give your bathroom a different and unique air that will surprise any visitor.
The types of vintage bathroom furniture are quite varied. You can choose between wood finishes or different colors (one of the trends in bathrooms this season) or even white. Vintage furniture features curved lines and moldings that will take your bathroom to another era.
On the other hand, SOCIMOBEL also offers vintage bathroom furniture models such as the SOCIMOBEL SAX model that will undoubtedly transport you to the classical era with its Elizabethan touch.
TRENDS IN BATHROOM FAUCETS 2024
The choice of bathroom taps becomes much more important when you begin to visualize the final result of bathroom renovations. There are many more bathroom faucet options than we can imagine. After a lot of research, we show you what the latest bathroom trends are in terms of bathroom faucets.
1. BUILT-IN FAUCETS
Built-in faucets are one of the trends in bathrooms that are being seen the most lately, both in bathrooms and toilets. Using a built-in faucet in the bathroom will give your bathroom a minimalist but elegant touch. You can use built-in taps both in the sink and bidet as well as in the shower or bathtub taps.
Imex faucets offers a wide variety of built-in faucets for washbasins, also available in different finishes that adapt to trends: black, white, gold… Also in terms of shower faucets, Imex has an extensive catalog of both thermostatic faucets, one of the latest developments in bathrooms, such as mixer taps. One of the most successful models is the built-in BELICE by Imex, available in different finishes.
2. VINTAGE FAUCETS
Are you a lover of vintage style? If you would like to incorporate vintage taps into your bathroom inspired by the Baroque era, read on. A vintage faucet combined with furniture of the same style is a sure hit if it is one of your favorites.
On the other hand, if you prefer that the bathroom decoration you have chosen only contain details of this style, you can opt to add only a vintage tap model that provides that retro touch in a discreet way.
The BARROCO model by Martí is one of the most characteristic vintage tap models of the style:
Other options are rose gold, brushed bronze, brushed gold or brushed nickel finishes. This type of tap finish is perfect for incorporating the touch of a rustic tap into your bathroom.
3. GOLD / GOLDEN FINISHES
Bathroom taps in gold finishes are one of the latest trends in bathrooms as they bring a certain sophistication to the room. Installing taps for bathrooms with a gold finish or accessories with this same finish will give the bathroom reflections in golden tones that will give warmth to the environment.
One of the best options when choosing the bathroom faucet that best suits you is to choose a model that offers possibilities for a shower, sink, bidet, built -in… such as the Imex LINE series.
In addition to the trend in gold taps, black taps in all their aspects continue to be fashionable in modern bathrooms, especially with details in gold or rose gold giving it a dystopian and unique touch. The black faucet stands out especially when placed in bathrooms with white walls or tiles.
4. SHOWER OR WHIRLPOOL TUB
If your intention is to incorporate the style of a Spa bathroom into your home, you cannot miss a hydromassage column. With a hydromassage column you will have everything you need for a shower and the extra point of a unique experience thanks to the hydromassage outlets. You can choose between a built-in faucet with hydromassage jets such as the Imex FORMENTERA model or an all-inclusive hydromassage column such as one of the Aquassent models such as the KIARA or the YARIS.
All the models of hydromassage columns that we offer on our website are easy to install as well as having an affordable price.
5. SINGLE HANDLE FAUCETS, ALWAYS IN FASHION
The mixer tap is a classic in modern bathrooms that remains timeless. Every year we find them within the trends in bathrooms thanks to the designs that are innovating. If you prefer a simple type of faucet with straight lines, you should choose a single-lever faucet that fits what you are looking for.
However, being classic does not mean that it does not adapt to trends. The varieties of mixer taps are almost endless. In the Homedecoratetips product catalog you can find single-lever faucets in fashionable finishes such as gold, matte black or matte white; even on brushed metals. Single-lever faucets are also classified between round lines and square lines.
A detail that is becoming very fashionable lately in single-lever basin faucets is the tall spout, yes, giving your basin faucet a few centimeters more height can make the difference between a classic faucet and a more avant-garde one.
2024 TRENDS IN BATHROOM ACCESSORIES
Accessories are elements that are normally chosen more for their aesthetics than for their functionality, but in the bathroom they tend to turn the other way and ignore aesthetics. This season, functionality and aesthetics will go hand in hand when choosing your bathroom accessories.
Something that is increasingly fashionable and that is also quite practical are bathroom accessories without drilling, that is, you can place them in your bathroom without drilling, simply with a special adhesive and that's it.
Without a doubt, the main element among the accessories are the LED bathroom mirrors.
1. SMART MIRRORS – BLUETOOTH BATHROOM MIRROR
An essential in all bathrooms is the mirror. However, we are in a season where it is not easy to choose a mirror due to the immense options of mirrors for modern bathrooms that exist. The latest trends in mirrors for modern bathrooms are bathroom mirrors with built-in LED lighting.
These types of bathroom mirrors with LED light are one of the most fashionable options and they will also save you on the electricity bill since they are low consumption. Choosing an LED bathroom mirror is one of the best options for your comfort because having good lighting in the bathroom mirror is very important.
Another type of mirror for modern bathrooms are smart bathroom mirrors that incorporate certain technology and are part of the latest trends in bathrooms. Many of the options to choose from for LED lighted bathroom mirrors have built-in switches to turn them on when needed. There are also models that integrate an anti-fog system so that the mirror is functional even when you get out of the shower. Another option that the most modern bathroom mirrors have is the bluetooth system to be able to listen to music or the radio while you shower or get ready to go out.
If you think that this type of mirror is going to cost you an arm and a leg, let us tell you that you are wrong since the market is adapting to trends and customer demand, therefore, in our catalog you can find cheap bathroom mirrors with these characteristics.
As for the shapes of these mirrors, square or rectangular mirrors are used, this type of mirror helps to generate better visibility in the bathroom, in addition to matching perfectly with the straight lines of the bathroom furniture and everything is very homogeneous in sight.. If you want a modern touch, we recommend choosing a square mirror with rounded finishes such as the SOUL mirror by Coycama, the Austria model by LED Imex, a more daring alternative to this trend.
Round mirrors are not far behind this season. They are ideal for small bathrooms where you do not want to emphasize the proportions or the end of the elements. A square mirror has lines that make it quite clear what its beginning is and what its end is, on the other hand, round mirrors do not have edges or corners, they are "infinite" something that visually helps a lot in a small bathroom since it does not delimit any zone.
2. ACCESSORIES AND COMPLEMENTS FOR THE BATHROOM
Have you chosen natural air by joining the trend of bathrooms with wood finishes? Dare with bathroom accessories made of wood or in a finish that simulates wood. You can count on the accessories of the NATURA series of the Manillons Torrent brand, which follow the line of this trend perfectly and also at a very good price.
However, one of the most fashionable options are the black finishes also in the accessories. The latest trends in bathrooms put black finishes for details ahead of other finishes.
Also, if what you want is not to complicate your life and easily install functional bathroom accessories, you can opt for bathroom accessories without drilling that you can find here. The installation of these bathroom accessories without drilling is very simple since you will only need the Sealant Fix Adhesive to install the last details.
2024 TRENDS IN SANITARY FITTINGS
When you are going to renovate your bathroom, you think about the design of the shower tray, the screen or the piece of furniture and you overlook the toilets, since the quickest and most conventional thing is to put a WC of those of a lifetime and that's it. This is a very common mistake that we tend to make and it is something that can completely ruin the aesthetics of your bathroom.
Nowadays, there are countless different models of toilets that are just as functional as those of a lifetime but much more modern and with designs that adapt to any pocket.
1. SUSPENDED SANITARY FITTINGS
Betting on a suspended toilet is a success, not only because they are one of the trends in bathrooms but for many other reasons. In addition to the modern design that a suspended toilet brings to the bathroom, it is aesthetically more decorative and elegant. On the other hand, a wall-hung toilet along with a wall-hung bidet free up space on the bathroom floor and make cleaning the room much easier.
A wall-hung toilet is the perfect choice in small bathrooms to free up that floor space and give the bathroom a feeling of spaciousness. Wall-hung WCs are the best ally for small bathrooms, especially when combined with wall-hung bathroom furniture, so everything will be at the same height from the floor.
Bathrooms with a wall-hung toilet are one of the trends in bathrooms that are making a strong statement this season and that are here to stay. In addition, the belief that a wall-hung toilet can exceed the budget you have chosen for your bathroom is totally false. There is a wide selection of cheap suspended toilets that you can find at Homedecoratetips.
Choosing to join the trend and choosing a wall-hung toilet does not close the door to joining other trends in bathrooms. The options in bathrooms with a wall-hung toilet are quite varied in terms of shapes and colors. One of the most successful models in the world of wall-hung washbasins is the PURPLE model and the YELLOW model.
2. DISPLACED WASHBASINS
Asymmetry is a trend and not only in fashion. The latest trends in bathroom decoration include spaces with asymmetrical elements. One of the most popular bathroom trends this season is the offset sink. Perfection has been left in the background and exact measurements are no longer taken, so to join the latest innovations in bathrooms, you only have to opt for a bathroom cabinet with an offset sink. The most successful especially are the toilets displaced to the left.
However, if you don't dare with asymmetry and you don't want to include an offset washbasin, you can always incorporate this trend in a more subtle way: in the mirror. Off-centering a mirror with respect to the bathroom furniture with a sink is easier to solve if you think you are going to get tired of it not being symmetrical. You can choose a round bathroom mirror and place it off-center with respect to the furniture and thus, if you get tired, you will only have to center the mirror.
3. COLORED COUNTERTOP WASHBASIN
Colored countertops are one of the most popular options this season. Experts also mention colored countertop washbasins among the latest trends in bathrooms. We can say that it is a perfect bathroom trend if you have children at home or if you want to add that touch of color to modern bathrooms where white predominates.
You can opt for the wide variety of colors and shapes that COYCAMA offers in terms of built-in countertop washbasins, as is the case with the Rotterdam model of this brand.
The countertop colors that are most often repeated in bathroom trends are green and blue and matte or pastel tones. These countertop colors give a cheerful and modern touch to the bathroom.
On the other hand, a wood-colored countertop with natural finishes would add to the trend mentioned above. An example of an oak countertop is the COYCAMA flow model.
4. BATHS WITH MODERN SHAPES, MOSTLY FREESTANDING
Despite having lost prominence a few years ago, bathtubs are once again trends in bathrooms this season. Including a modern tub or freestanding bathtub is the touch every spa-like bathroom needs. Modern freestanding bathtubs are one of the most requested bathroom novelties this season.
A freestanding bathtub is not exclusive to large bathrooms. There are options for small freestanding bathtubs if the measurements of your bathroom are not very large but you still want to join the trend of small bathrooms with a freestanding bathtub. The options for bathrooms with a freestanding bathtub are very wide. You can choose a rectangular freestanding bathtub such as the VELA model to break with round lines or choose a freestanding bathtub with rounded and modern finishes such as the SILA model.
5. SPA BATH
Throughout this post we have mentioned the 'Spa Aesthetic' on several occasions, but what is the type of spa bathroom really like? A spa bath is one that creates a relaxing experience similar to what one would experience when visiting one of these places, turning it into a sanctuary with a peaceful and private environment. Take weight as one of the latest trends in bathrooms in these times of stress as a place to disconnect and relax at home.
To get a spa bath you have to follow some premises. Use the same color schemes and do not add very flashy accessories that attract attention. Candles, paintings or shelves in ecru or pastel colors will be the perfect decorations. The elements of a spa bath that we have mentioned would not make sense if aromatic elements such as candles, salts or bath bombs are not added to give you a relaxing bubble bath.
In short, the trends in bathrooms this 2024 are quite far from the trends of a few years ago since now there is a greater commitment to the naturalness of marble, wood and pastel finishes or to black and white contrasts.
Fashions always come back, hence the fact that vintage is a trend this season, but, without a doubt, after these years in which we have spent a lot of time at home, what predominates the most is functionality.
Diaphanous spaces where you can feel relaxed is one of the most sought-after trends and, as we say at Homedecoratetips, make your bathroom a bathroom to live in.