The most beautiful ideas for the Valentine's Day decoration 2021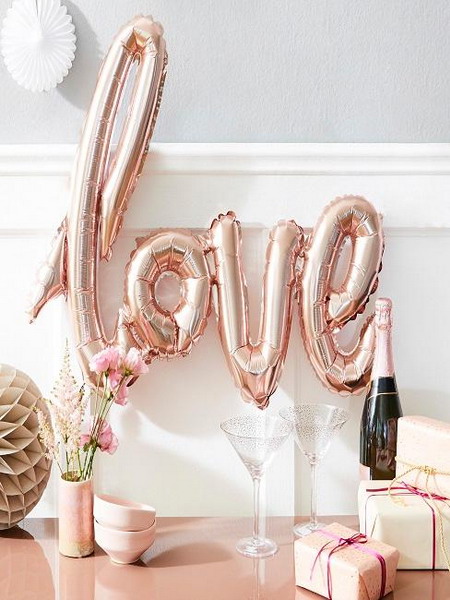 All you need is love! On February 14, couples in love celebrate Love Day. On Valentine's Day, you would prefer to spend 24 hours with your partner. It doesn't matter whether it's a trip together, a nice meal or a cozy evening at home – the main thing is that you spend this special day of lovers together. With an atmospheric Valentine's Day decoration, you can add a romantic touch to the atmosphere and further beautify the day. We have the most beautiful ideas for you – let yourself be inspired!
That is why you absolutely need beautiful decoration!
It is important to us to make every home a beautiful home. We attach great importance to stylish furniture as well as decorations suitable for the occasion. A very special decoration is particularly worthwhile for Valentine's Day. Show your sweetheart how much he or she means to you and make the most of it! A Valentine's Day decoration does not always have to be cheesy in 2021 – it can also be elegant and romantic. Red hearts and candles? Yes, but in style, please!
Dinner for two: the perfect ingredients for table decorations on Valentine's Day
Cheers on love! If you want to spoil your favorite person with a delicious candle light dinner, the right table decoration should not be missing. Create a cozy ambience with a tablecloth, napkins, beautiful plates and glasses. With fresh flowers or petals that you distribute on the table, you create a beautiful mood and make the eyes of your sweetheart shine.
Valentine's day brunch
Make yourself comfortable on Valentine's Day in the morning and serve breakfast to your partner in bed. A Valentine's Day brunch can be enjoyed extensively if this special day falls on the weekend. With unbreakable champagne glasses, you can toast a romantic touch between the duvet and pillow. In addition, a loving atmosphere can be created with small vases made of porcelain and individual roses.
Wall decor to fall in love with
If you want to convey your love message to your partner in an unusual way, you can express your feelings with pretty wall objects. LED wall lights in the shape of a heart or as a love lettering also look pretty cool on the wall all year round.
Romantic decoration for the apartment
Give your home a romantic charm that is surrounded by Valentine's Day. If February 14 is even one of the most important days of the year for you to celebrate your relationship with your partner, then you should underline this day with authentic decoration and celebrate it appropriately. Heart-shaped pillows, romantic fairy lights and a beautiful sea of candles immerse your four walls in a breath of romance.
Love goes through the stomach: Valentine's Day cake
Your sweetheart is a sweet tooth and loves sweets? Then a homemade cake for Valentine's Day is the perfect way to express your love. To create the delicious dessert, you will find everything you need in the WestwingNow online shop: from cake candles to dough scrapers to silver-plated cake servers.
Valentine's Day gifts
Sometimes it's just a little gesture that sweetens the other's day. A lovingly wrapped Valentine's Day gift is never wrong. Lovingly packaged, they make hearts beat faster!
Valentine's Day decoration with flowers
As the saying goes: Flowers say more than 1000 words! A wise statement that is absolutely true, especially on Valentine's Day. Red roses are an absolute must on this special day of love – a rose for every relationship or marriage year. Oh how wonderful! Instead of long-stemmed roses, you can also choose a small rose as a potted plant. Thus, the classic for Valentine's Day is available, but the small rose petals of the plant look cute and reserved. Of course, a pretty DIY heart-shaped for Valentine's Day can also be made with artificial flowers. The highlight: these flowers never bloom.
Valentine's Day decoration with balloons
Be creative and create balloon greetings with a lot of love! Helium balloons in the shape of hearts or atmospheric confetti balloons are bursting with romance. Ornaments with floral and heart motifs or a suitable inscription make additional words almost unnecessary. You can also hang a card you wrote yourself on the balloon and hand it over to your sweetheart.
Make your own Valentine's Day decoration
If you have a preference for DIY projects, then just do it yourself and create your own Valentine's Day decoration 2021.
DIY heart garland
How about a paper heart garland? A simple but effective decoration idea for Valentine's Day. Simply cut hearts out of colored cardboard – ideal are pink, red and white. Then put two hearts of the same color on top of each other and sew them together in the middle. Now hang all hearts on a string with a little distance and you're done!
Love message on the letter board
Love sayings via card, SMS or WhatsApp is not your thing? Then just spread your love message on a letter board. This is guaranteed to be well received by your favorite person! And: The board can be redesigned again and again and used for any occasion.