2024 Summer Home Decoration Trends
Any occasion is good to renew the decoration of your house with the latest home decoration trends 2024. And when you know what is going on this summer, you will surely get down to it.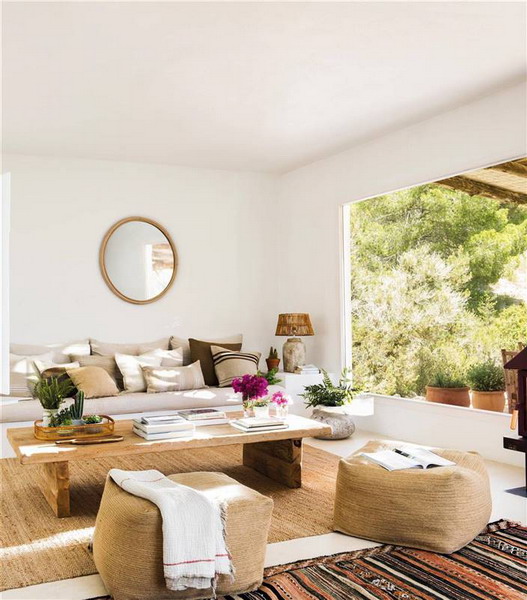 This living room, decorated by Mireia Pla, reflects some of the decor trends for this summer 2024: a calm style, neutral tones with touches of color, vegetable fibers that flood everything and the need to recover the connection with nature through some wonderful views of the garden of pines and junipers.
Season changes are an ideal time to renew the decoration of our homes. And summer, which asks us for fresh, light and relaxed environments in which to forget about the stress of winter, is more than perfect. So, if you are thinking of giving yours a makeover, knowing the decoration trends that are triumphing this 2024 will help you, not only in your purchases, but also in achieving a result of ten. Take note of what is taking this summer.
Natural Style
Naturalness is, without a doubt, one of the strongest trends of this 2024. All this through pieces of wood, linen and cotton fabrics, vegetable fibers, ceramics… And for this reason, the neutral tones and the range of green, blue and earth lead the decoration.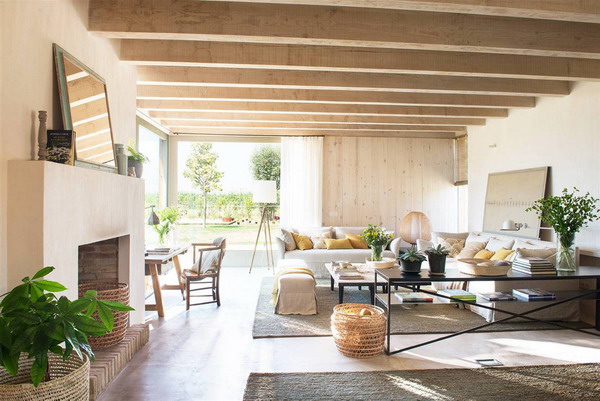 Living room decorated by the interior designers Betina Askanazy and Ester Prat. Sofa, by Miki Beumala. Iron console and side table, from Antique Boutique. Upholstered poufs and coffee table, design by the decorators. Francisco Cumellas rug, in Papiol.
Curved Furniture
We already pointed it out a few months ago: furniture with curves, designs with organic shapes. You will see from lamps and all kinds of accessories with sinuous lines to sofas and armchairs with enveloping backrests. How about you get one to create a comfortable reading corner in the living room or as a shoe-removing chair in the bedroom?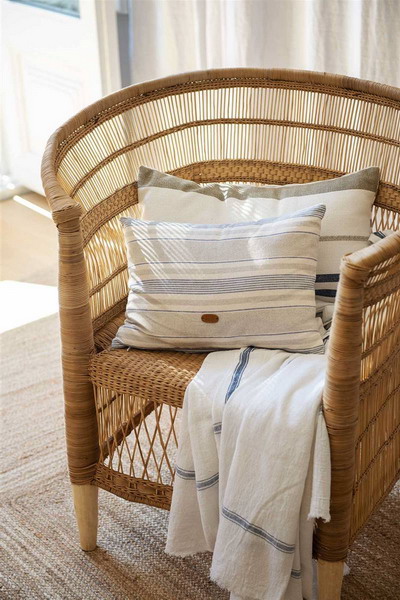 Armchair, from La Maison.
Fibers Take Power
They are natural, sustainable, they are used in handicrafts… Natural fibers have everything to become the main protagonists of summer environments. And not only that: they transmit calm and well-being, they are easy to combine with other decoration elements and they never go out of style. It's about time you get a jute rug (if you don't already have one) to add that touch of style to your living room.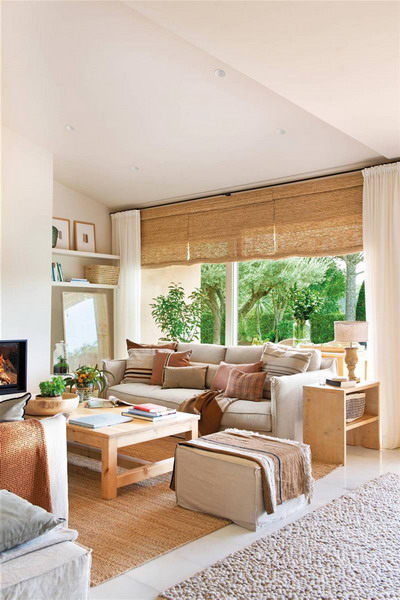 Sofa and pouf, by Grassoler, in Sacum. Hamid jute rug. Coffee table, decorator design. Papiol wool rug.
The Most Desired Lamps Of Summer
They are also made of natural fibers. Lamps and lampshades made of wicker, jute, cattail, bamboo, rattan or hand-braided hemp are ideal for bringing freshness to the decoration.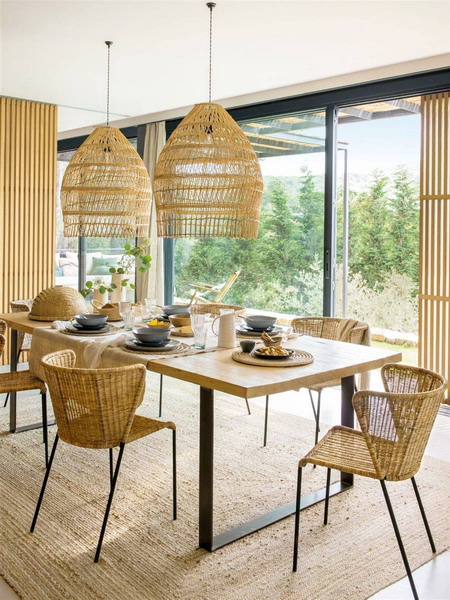 Oak table made to measure by D'Aussy Interiors. Chairs by Kave Home, lamps by Cinq Ètoiles at MIV Interiores and rug by La Redoute Interieurs.
More Cheerful And Summery Colors Enter
On a base of neutral tones, summer living rooms call for contrasting touches in orange, pink, blue or intense violet tones… Join this trend and liven up the sofas with cushions in bright and energetic pastel tones. You will achieve an environment with a charming bohemian and positive air.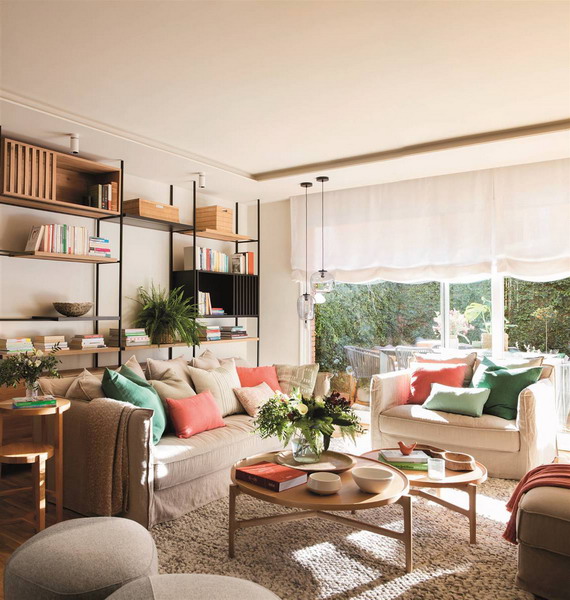 Living room decorated by Egue and Seta. Grassoler Nicolay model sofa, armchair and square pouf. Gray rug and poufs by Bolia Design. Coffee table from La Redoute. Coco-Mat side tables.
Color Counterpoints
In summer bedrooms you can break the monotony of neutral tones with strokes of blue. You will achieve a clean and elegant contrast, and above all, a Mediterranean air of which we declare ourselves unconditional fans.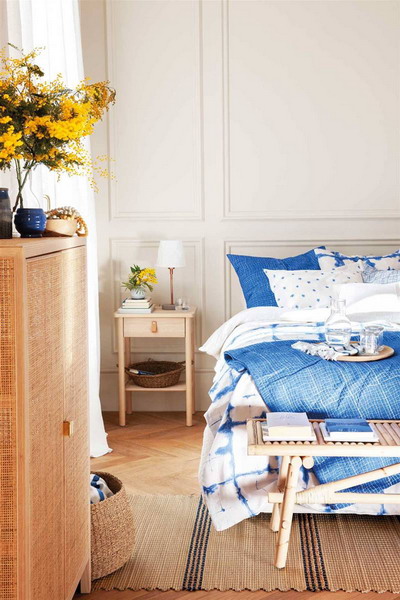 Sideboard, bedside table and stool from the Tänk Värd collection, by Ikea.
Orange Is The Color Of This Summer
If we had to choose a trend color for summer 2024, it would undoubtedly be orange, especially in its brightest, most acidic and saturated shades. It may seem somewhat daring, but you already know what the rule to follow is in these cases: use it in small doses through supplements.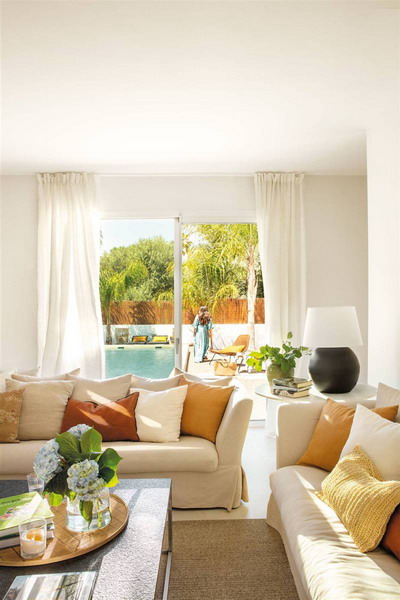 Hamilton sofas, from Maisons du Monde. Ikea curtains. Table lamp, from Maisons du Monde with Ikea lampshade.
Explosive Tables
Normally in the decoration of gardens and terraces we allow ourselves more decorative licenses. We are more daring and do not hesitate so much when choosing colors, furniture or accessories. So, if orange seems too much for your living room or bedroom, take it to your summer tables . With a tablecloth of this color, you will achieve a cheerful and optimistic look. And by the way, did you know that orange, like red, stimulates the appetite and the desire to talk?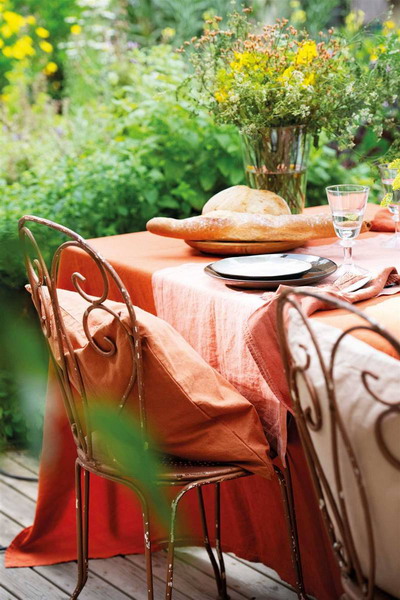 Cushions and tablecloths from Lo de Manuela.
What Goes In Crockery?
Summer is synonymous with informal outdoor celebrations, in which care must also be taken when presenting the table. This season, designs that convey serenity and warmth are popular; also the colored pieces that add that cheerful and festive point, and the tableware decorated with exotic motifs, flowers, birds, and a great classic, the prints inspired by the sea such as the Ocean collection from El Corte Inglés.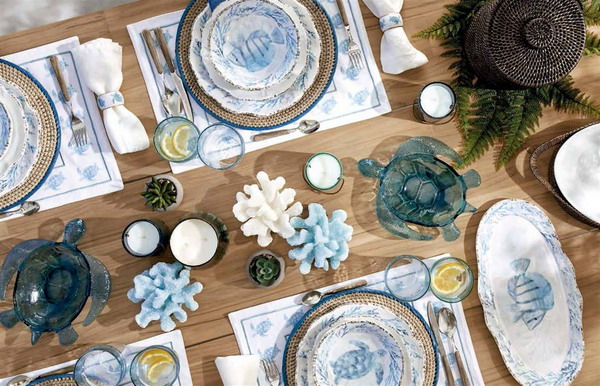 Flowers And More Flowers
Large, small, printed, embroidered… Like every summer, flowers become one of the favorite motifs to add that touch of freshness and naturalness to the decoration of any corner. You know what looks great? Mix different prints or even add upholstery or striped accessories (in the same tones, yes).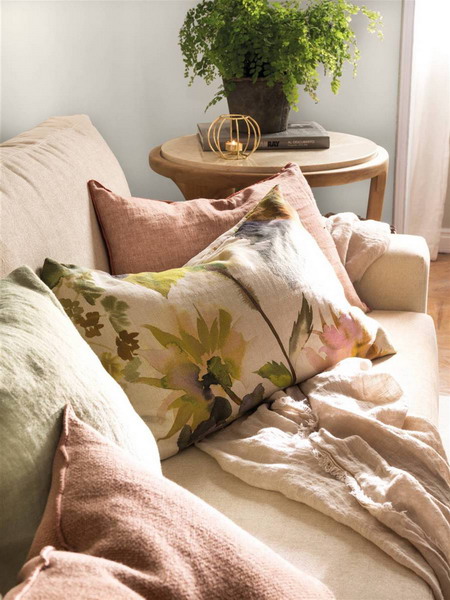 Ethnic Motifs
Kilim, tribal or Moroccan-style patterns are another must-have for summer 2024. We like them for that exotic touch they add to any environment, both indoors and outdoors. In addition, thanks to their shapes and figures, they provide character and personality. You will be right whether you stay with a simple palette, with black and white as the main colors, or if you play with the colors of this summer. Use them on rugs and cushions, both indoors and outdoors.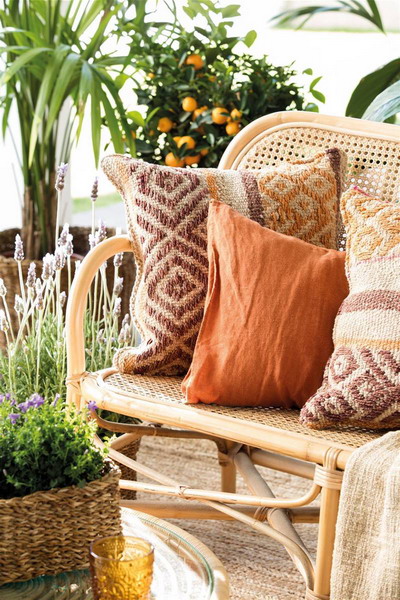 Biophilia, Or That Need To Connect With Nature
A trend that we saw coming and that is firmly established this summer 2024 is biophilic design, or that search to connect with nature through indoor plants, views of the sea, the mountains and other outdoor landscapes. And not only that: also the textiles and wallpapers have flower and leaf motifs that support the desired feeling of closeness to nature.