7 Main Trends Of Kitchen In The Summer Of 2021
What kitchen trend will appear in your kitchen space this year? Color, layout, modern equipment … There are plenty to choose from.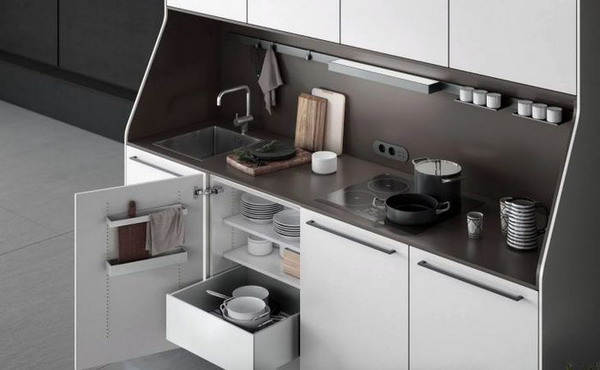 Trend 1: open spaces
An open kitchen concept is king among other layouts. In fact, this is an open-plan kitchen, separated from the living area by a separate island, a partial partition or an elevated bar counter. This creates a division of the open area without completely covering any of the spaces.
Although the open concept of life has radically changed our lifestyle and entertainment, it has its drawbacks. There isn't enough privacy here, and finally, where do you keep all the dirty dishes during dinner? On the other hand, a kitchen plan, effectively divided by a bar or an island, solves these problems by skillfully separating the two spaces.
Trend 2: Green
From a purely aesthetic point of view, teal is more appropriate on walls and in accessories. But a promising area of design is landscaping the kitchen. Being green in the kitchen also means living with real living things. For example, living walls made of moss have a dual function: they are beautiful and absorb sound. If it's too difficult to keep a living wall, consider adding botanical plants in pots or a simple garden on the windows. "Green kitchen" is also ecology. We use plywood cabinets, cork floors, concrete tiles and other "raw" materials. Unpolished wood is also becoming increasingly popular.
 Trend 3: Multiuser Kitchens
An aging population and rising living costs for young people have led to an increase in the number of mixed-generation households. Thus, a multi-user or affordable kitchen becomes popular. This gives every generation of the family the opportunity to live regardless of age, mobility and ability. Multi-user kitchen features include extra floor space to facilitate wheelchair rotation and modular worktops.
Trend 4: accessories with character
We take kitchen equipment and accessories too seriously – handles, storage boxes, mixers, towel racks. They are modern, simple and functional. In some cases, they are completely invisible. Adding fancy accessories is certainly a cost-effective and effortless way to personalize space. Decorative shapes made of warm metals such as gold, copper and brass combine perfectly with modern and traditional kitchens. In addition, more and more home appliance brands are offering hardware alternatives to black and stainless steel. For example, oven cabinets and handles come in pink gold and copper.
Trend 5: Pastel Accents
The pastel is at its peak again. However, in 2021, she receives a modern update. No longer combined with chintz textile – pastel is now used as an expressive color. Pale corals, carnations and blue colors top the pastel palette. They complement the gray kitchens, the glossy white furniture and the wood finishes.
Trend 6: Warm Shades
Cold gray kitchens were in vogue in 2017-18, but in the summer of 2021, there was an increase in heat in all its forms. Neutral or saturated, but always universal, warm colors can be used everywhere in the kitchen. Gray blends stylishly with trendy, warm accents. Island lighting made of metallic shimmering like gold adds glamor. Copper fittings – from taps to electrical outlets – are a warm luxury in the kitchen. Add a patina finish, and your kitchen will instantly become attractive to fans of antiquity.
Trend 7: Industrial Character
Combining functions and goals, interior design looks more modern than ever before. Heavy metal structures and concrete are the basis of industrial design, but are not always the lightest materials for working in the kitchen. This year, industrial-style artificial finishes are back. For example, cabinet doors are now offered in concrete effect materials. For open storage, metal or iron racks can be used without frills. Functional subway tiles and stainless steel are ideal materials to protect against grease splashes. Factory lighting looks especially beautiful over the island.