Interior Design 2023: 1 Mega and 4 Micro Trends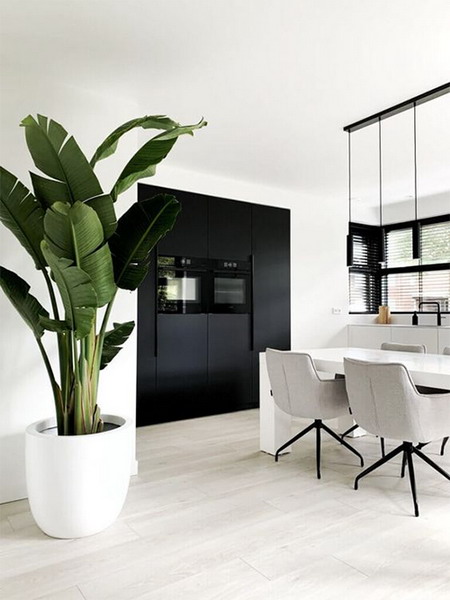 Home is a place where you want to return. Home is a place that tells even more about you than your clothes. Home is the place where you usually gain strength to meet the challenges of the new day.
I'm also pretty sure your home is a place you care about and love. And if after reading this material it will be easier for you to decide how to equip your apartment, or, perhaps, a house under construction, it will be just super.
Generally speaking, the main trend of the next year, and I would venture to assume, will remain minimalism for at least another three or four years.
The emergence of this trend and the huge demand for it (according to google trends, over the past 12 months the popularity of the query minimalist home decor has grown by 2,200%) is easy to explain. Nowadays, the abundance of information supplied to us from each iron – in the form of text, pictures, video content, and I-don't-know-something else, just scales, at home I really want to throw off this unnecessary ballast. At home, you want to have a lot of free space where you can give your ears a rest – from loud and not always good music, and your eyes – from advertising flowers from the palette, pluck your eyes out. Otherwise, it is unlikely to recover, otherwise it is completely nonsense.
The minimalism style is also good in that it is enough to transform it into any other with the help of household items and interior. You can add accents in almost any style to the interior in basic gray and beige tones, and your interior will be transformed, if not beyond recognition, then significantly.
In general, never-before-phrase modernist architect "Less – means more» ( Less is More ) so do not accurately reflect the reality, than it is now. It is the whole essence of minimalism – laconic, clear and straight to the point.
Some of the interior design trends in 2023 can be called varieties and its accents of minimalism style, these trends can exist only in a certain paradigm, and never on their own.
So, the main trends in interior design in 2023 will be:
Megatrend 2023: Minimalism Style

Geometric shapes in the interior:

Square
Round
Repeating elements / decor items

Emphasis on natural materials

Micro trend – urban style
Micro trend – personal space for work / leisure
Micro trend – furniture in the retro style of the 70s-80s
Micro trend – pea print
And now, in order.
Minimalism style in the interior 2023
The ethnic roots of the minimalism style are in Japan, but in the Western world, the fashion for minimalism began only in the 60-70s of the last century, in protest against luxury and excessive consumption, and as a result, the cluttering of houses and apartments with interior items and decor. Thus, the philosophy of minimalism is based on the principles of combining elements of traditional Japanese culture and the needs of modern civilization, a combination of functionality, necessity and simplicity, as well as the simultaneous use of natural and high-tech materials.
Minimalist style in interior design provides maximum comfort with minimal means per unit of space. There should be enough space, but not enough to be considered redundant. In general, rationality in everything is, in fact, minimalism.
The main features of the style of minimalism in the interior
Typically, the color palette includes a maximum of three colors. Most often these are basic colors (gray, white, beige) and natural (brown and green).
Other color accents (better than one) are acceptable.
In the case of minimalism, quantity will never turn into quality, and countless trinkets, albeit very beautiful and original, will not work for your apartment or house.
Limited number of decor items and accessories
This is where the basic principle of Less Is More minimalism manifests itself. Well, for example decor element in the style of minimalism.
Preferably, no more than two or a maximum of three.
Bulky furniture, with a lot of wardrobes. lockers, shelves will not work. Buy only the essentials, so that everything that you can hide inside and leave space everywhere, right down to the work table in the kitchen.
Don't clutter up the space. Strive for a proportion of 20% furniture, 80% free space. If you don't manage to achieve the ideal in all rooms, for example, in bathrooms and kitchens, nothing bad will happen.
It is desirable that your living space is literally flooded with light. Large windows are exactly what you need.
Environmentally friendly materials
Minimalism's best friends are wood, chrome steel, marble, glass and concrete.
Minimalism is not synonymous with the triumph of dullness. Look at the photo, it seems to be stylish and modern, but without contrasting black, white and decor, well, for example, in the form of a flowerpot with house plants. As a result, the interior looks boring.
Geometric shapes in the interior
Micro trend 2023 # 1: Square and rectangular shapes
Depending on what is closer to you – simple shapes with or without right angles – add appropriate glass, wood or marble elements to your home.
Micro trend 2023 # 2: Round shapes
Circles, rings and furniture with rounded edges in a modern minimalist interior are also quite acceptable today. It is quite possible that the resulting interior will not be 100% minimalistic, but if conceptually you play around with all your space, your interior will look stylish and effective.
Of course, it is difficult to recreate such a design in a city apartment, but if you are only planning to build a house, then why not.
If there is contrast, the interior will not look dull.
Remember how in the Bible? – Each creature has a pair. So, in design, this rule is called the two-by-two rule. In other words, it is desirable that each significant design element has a pair – something that will be in harmony with it in shape, color, pattern or texture.
Micro trend 2023 # 3: Repetitive elements
The 2×2 rule can be easily scaled. I don't know, to be honest, if there is such a stylistic device in architecture and interior design, but in philology this technique is called repetition. Its essence is that the same word is deliberately repeated, for example, in the speech of an orator, many times.
Micro trend 2023 #4: natural materials in interior design
By adding similar wood décor elements in other rooms, you get a very interesting overall design.
Cement can be classified as a high-tech material, because its main components are limestone, clay and gypsum. The process of making cement is quite laborious, and complex technologies are used to obtain it, so cement is exactly the material that fits into the minimalism style one hundred percent.
Urban style interior design 2023
It is possible that this style will not suit everyone, but since there is a demand for it, I simply have to show you examples.
As you can see, the interior is mostly minimalist, but the accent is so bright and unusual that it changes almost the entire look & feel of the interior.
If you get tired of feeling like being outside in your own apartment, just change the wallpaper.
Personal space for work and leisure
Is it possible today to write material on a relevant topic and never mention covid, quarantine, and that's all? I don't think so. The impact of the pandemic on our everyday life and everyday life is simply difficult to overestimate.
The spread of the coronavirus has made many of us rethink the need to go to work every day. We did not work less, but we needed to equip our workplace at home, at least on the balcony, at least in the corridor.
Retro style of the 60-70s in the interior in a modern manner
The popularity of this trend is also, perhaps, due to the spread of SARS- CoV-2. When anxious and restless, it is very important to rely on something, albeit unreal, albeit on the memories of those times when the trees were large, we are small, but surrounded by care. Psychologists say that the atmosphere in the style of bygone days returns us to a calm past, helps to relax, calm down and gain strength.
To which style this interior belongs, it is quite difficult to say for sure.
Pea print in the interior 2023
Despite its playfulness and lightness, this microtrend is unlikely to last very long, and therefore I advise you not to use it where it will be expensive and / or difficult to remove it.
You can support polka dots with anything, for example, dishes with the same print:
To make your interior look stylish and respectable, pay attention to details, namely:
Live flowers. They can be in vases or flowerpots, and it is better both there and there;
An abundance of light;
Textiles and bed linen. Bedspreads and decorative pillows should be of high quality and made of natural fabrics, linen – of high quality satin or natural silk;
The decor. Remember, beauty and style are in the details. There should not be a lot of decorative elements, but they are the ones that bind your interior and give the apartment / house a finished look;
Buy paintings. They don't have to be expensive, but they should be chosen with care.
Let your home be stylish and cozy.