Paint Colors For Adult Bedrooms – Top 2023 Trends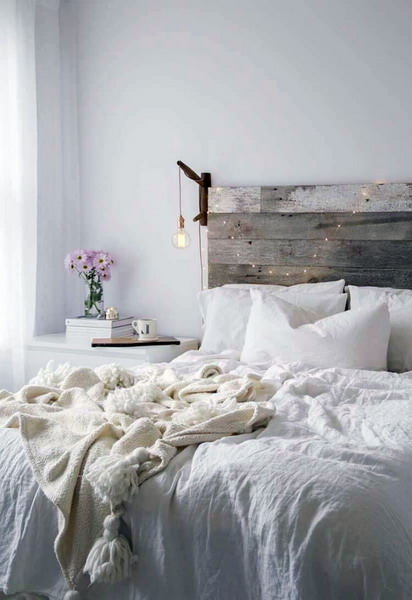 We have all spent a lot more time at home in the past year. As our living rooms and dining rooms evolved into action- packed home offices and classrooms, our bedrooms have become the ultimate sanctuaries of rest and retirement. So, to follow the 2023 bedroom decor trends, now is the time to give your intimate room a facelift and make it even more relaxing and special. That is to say that in addition to changing some furniture, also think about enhancing the color of your walls with a new tone! It is indeed the easiest way to transform this area into a haven of peace and comfort. But with so many adult bedroom paint color options, it can be difficult to choose. To help you out, we've rounded up the best ideas that are sure to change the mood of your space. Read on to discover the star shades and get our tips!
What are the most modern adult bedroom paint colors in 2023?
Colors in the bedroom can affect the quality of sleep. That is why you need to very carefully choose the shade scheme, taking into account its influence. Are you perhaps passionate about red? It is arguably eye-catching and suitable for active and emotional personalities. However, experts recommend that you do not use this color as the predominant color in your private space. So what are the tones that suit the bedroom and at the same time take center stage when it comes to decorating trends? We try to answer this question in the lines below. Remember, no matter if you prefer light or dark hues for your walls, you should always choose a color that relaxes you and helps you relax.
Cozy and chic white bedroom
Indeed, it is the neutral color par excellence, which is why it is widely used in decoration. She admits to being combined with the most sophisticated tones. Fresh, clean and crisp, white is neither cold nor warm, making it a universal shade for a bedroom, no matter its style – modern, traditional or rustic.
White color is associated with serenity and peace. A completely white bedroom appears as an oasis of calm, inviting relaxation and rest. When white is used pure, it is important to play with different textures and light sources so that it acquires different shades. For example, you can bring in hints of more intense color in small amounts, enhancing the attractiveness of the space through the high contrast.
The best way to use white without it looking austere is to add carved wood furniture and a sheepskin rug. Also add artwork and bright lighting to bring out the tones and patterns.
For more information on decorating a white bedroom, see our dedicated article!
Pastel blue bedroom
A little more unsaturated and definitely more sophisticated than turquoise blue, pastel blue has undertones of green and brings lightness and energy to a bedroom. Soothing and uplifting at the same time, this is one of the best adult bedroom paint colors if you want a serene and bright space.
A soft blue is like a breath of fresh air when you walk into the room. It adds an ethereal, dreamy quality to every space but also offers great versatility, which makes it particularly suitable for this area of the home.
Pair pale blue with neutral or even lighter tones to make up for it. This will open up the space. It is an ideal choice for coastal and bohemian interiors. Mix it up with other pastels, eclectic furniture, and woven accents for a chic and whimsical look. Linen bedding and a side table in natural material contribute to this simple and incomparable elegance.
Black in the bedroom
While we often think of crisp white and crisp, light hues when trying to optically enlarge a smaller space, there are also good reasons to go for darker tones. In fact, ink shades are known to amplify small-sized bedrooms, not to mention creating the perfect mood for sleep and rest. The black color in the bedroom makes it special and homey in a way that you could never get with a lighter shade.
Paint colors for adult bedroom: cream
Who Said Beige Is Boring? Reliable, versatile, warm and subtle, this is one of the trendiest adult bedroom paint colors around. This light shade contrasts just enough with the crisp, light interiors, while injecting some warmth into the space. It also evokes long walks on a sandy beach. In order to perfect the decor, add cheerful touches of color in the decoration and the cushions.
Terracotta color bedroom
The bedroom exudes warmth with its walls thanks to the color of terracotta. The fact that this tone is unexpected makes it perfect for anyone who enjoys experimenting with wall painting but dislikes bright neon lights and playful pastels. If you don't dare paint all the walls with such a striking color, you can use it on an accent wall or go for light tones for bedding, rugs and curtains and create contrast. An imposing work of art also helps to break up the gloomy atmosphere. Finally, the combination of terracota and white paint is very elegant and gives dimension to the room.
Room with yellow walls
To create an intimate environment, nothing better than a warm color in a variety of shades and in combination with a lot of wood. You never imagined how gorgeous yellow can look in a bedroom. This sunny tone also works great when you also incorporate accent pieces with metallic finishes for a glamorous aesthetic. Think bronze pendant lights and stools with interesting frames. In this way, you will accentuate the bright personality of the yellow.
Greige bedroom
Greige is a cool, classic medium gray, making it the excellent neutral that gives an impression of warmth and coziness. Its tone is closest to earthy tones. It can bring a contemporary and spacious look and open up a bedroom. It's a shade that pairs well with most colors and creates a calming environment, especially when there is good mood lighting or lots of natural light.
It's a universal neutral colourway, which means it matches many different styles of furniture and decor. You can bring out its warmth by pairing it with warm accents and furnishings, like beige or woody upholstery, or it can blend in with cool blue tones. Try contrasting a greige wall with white decorative items for a clean look.
Dark blue has reserved its place among the top paint colors for adult rooms 2023
Dark blue is very fashionable in its darkest version, almost bordering on black. It is a deep and saturated blue that dresses the walls to give a traditional and majestic bedroom, with a timeless and dramatic touch. You get an instant feeling of warmth, comfort and calm as soon as you enter the room.
Intense blue is suitable for rustic modern and traditional interiors. You have to contrast it with lighter colors to balance the decor – think white linens, a vintage rust-orange rug, a green ottoman, or a light wood table. It pairs perfectly with white, gold, silver and various shades of pink for a more daring look.
It is also said to be an introspective shade, inviting relaxation and meditation, so it is ideal for use in bedrooms to stimulate harmony of mind and emotions.
Invite green in all these shades in the adult bedroom
A wide range of colors is commonly referred to as green, although in reality green is only one, the one found in the rainbow, when a ray of light breaks down. But in order not to get into discussions, we agree that it is a color that admits many shades, which, when combined with each other, look fantastic. For example, we can choose between these greens which tend towards blue tones, and thus create lively and stimulating environments.
The green color, in all its variations, offers many possibilities in terms of interior decoration and can be adapted to all rooms and all styles. In general, it is chosen to create a relaxing and fresh space.
Green is a secondary color, which contains the energy and strength of yellow, the spirituality and depth of blue. You could say that it symbolizes the union of body and soul, balancing the physical and the spiritual, so it is the sublime choice for the bedroom.
The rich, earthy olive green paint job is the go-to outfit for a stylish bedroom. This paint tone has cool yellow undertones, making it look lavish and sophisticated. And while it's a little more daring, it's still calming. The olive undertone pairs well with other rich neutrals, like darker wood tones, black and white upholstery, or tanned leathers. It will also stand out next to metallic details, such as brass and gold tones, which will make it stand out.
The sage green color exudes traditional elegance. This is a tried and true classic green and yellow undertones, making it a warmer shade. Sage brings a springtime and romantic vibe to a bedroom. Its subtle presence makes it a light and airy shade, like a breath of fresh air. It is the perfect blend of energy and calming.
While the sage hue can be very traditional, it can also be eclectic, depending on the furnishings and decor in your room. Try pairing it with natural materials, such as cane, rattan, natural woods, linen, and jute, to achieve a layered, textured look.
Lilac bedroom
In metaphysics, the color lilac is considered to be the transmutation from negative to positive, a shade that stimulates inspiration and intuition. It is also said to act as a protection against dark forces, so it could be used in bedrooms to protect people while they sleep.
Lilac adapts admirably to different types of style but goes particularly well in modern rooms, although it is also very common to find it in the color scheme of romantic bedrooms with vintage touches. It is also wonderful in rooms with light wood floors, such as pine, light oak, beech, maple or ash floors, creating a feeling of cleanliness, freshness and clarity.
Pink room
The color pink is the obvious choice for decorating a romantic adult bedroom but to prevent the room from becoming too stuffy, this color should be used in a mixture of floral or geometric patterns, for example with vibrant gray or white tones. It's also a good idea to pair pink with white furniture to keep a fresh and contemporary look.
Adorable for classic, coastal and traditional style interiors, this color can be more intense or more beige depending on the lighting and accent items in your room. Try to combine it with blue and white decorative items and natural textures (thick cushions, patterned rugs, colorful artwork, woven seating) to keep the pink bedroom look from looking flat or monotonous.