Popular Trends in Home Interior Decor 2022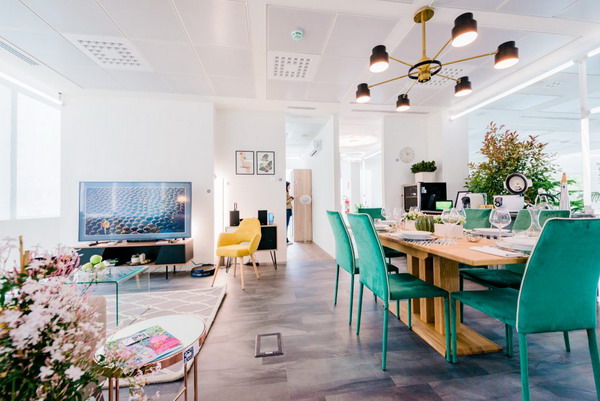 Apparently, the New Year will not bring us serious shocks. 2022 interior design trends demonstrate the stability of the ideas of recent years, development is still aimed at creating maximum comfort. Natural colors, practical furniture and natural materials prevail in the interior design. Fashion is shaped according to people's preferences and demonstrates a focus on creating the most comfortable space for work, creativity and communication.
What interior is in fashion now: 2022, key principles
All new trends in interior design 2022 are characterized by an emphasis on sustainability. In the setting, natural materials are used: both classic (stone, wood) and quite unusual ones like maize and sea cane. A frequent element of a room's decor is live plants, arranged in a wide variety of ways. The problem of plastic reuse remains an urgent problem.
Fresh trends in the organization of space
Most modern design projects are characterized by simplicity and practicality. The use of smooth lines and neutral tones allows you not to be distracted by the situation, completely focusing on business or leisure. The peculiarities of life in modern cities form an increased interest in:
Hybrid homes. As more and more people work remotely, along with areas for relaxation, household chores and entertainment, workers should be present in a modern apartment. One of the most popular solutions is the creation of mixed-use spaces, the division of the room changes depending on the momentary needs. Often, a layout is created with different levels of the floor, when the premises smoothly flow into one another. For example, offices can be linked to a shared library, and bedrooms are located here, separated by sliding panels.
Small housing. Due to the high cost of renting housing in large metropolitan areas, the fashion trends in interior design 2022 include the introduction of practical solutions for apartments up to 40 m 2. Without effective zoning, a small studio apartment creates the feeling of being in a box. To eliminate this sensation, apply warm colors for small details, bright focal colors, partial walls, transparent partitions. The arrangement of large furniture plays an essential role.
Combination of Scandinavian and Japanese styles
The japandi style in the interior, skillfully combining Japanese and Scandinavian features, is more and more in demand in the world. It is characterized by:
using simple forms;
a combination of Japanese decor with cool white and gray colors familiar to the scandi style ;
monochrome textured textiles;
the minimum number of decorative elements;
natural colors with bright accents.
What materials are used
Among the interior design innovations for 2022, a strong demand is predicted for dark wood, which can be used to create stylish spaces dominated by chestnut, coffee and chocolate colors. Mahogany, oak and wenge will be used both in the creation of furniture and in the production of decorative elements, as flooring, wall cladding. There will still be enough metal in the interiors. Elements of various shades are used in the design of lamps, mirrors, furniture, vases, from steel and aged metal to gold and silver.
Actual colors in the interior 2022
We can distinguish three main trend colors in the interiors of 2022, which will prevail in the production of wallpaper, furnishings, interior paints, textiles:
Adeline's bottle green shade is a product of British wallpaper and furnishings manufacturer Graham & Brown. Dark green is suitable for any room, will create a calm, relaxed atmosphere in your home. The color looks modern, goes well with metal. A striking example of its use is Bloomsbury Neo Mint wallpaper with plant motifs that have become classics for England.
The 2022 light blue-gray Panton in the interior is designed by Jack and Huei Australia. It conveys the coloration of coral reefs that they acquire when the ocean temperature rises – a reference to an urgent environmental problem. The beautiful and noble shade looks stylish and at the same time has a soothing effect. It is harmoniously combined with dark wood, warm colors, white and green.
Perhaps the trendiest interior color 2022 is Tranquil Dawn from British paint manufacturer Dulux. It captures the color of the morning sky at different times of the year: the base mint green is mixed with different color combinations to create four types of palette. The goal of the developers is to create a harmonious atmosphere in the home and to combat the emotional separation of people.
Interior trends 2022: furniture
The choice of furniture gives the dwelling a personal touch. The main trends in the interior of 2019/2022 in this area are the emphasis on designer products, handicrafts, restored antiques. In addition to the already mentioned use of dark wood, the following trends should be highlighted:
High demand is predicted for Chesterfield style chairs made of natural and synthetic leather, which will become a true decoration of the 2022 loft interior.
The rooms with modern design will use upholstered furniture with smooth wavy contours and strict metal details. Neutral and gold shades, black steel, polished chrome will be popular.
Terracotta color will be popular when creating upholstered furniture with leather upholstery, coffee tables, as well as kitchen cladding and accessories like flower pots and pots, rugs.
Interior decor trends 2022: unusual lamps
The sources of inspiration for the creators of indoor lamps were nature and space. Among the novelties in this area, it is worth highlighting:
Sun Light of Love by Tord Bontier, depicting a sun with 390 rays in a white and gold design;
the Stellar Grape series by Pulpo, featuring handcrafted grape-shaped lamps for various purposes;
Moonstone chandeliers made of bone china and Murano glass, with a shape and texture reminiscent of the moon's surface – the creation of designers Jopato and Cumbes;
chandelier Argent made of round silver discs in the shape of a shimmering cloud, creating an original play of reflections individually for each chandelier thanks to manual fastening to the frame, by Dodo Arslan;
the Nightbloom series is a hand-sculpted, hand-sculpted, kintsugi decor created by designer Marcel Wanders and Llardo.
Regardless of whether you want to embody modern trends in your interior or prefer something more traditional, contact hoedecoratetips. We will offer an effective solution for a customer of any income.