Summer colors: these are the trends in 2022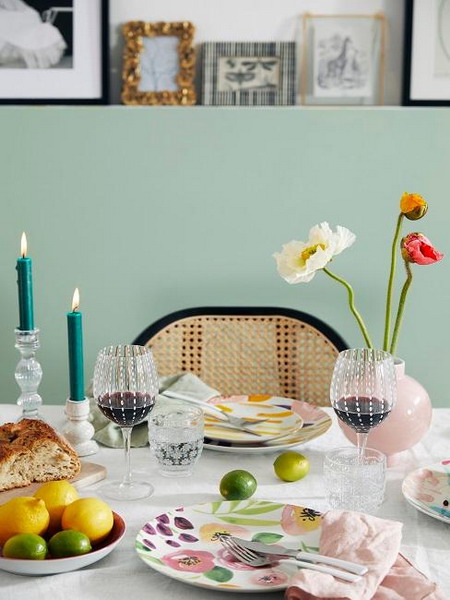 Now it's getting colorful: delicate pink, strong turquoise or a spot of color in fresh coral: with small eye-catchers in our favorite summer colors, the beautiful weather also moves into your home. We will now explain which ones are particularly popular this season and how you can combine your favorite tones over and over again.
What are summer colors? Our big color pass:
Before we introduce our favorite summer colors for 2022, we would like to give you a brief introduction to color theory.
Whether light, dark, gaudy or reserved: we combine every existing color with a wide variety of properties and emotions. Colors trigger feelings and associations in the viewer and lead to unconscious reactions. This is also called the color effect.
Each color has its own color meaning. If two or more colors are used now, they are in a relationship to each other, they influence each other.
The most well-known example of this is the so-called color wheel. The basis here are the three primary colors blue, yellow and red, from which each color can be formed under the rainbow.
For this reason, if you would like to know whether your color choice fits well in the room, you can look at the complementary colors in the color wheel. Colors can make a room appear larger or smaller – ensure concentration, have a calming but also stimulating effect. Complementary colors often give the impression of movement, liveliness and completeness in the room. Choosing the right color should not be underestimated!
Now that you know the basis of color theory, we are going to reveal our top favorites for your summer color this year. And thanks to this little introduction, you can now dare to combine them perfectly.
"There are painters who turn the sun into a yellow spot, but there are others who, thanks to their art and intelligence, turn a yellow spot into a sun." Pablo Picasso
Our inspiration: Pantone color trend 2022
Interior stylists and interior designers are happy to be inspired by the internationally renowned Pantone color institute for new color combinations. Every year the American company crowns a new tone for your choice of the year. Colors such as "Living Coral", "Ultra Violet" or "Greenery" became the most popular tones of the years.
A new color was chosen in 2022 as well: "Classic Blue" should ensure a relaxing effect and put the expressive long-running favorite back in the spotlight for all interior enthusiasts.
And of course this tone can also be used perfectly as a summer color for your decoration! A classic blue is always just right for the maritime and Mediterranean style. In combination with natural colors such as beige or white, your home will immediately look fresh and airy. If you like it a bit more noticeable, you can also combine citrus yellow with our summer color 2022. The color tone becomes particularly maritime in combination with red and white.
What colors are modern in summer 2022?
But of course you can also use any other color for your summer decoration. You can find out which tones we particularly like this year and how you can combine them correctly.
Muted red
When the red is muted, we like to think of autumn and winter. But even in the warm months, this color is wonderfully inviting and cozy! Red traditionally stands for fire, love and passion. Why should we only leave such a strong choice of colors to the cold seasons?
For a fresh look, you can combine red with light rosé or strong orange, for example. Airy fabrics such as linen or bast are also particularly good when combined with this unusual summer color.
You can also decorate with natural materials such as a bowl full of red apples or a vase with fresh poppies. So this color looks even more lively.
Modern orange
A modern orange immediately makes us think of the furnishings from the 1960s and 1970s. While the combination with dark brown or mustard yellow was particularly popular at this time, we now consider it a little more classic.
In order for this summer color to look extra classy, we particularly like the combination with accessories in gold. If you also want to imitate the popular boho look for summer, home accessories made from bast or crocheted textiles with fringes are also a must. This is how you create a hippie style that looks fresh and modern at the same time.
Living Coral
The name already tells us: this is a true summer color! After all, the clay was named after the fascinating underwater world. And since this living being does not only take on a certain shade in nature, you can also use a whole range of nuances in your decoration. Sometimes coral means a bright orange or pink, sometimes it is gentle with a hint of pink.
For this reason, a strong red or pastel pink goes perfectly with this summer color. But you can't go wrong with any nude tones. If you want a real color explosion, you can of course also use tones such as blue or turquoise. How to integrate all the colors of the sea into your summer decoration.
Sun yellow
Summer, sun, joy – that's what yellow stands for! The radiant tone is one of the three primary colors and is therefore an integral part of our lives! In the interior area too, the color is always particularly friendly and brightens up even the darkest room. For these reasons, of course, this tone must not be missing in our favorite summer colors!
Combine yellow with shades as fresh as turquoise or pink. But even with neutral colors such as beige or white, yellow accessories look friendly and fresh. You really can't go wrong with this summer color!
Natural beige
However, it doesn't always have to be loud colors and gaudy tones. You can also welcome summer into your home with a neutral color palette. The monochrome boho style is currently very popular.
Since you don't get much variation in your colors here, you can experiment with different textures and materials. And should you ever want to integrate some color, you have already created the perfect basis.
We hope we could inspire you! You are also welcome to discover our other articles on the topic of summer decorations!