8 Trends That Will Marks Interior Design In 2022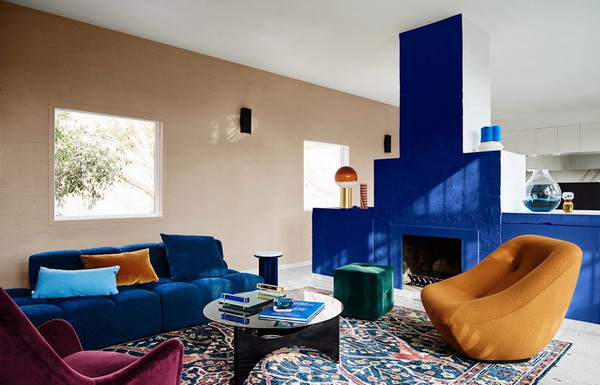 If you are looking for inspiration for your reform or want to know the next trends for the year 2022 at the level of architecture and interior design, this article interests you.
Year after year the trends evolve, although fashion is the most mediatic sector, the change in style also affects other sectors and interior design is no exception. 2022 will be the year in which our house will become natural, stripped of artifice and will use very specific accessories to give it a balanced touch of modernity. Furniture is also transformed based on the reality of the space we live in, they will become small and adaptable; and we cannot forget about color, although Pantone has not yet passed sentence, there are shades that have managed to sneak into the palettes of the most elegant interiors. Ready to know how to keep a house up to date?
Point out these trends because they will sweep in 2022
The mixture enriches
The time when all the floors, walls, etc. had a single finish is history, what is being done now is mixing. Cement floors are combined with patterns of hydraulic tiles or ceramic imitation parquet. The walls become fun with accent graphics that break the homogeneity of the smooth surfaces. Color does not come only from the hand of textiles and accessories, but the furniture is dressed in intense colors that add personality to the room. Neutral tones will not go out of style, but it is good to learn to take risks.
Marbles and natural stones
Large-format wall tiles are a must for interior trends 2022. With the new technologies and innovations of recent years, it has been possible to transfer the beauty of natural stone to large and increasingly light formats that facilitate installation on walls and floors, creating elegant and tasteful spaces.
If you are a stoneware lover, you will love the new technical stones that imitate natural materials and manage to create unique and unrepeatable combinations for each space. We will see a lot of marble and similar finishes in wall panels, dining tables, and details in bathrooms and other spaces in the house.
Frosted and matte glass
Frosted or matte glass will have a strong presence in lighting fixtures. Being able to be space dividers such as sliding doors or for the bathroom. A trend that until recently was considered obsolete and in bad taste is transformed to reinvent itself and be a key element for decorative, lighting and door solutions.
Its versatility means that they can be adapted to any style and space, being a point of interest that can be customized and even reversed according to the color you want, you will surely see it a lot in shower doors, bathrooms, striking lamps and space dividers.
Lamps that, in addition to light, give a lot of character to the space
On the subject of lighting, the innovation and the new proposals are magnificent. From geometric lamps that lean towards pure and simple lines to compositions of several pieces that create unique sceneries in each space.
We will also see many flexible and tubular lamps. They can be adapted to more organic designs, being a perfect contrast to geometric lamps that seek to create figures that cover the horizontal and vertical spectrum to generate a unique and impeccable lighting. The objective is to make an impact and give prominence to the lighting elements.
Modular and flexible furniture
Good design makes life easier and more comfortable for us. So in 2022, the trend that enters with more force are modular and multifunctional furniture. The popularity of these pieces of furniture lies in their versatility, being able to have various placement formats.
Adapting to the changing needs of users has led designers to create unique pieces that respond to different uses and spaces, being able to organize the furniture according to the use of each area of the house.
The 80s are back
Chrome details, glossy finishes, holographic and neon elements. The 80s came back to stay. Small details that transport us to that golden age of design that are presented both in pieces of furniture and in lamps and wall tiles, reinterpreting this style by merging it with today's contemporary lines.
The organic shapes and the presence of gold or copper finishes stand out on the legs and in the details of chairs and sofas. Mixing the opulence of the time with functional and contemporary silhouettes that we can see very often in pieces of furniture and lamps from the most recognized design houses in the industry.
The dark side
Gone are the Scandinavian designs full of white and neutral tones. For 2022, bold designs and compositions are expected that use dark and deep tones for both furniture and walls and coatings.
The dark and elegant colors are a bold proposal that breaks with the traditional Scandinavian style bathed in light colors. In order not to saturate the spaces, it is proposed to create a balance between the colors of the furniture and the walls, combining neutral tones and accentuating specific elements of the furniture or wall coverings to create a focal point in each space.
Wood at its finest
Wood is a classic that is always reinventing itself, and by 2022 it will not cease to amaze. Organic lines, folds and curves merge with the warmth of wood to present unique pieces of furniture and details that look as if they were carved from one piece.
It is committed to dark lacquers and marked veins in rich and deep wood tones. A trend that can be perfectly applied to any space in the house, whether in details of the furniture or pieces made entirely of this noble material.