The Most Beautiful Looks of Bedroom Colors 2022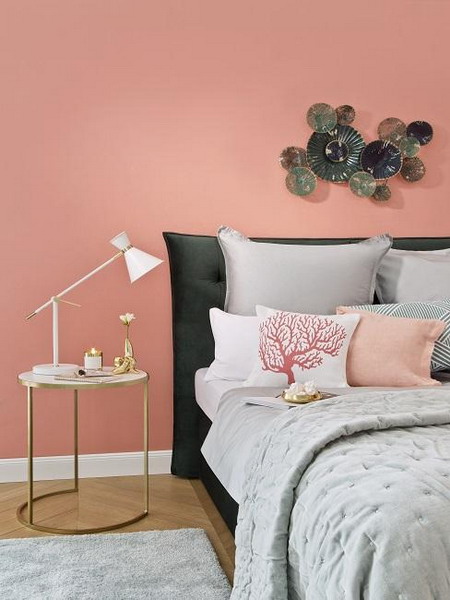 The bedroom is the space where we find peace and relaxation. Here we regenerate and gain new strength. This is not only due to a comfortable bed with a high quality mattress, but also the right color scheme. You can find out which wall colors are suitable for the bedroom and how they work in our guide. We will give you helpful tips and nice styling ideas on how you can decorate your bedroom with colors. Let yourself be inspired!
That is why the wall color in the bedroom is so important
We associate colors with certain associations. Red is passionate, green is hopeful, yellow is positive and blue is soothing. These effects do not stop at your bedroom. Choosing the right wall paint colors for the bedchamber is therefore essential for a good night's sleep and should not be underestimated.
Painting the bedroom: Which wall color fits in the bedroom?
Before you start choosing the wall color for the bedroom, you should take a short inventory of the room. Is the room large or small? Are the ceilings high or low? And what furniture are in the room?
With bright, classic colors for the wall design in the bedroom you are on the right side. Neutral colors such as white, cream and beige go well with every style and size of room. With the positive side effect that they visually enlarge small rooms. You also cannot get a good look at yourself because they are not subject to an interior trend. Delicate wall paint in pastel also cuts a fine figure in the bedroom, as it has a calming effect and also sprays freshness.
Dark colors such as brown or dark blue earth, but small rooms appear even smaller. But these are good for large bedrooms. They visually increase the height of the room and make the room appear more cozy. Especially with warm wall colors, you can bring a good dose of cosiness into your four walls.
You should also not forget the flooring in your bedroom. All wall colors actually go with parquet or floorboards. However, if your floor is covered with tiles, warm colors are an absolute must. Otherwise you run the risk that the overall picture looks too cool. In general, however, the following applies: dark flooring matches dark wall colors, light floors match light colors. This is how you ensure a quiet room atmosphere!
The most beautiful wall colors for the bedroom
So which wall color fits in the bedroom? The color palette for the bedroom is wide. Your taste should play a role in your decision. But also take into account the effect of colors on body and soul.
Neutral shades of gray, black and white
The classic colors : black, white and the shades of gray in between. You don't go wrong with these non-colors. This also applies to cream tones such as ivory and eggshell. A bedroom in white radiates purity, is airy and friendly. The associated Feng Shui element is metal. Like this, a complete look in white can also look cold. How do you counteract this? Interrupt bed textiles with beige decorative pillows or put a light gray plaid at the foot end.
The gray bedroom is both timeless and modern at the same time. A light gray carpet creates a feel-good atmosphere, an anthracite-colored lambskin for cozy hours. Decorate the bed during the day with pillows in different shades of gray and patterns that the bedspread picks up. In front of the wall in soft powder gray, this look conveys comfort and tranquility.
Caution is advised with black. Choose this bedroom color only if the room size allows it. For smaller rooms, just design the back wall in black and combine black-colored decorations. Due to the color repetition, the overall picture appears harmonious. Implement them with black pattern pillows or black candle holders, for example.
Yellow
The wall color yellow ensures a good mood! It reminds of the rising sun and motivates late risers to get up. So that it has a soothing effect in the evening, you should use a warm shade of yellow. Like the blazing fireball, it shows a tendency to orange. Not surprisingly, his Feng Shui element is fire. The pastel-colored version with a high proportion of white is also perfect for the bedroom. An interior in light wood, beige and cream reminds of milk and honey – the secret to falling asleep! Golden decorations and lamps give the room retro glam.
Shades of blue
Blue wall paint looks cool and soothing. Light blue is reminiscent of the colors of the sky, dark blue of the depths of the sea. Like water, blue has a positive and relaxed effect on our blood pressure. Another advantage: Since there are no blue foods in nature, the color prevents cravings. Turn your bedroom into a vacation oasis by combining blue and white elements. You can do this with a chest of drawers and bed in white, blue bed linen and a maritime decoration. If you paint the walls in royal blue instead and arrange gold-colored decoration and dark velvet covers, the bedchamber becomes a luxury oasis.
Shades of brown
Shades of brown ground and look natural. Accordingly, they are the most convincing in combination with wood and natural tones. Paint one wall in brown or caramel, the rest in white. Continue this mix of colors throughout the room: cream-white duvet cover and curtains of the same color, a lambskin as bed mat, brown pillows and a wooden side table.
Purple and pink tones
The walls of the feminine bedroom are pink or purple. Fittingly, the latter symbolizes femininity and stands for female intuition. In addition, it is said to promote creativity and meditation. Put on soft purple tones with a high proportion of white such as lavender and lilac, contrast, bright purple acts disturbing! Nature offers the right decoration: Drape lavender and champagne-colored feather flowers in a glass vase.
Shades of green
The fresh color stands for health, rest and relaxation. And is the ideal wall color for the bedroom! By the way, mint green is currently particularly modern as a wall paint. Complete the green oasis with evergreen pot plants or plant decorations with artificial flowers. Flowerpots in the color combination beige-green look nice. The associated Feng Shui element is wood, which can also be found in the interior. The airy armchair with rattan shell forms the reading alcove, a natural fiber carpet extends in front of the bed. As relaxing as a walk in nature!
You should avoid these bedroom colors!
There is a reason that red appears in warning signs: the signal color warns of dangers. So it is out of place in the bedroom! The same applies to bright neon colors – these raise the stress level. Even decoration in neon colors is counterproductive for restful sleep.
Combine bedroom colors in the interior
You don't want to limit yourself to one color when designing colors? A harmonious color combination is green and blue: both colors have a calming effect. Lime green or royal blue are elegant, both with golden decorations are reminiscent of magnificent palace rooms. Subtle olive green and light blue look more natural and are highly topical. Blue is undoubtedly a combination wonder – gray and brown also benefit from this. The gray look is modern and masculine, aqua blue creates an exciting color accent in the brown bedroom.
Two birds with one stone beat pastel tones : they create a cheerful atmosphere and relaxation! Since they have a high proportion of white, they harmonize particularly well with this color. But also with each other: baby blue and pink, mint green and lemon yellow, apricot and cream.
Our top tips for bedroom colors at a glance
Tip 1: Do you want to repaint your bedroom? Pay particular attention to their seal of quality for bedroom colors. Means: The colors are free of preservatives. So the best are clay, lime and mineral colors. You can take a deep breath at night!
Tip 2: In the bedroom, light tones are most suitable, because they have a calming effect and really suit every living style. But if you don't want to do without dark shades, use them as accents. If the room size allows, you can even paint a wall in a dark wall color. This brings security and tranquility to your four walls.
Tip 3: Cold colors do not overwhelm the eye and have a very refreshing and sometimes cooling effect. This can have a good effect on the feeling of sleep, especially in summer. So the cooler the color, the more it invites you to relax and unwind.
Tip 4: When designing your bedroom, create a harmonious color scheme. This ranges from wall paint to bed linen to furniture and home accessories. For a coherent overall picture, you should therefore be within a color family.
A new wall color is too much for you?
Would you like to implement the bedroom colors and ideas without painting? No problem. The new bedroom colors move in with decor, home textiles and accessories! Cover your bed with the bed linen of your choice and thereby change the room concept. The bed takes up a large area in the bedroom and significantly influences the spatial effect.
You can implement the delicate pastel look with plain-colored bed linen in dusky pink, sky blue or mint green. The materials are as soft as the colors: the bedspread made of shiny velvet, the pillowcases made of the softest cotton. Decorative cushions made of shimmering silk and gold decoration provide an extra dose of glamor. You can integrate masculine shades of gray with striped bed linen in gray and white or with graphic patterns in a cozy wool carpet. Is dark blue the color of the season? The look succeeds with decorative pillows on the bed and reading armchairs, blue ceramic vases and blue plaids.