New Trends for Bathroom Wall Paint Colors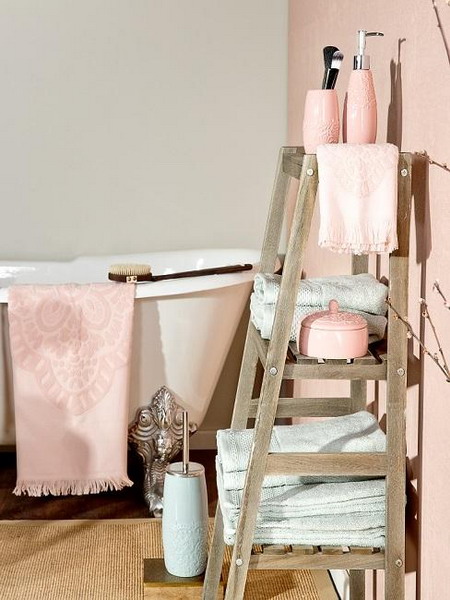 White, sterile bathroom walls are too boring for you? Then take advantage of the equally neutral furnishings and enliven your bathroom with beautiful wall colors. Because your bathroom is more than just a side room. It is part of your home where you should feel comfortable and relax. Our interior experts tell you great tips and styling ideas for wall color in the bathroom in this guide. Let yourself be inspired and design your bathroom walls exactly according to your wishes!
First of all: These wall colors are suitable for the bathroom
Your bathroom has a humid climate and your bathroom wall paint color should also be resistant to it. Accordingly, latex paint is particularly suitable for painting the bathroom. This meets all the quality standards that the wall paint needs in the bathroom. It is environmentally friendly, water-repellent and scrub-resistant. Apart from that, you benefit from good coverage and durability with a latex paint. Latex paint is of course a little more expensive due to its quality, but can also be applied evenly and embellishes your bathroom with a great look.
Does your bathroom tend to mold or does it already show traces of mold? Then, after professional mold removal, use a special paint. A lime wall paint is recommended for this, which prevents mold again. It keeps moisture away from your walls and thus ensures a good indoor climate.
Painting the bathroom: which wall color fits the bathroom?
In addition to a neutral white, other neutral colors such as beige or light gray make themselves beautiful to transform your bathroom into a relaxed oasis of wellbeing. Beige looks particularly warm and cozy, while gray is very elegant and can be easily combined with many other tones. For a lively and fresh whole picture are pastel colors like mint green or old rose as wall paint in the bathroom a good choice. These wall colors don't look too intrusive and bring lightness into your four walls.
Do you prefer bright, intense colors ? This is also possible in your bathroom, but should only be used to a limited extent. It is best to paint an accent wall in the strong wall color. This provides more excitement and a great effect!
Tip: Depending on the color of your bathroom furnishings, you can achieve different visual effects. A tone-on-tone combination, for example, is very harmonious and inviting. Or you can make your bathroom appear very lively and fresh with intensive contrasts between walls and furnishings.
5 top trends for wall paint in the bathroom
Give your bathroom an incredibly cool upgrade with a new wall color! Are you still looking for inspiration for the right shade? Then here are the most beautiful looks and ideas for you:
Delicate sand colors
Sand colors look particularly beautiful in your bathroom and give the bathroom a warm atmosphere. As a particularly neutral color, you can combine your beige walls with many different tones. The combination with green makes your bathroom look natural. You can achieve the same effect with a dark brown, which looks warmer and more elegant.
Fresh shades of green
The wall color green makes your bathroom look natural and fresh. To emphasize the natural of the green, you can achieve a beautiful light-dark contrast in natural tones with dark brown decoration. If you prefer a mint green, combinations with dark blue or white are particularly elegant.
Classic: wall color blue
The classic for every bathroom is of course the blue wall color. This has an invigorating and harmonious effect. The impression becomes even more harmonious when combined with white – this creates a maritime look. Stainless steel also stands out beautifully against the blue background. Because this color is so popular in the bathroom, you have a lot of scope in the decoration and your own wall design.
Red in the bathroom is noble and exquisite
Rare, but all the more special and noble in the bathroom looks red wall paint. With just one wall in this color, your bathroom will be a real eye-catcher. A white interior or details made of light wood look particularly bright on the intense red. But dark furniture also supports the homely feeling and makes the overall picture appear extravagant.
Black wall paint
Where the dark non-color has already found its way into the kitchen and living room, it is now becoming increasingly popular in the bathroom. The elegant wall color in black is a dynamic combination partner with white. This contrast is particularly stylish and harmonious in your bathroom.
Painting the bathroom – that's how it's done!
cover
Before you start painting your bathroom walls, you should first cover your rest of the bathroom well. So first tape all corners and edges of the bathtub & Co. that are next to the walls to be painted. Sockets can also be taped in this way. Also protect the floor and your furniture from color stains by covering them with foil.
Preparation of the bathroom walls
The walls in your bathroom should be clean, dry and stable for painting. Before painting, remove old coats and any mold that may be present. You should also seal cracks with a primer beforehand to achieve a smooth, even result.
primer
If your walls have an uneven surface, it is best to prime them with a universal deep foundation first. This is also used, for example, for lightly sanding plaster or masonry. When applying, make sure that there are no drops or shiny spots. The primer must then dry overnight before you can paint the "right" wall paint.
To brush
Paint your walls generously and evenly. It is best to use a wide roll for the large areas and paint in the so-called cloister. Then paint the edges and corners with a smaller flat brush. And you already have beautifully painted bathroom walls that comfortably underline the room. Tip: If you also want to paint the ceiling, we recommend that you do this before painting the walls.
Tips for wall color in the bathroom
Tip 1: If you have a rather small or little illuminated bathroom, a light wall color can optically enlarge and brighten it. Dark wall colors, on the other hand, are more suitable for larger bathrooms. These make the room appear smaller, but also more cozy.
Tip 2: Your wall color should also match your furnishing style. In a maritime style of living, the colors blue and white are naturally perfect. For example, natural tones such as sand or green harmonize with a wooden interior.
Tip 3: Upgrade your bathroom with modern patterns! Regardless of whether stripes, fish or floral motifs – they all make the room appear more alive.
Tip 4: Wallpaper in the bathroom is also a nice option for wall design. Use only non-woven wallpapers for this. These are water and steam resistant and therefore perfect for your wet room.
PS: A successful bathroom design does not only involve the wall color. Why not give the bathroom a new look with color-coordinated accessories and textiles? In online shop you will find many decorative items and home accessories in all color schemes. Browse through our range and be inspired! We hope you enjoy shopping, furnishing and decorating.