Wall paint in the living room: New trends, ideas and tips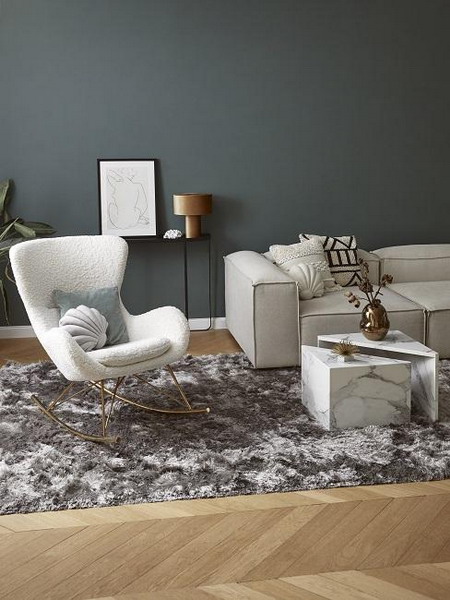 The living room is one of the most important rooms in your home. Here you can relax, read a book, listen to music or get together with friends. Spend your free time here and recharge your batteries. For this reason, a pleasant and cozy atmosphere in the living room is incredibly important. However, it is not only the furnishings that are crucial for you to feel at home in this room. In addition to furniture and decoration, the wall color in living room also plays a major role. In this guide, our interior experts tell you everything you need to know and show you the most beautiful looks. Let yourself be inspired!
How to choose the right wall color for your living room
The living room is a very communal space where you can receive guests. Nevertheless, the choice of wall color in the living room should first suit your taste and reflect yourself and your style. Do you like it warm and cozy in your living room, for example? Then you'd better stay away from cool colors like blue. Unless you counteract this with the right facility. Because just like your own taste, the existing design of your furniture is decisive for the wall color in which you should paint your living room. Colorful, bulky furniture and accessories are perfectly staged in front of neutral walls. Gaudy walls, on the other hand, should then be combined with restrained pieces of furniture.
Painting the living room: Which wall color fits in the living room?
Which wall color fits into your living room depends on the size of the room and the amount of light. If the room is rather small and not flooded with light, you should avoid dark wall colors. These make the room appear smaller and narrower, which reduces your feeling of comfort. In small living rooms, you should rather use bright wall colors that visually enlarge and brighten the room. You are welcome to design a large, spacious living room with dark colors. They provide more comfort in your four walls and look modern and elegant.
The most beautiful wall colors for the living room
The living room is the center of the apartment and the perfect space to live out in terms of wall color. Are you still looking for inspiration for the right wall color in your living room? Then here are the most beautiful looks and ideas for you:
Warm wall colors for the living room
Warm wall colors range from bright red to friendly yellow to soft beige or sand tones. They all radiate a certain warmth and make your living room more cozy. Warm colors are a good basis for making your living room a cozy retreat.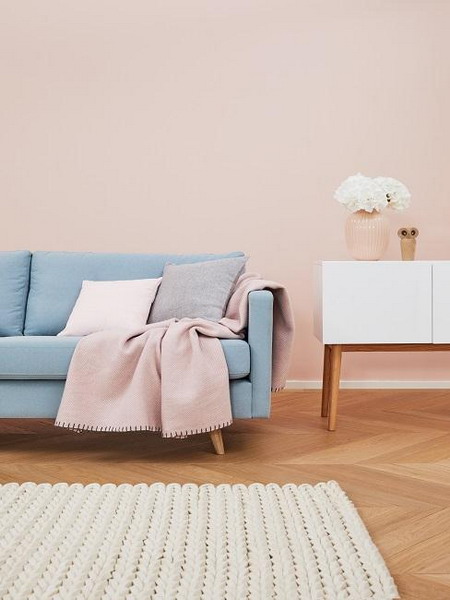 Pastel shades are ideal for anyone who doesn't feel like strong tones but doesn't want to do without warm colors. They appear light and discreet on your living room walls and exude a touch of freshness in the room. To do this, it is best to combine a device in light tones as well. Or you can match the furniture and decoration to the wall color and choose the furnishings from the same color family. By the way, particularly popular pastel colors in the living room are a soft dusky pink, apricot or cream.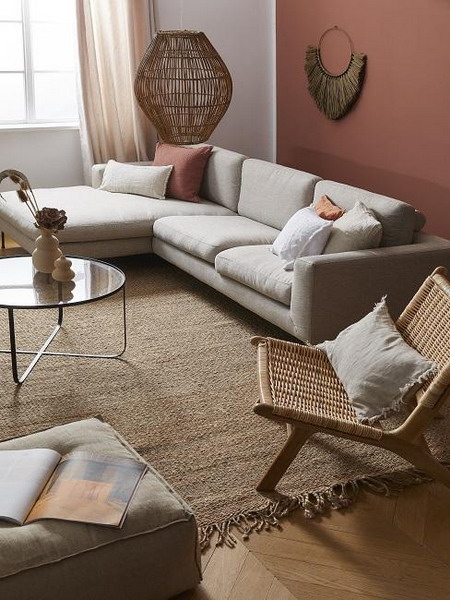 The trend color terracotta is a natural-looking, warm color and will also find its place in the living room. Since it exudes a Mediterranean flair, it makes the overall picture appear cozy and homely in no time. You can combine terracotta-colored walls with similarly warm colors, such as orange and red, as a tone-on-tone look. Or you can create exciting contrasts with cold colors such as blue and green. The wall color is particularly elegant in combination with natural materials and light details in beige and cream.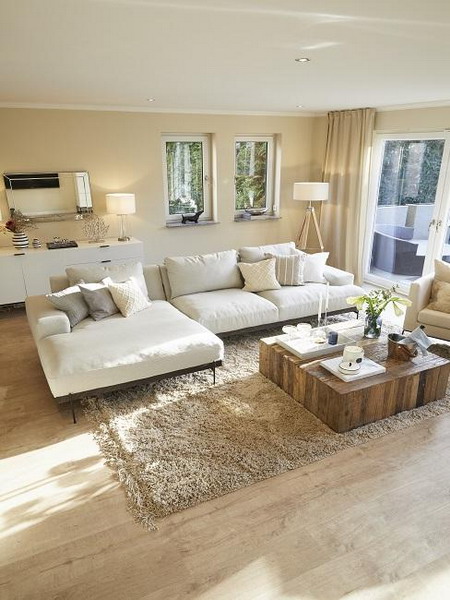 The natural tones of beige, brown and sand also cut a good figure in the living room. Particularly light shades create a pleasantly friendly atmosphere. Darker tones, on the other hand, have a calming effect and radiate warmth and security. Your living room will be particularly modern if you combine the warm natural colors with natural materials and dark wood. Bright upholstered furniture and textiles that take up the color scheme of the living room skilfully round off the look.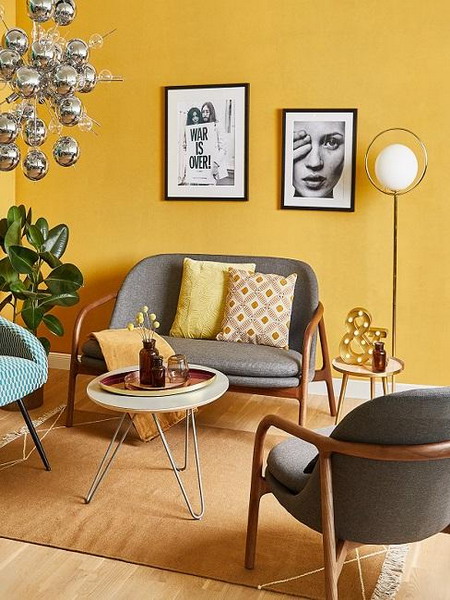 Yellow wall paint looks friendly and lets your living room shine in a sunny look. So that you don't steal the show from this eye-catching color, we recommend keeping the rest of the interior rather simple. White or gray furniture in particular has a harmonious effect. But details in gold also support the warm look. The color combination with light pinkis also particularly elegant. Nothing stands in the way of a cozy feel-good atmosphere!
The classic: gray wall paint in the living room
The wall color gray is currently very trendy. This non-color appears neutral, but at the same time noble and is absolutely timeless. It is less sterile than white and therefore a good, neutral alternative. In addition, it fits every furnishing style and can be combined with almost any other color.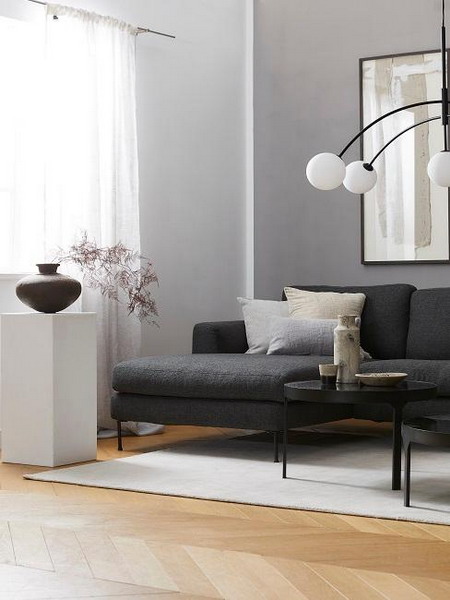 With light gray, you create the perfect basis for any color combination in the interior. This wall paint is friendly and subtle, so you can bring other colors to bear perfectly. Bright accents in particular benefit from this. But dark colors also look super modern and chic in combination with light gray walls. Bright colors such as red or blue, for example, stand out even more against light gray walls. With subtle tones like pink, you can create optical harmony. Light-dark contrasts through dark wooden furniture also look particularly beautiful.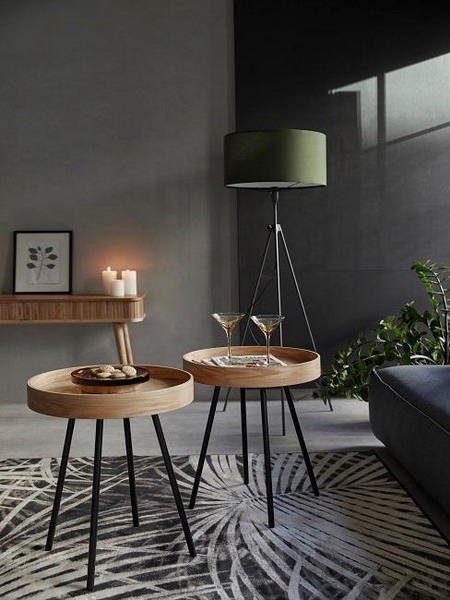 Also anthracite is a very popular color in the living room, as it can act quickly noble and elegant the overall picture. However, since this wall color is a dark shade of gray, it is more suitable for large, light-flooded rooms. It is best to combine the dark gray color with wooden furniture and green plants. They give the rather cool nuance the necessary warmth and loosen up the ambience somewhat. Or you work here according to the tone-on-tone scheme: Combine furniture, decoration and accessories in different shades of gray to create the anthracite-colored wall, creating a harmonious overall impression.
Tip: Black wall paint in the living room is a bit harder, but just as elegant and classy. Do you dare? You can find out how to best integrate these into your facility in our article!
Our favorite wall color trends in the living room
With a fresh look in your living room, you create a cozy retreat where not only you but also your guests feel extremely comfortable.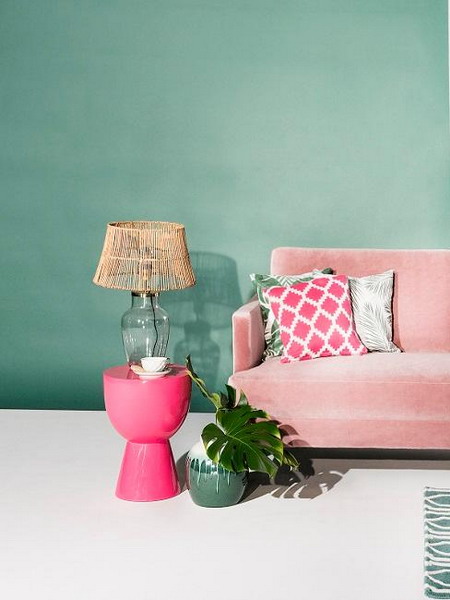 A fresh mint green on your walls will make your living room look like spring. Due to the pastel undertone, the nuance radiates calm and security at the same time. In combination with other pastel colors such as cream and pastel pink, the freshness of the wall color is enhanced. But also bright colors, like yellow or orange, underline the effect of the trend color particularly well. Combine this with accessories made of wood and rattan and give off a pleasant natural feeling.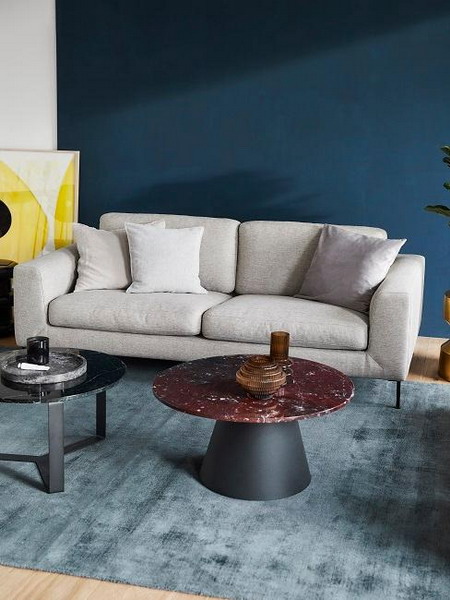 The trend color petrol not only creates stylish accents in our wardrobe. In terms of wall design, too, the wall color is absolutely hip right now! Since it is one of the dark shades, you should not first paint all the walls of your living room in petrol. Otherwise the room can quickly become too dark and overwhelming. It is best to combine light furniture in beige or sand tones and details in elegant black. In addition, individual accents in yellow make an excellent azure color.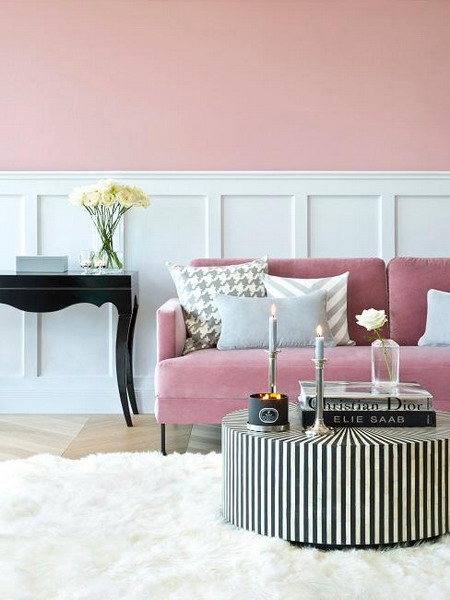 A living room with walls in pink tones is feminine, romantic, but by no means too kitsch. Especially the combination with white or beige makes the delicate pink appear harmonious and elegant. The overall picture appears modern when you add black accents to the furnishings. But gray details also fit perfectly into the romantic ambience and skillfully round off the look.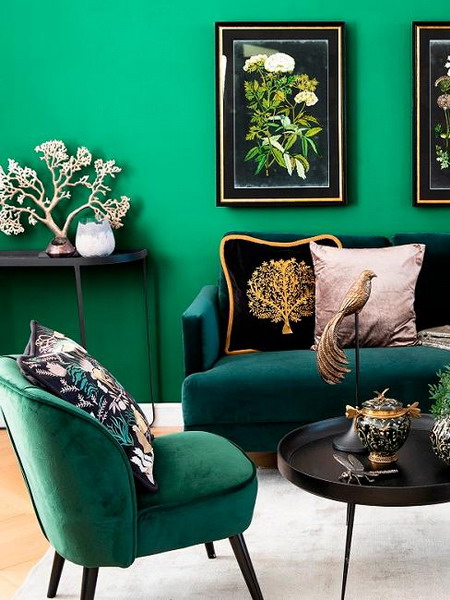 Dark green living room walls look elegant and above all extravagant. They give the room depth and can either appear natural with the right furnishings or shine in a noble look. For a natural look, combine the green wall color with wooden furniture and brown details. You can achieve a noble, modern look with black and white and details in gold or silver as well as velvet covers.
These wall colors in the living room go well with dark furniture
With the combination of dark furniture with white walls, you will definitely not go wrong. But other light wall colors, such as beige, cream or sand, also appear less sterile in comparison and create a cool light-dark contrast. If this is too monotonous, you can either set accents with decorations and home accessories in bright colors. Or you can bring out your dark furniture with a bright wall color. Bright nuances, such as yellow or green, not only create a fresh feeling in your living room. They also highlight your dark furniture optically.
You should take this into account when buying paint
Wall paints for the living room should best be free of harmful substances. After all, you often stay in this room. And not only allergy sufferers are affected if the wall paint contains toxic substances such as organic solvents. These can cause headaches and nausea, among other things. For this reason, always choose environmentally friendly, low-polluting wall colors. Incidentally, the "Blue Angel" environmental seal is a reliable guarantee.
Paint our top tips for the living room
Bright, warm colors are particularly suitable for dark, small living rooms, as they brighten up the room and thus visually enlarge it. If white seems too cold or sterile to you, light pastel shades or beige are a nice alternative.
It doesn't always have to be all walls! Pick an accent wall and paint it in a strong tone. Leave the remaining walls in a neutral wall color, such as white or cream.
Also stripe pattern are a nice idea to make extraordinary to your walls. In addition, they visually enlarge the space.
Or how about a casual ombré look ? A flowing color gradient on the wall is currently very popular and gives the room an extra dose of depth.
A new wall color is too much for you?
A successful living room design does not only involve the wall color. Why not give the living room a new look with color-coordinated accessories and textiles? In online shop you will find many decorative items and home accessories in all color schemes. Browse through our range and be inspired! We hope you enjoy shopping, furnishing and decorating.