Inspiring DIY Home Decor Tips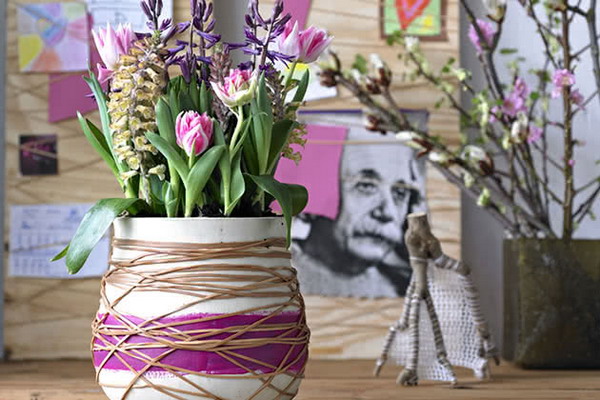 Do-it-yourself (DIY) home decor tips is not only spectacular, but also an easy way to revitalize the interior of your home. Even the space, the decor of which was developed by a qualified designer, without decor will look standard and boring. On the contrary, to make an original decoration for the house means to bring exclusivity to the atmosphere of the home.
Decorating your own interior is a doubly interesting process that will help unite all family members in a common creative activity. Help from children is also welcome! So, how and what to do with your own home decor?
What Can You Do With Your Hands For A Decor?
You can make almost any type of home decor yourself using the available materials and tools: photo frames, vases, boxes for small items, flowerpots, rugs, pillows and even furniture. We recommend manufacturing an original item that will not only be beautiful, but also functional. Analyze what items are needed in your room. Suppose the kitchen needs roomy drawer boxes, miniature storage systems for spices and household items, and a clock.
Do not buy a stamped thing from the store: the kitchen will not become more beautiful or more comfortable with it. In extreme cases, it can be used as a basis for further needlework. Even an ordinary wall, on which a decorative clock is randomly arranged, a framed panel, a stylish lamp, will become the interior center of the kitchen and turn a small room into a non-standard space.
As practice shows, to make a decor that does not carry at least the minimum functional load is a waste of free time. Such things are soon forced out of the house and replaced by others, more useful. For example, in most cases, an empty bottle on a window with an excessively narrow neck, decorated with decoupage, will not take root. In the near future, her place in your room will take a regular item that can become a full vase.
If decorating skills are at an initial level, we recommend working with objects of medium or small sizes. Large items are best reserved for times when you have enough experience. Most techniques are easier to perform accurately on small areas.
How To Create A Decor For A House With Your Own Hands?
To make a beautiful decor with the help of several techniques that are considered basic is real. Their thorough development will take no more than a couple of weeks. Then you need to practice a lot, creating a decor in the interiors – your own, your friends… For this stage of mastering the intricacies of the hand-made, it is better to stock up the material of the middle or low price segments. Use expensive material later when decor techniques are learned perfectly. But to create truly high-quality things will turn out only from the "ingredients" of the appropriate level.
What Techniques Are Used For Creating A Home Decor?
Much depends on the type of materials, the proper placement of the decor and its combination with the interior of the entire room. Homemade decor cannot stand out too much and upset harmony. For example, a multi-colored and multi-colored rug using the patchwork technique may not fit the hi-tech interior or minimalism. But if its shades will be well combined with style elements and textures, then such a rug can even become a key center. We list the most common decor techniques that you can do yourself at home:
Creating a complex texture on a homogeneous surface
For example, the decor of painted walls is carried out by applying a second layer of paint, but in an unusual way. Instead of the usual brush, a foam sponge, randomly folded fabric is used. As a result, the paint is applied unevenly, creating the original texture of the walls. The application of textured pastes also applies to this technology. In the factory packaging, they have a soft consistency, which allows them to be used for modeling. Upon contact with air, the textured paste dries soon.
Decoupage
The method consists in attaching fragments of decorative motifs to walls, furniture, interior accessories with glue. Their source is special decoupage napkins or cards, photographs, clippings from magazines, drawings printed on paper. Motives fixed with glue are varnished after drying. Varnish provides reliable surface protection against moisture and dirt.
Quilling
Allows you to create an interesting DIY home decor from paper. Quilling is designed for walls or any part with a flat surface. Applications are twisted, which are then glued to the desired thing with glue. Butterfly, flower, silhouettes of animals or people – a fantasy tells you the plot of a paper picture.
Felting
A small figure or decorative element rolls out of the wool, which becomes part of the interior composition. Unusual decor looks cute and pleasantly softens any decor.
Knitting and embroidery
Ordinary fabric after embroidering a pattern on it becomes a real "highlight" of the interior. Decorated textiles are placed in a frame, used as a material for lampshade lamp, covers, bedding. Knitted element also becomes an original decoration of any interior. An important condition: make sure that knitted or embroidered material is removable. Otherwise, cleaning it will cause serious difficulties.
Patchwork
This technique involves the creation of textiles from numerous small shreds of fabrics of different types and colors. Despite the originality, the patchwork is very popular with modern designers. Many of them include products made using this technique in the interiors of a wide variety of styles. But it is best combined with a patchwork of country, boho, eclecticism, ethnic (Moroccan, Indian, Russian). Everyone can master this technique.
Macrame
Products woven by knots of dense twisted yarns and ribbons immediately attract attention and bring comfort to the house. In addition, they are obtained not only extremely decorative, but also quite functional (flower pots, curtains, storage systems).
Floristics
Any interior thanks to vibrant colors (freshly cut or indoor) is transformed before our eyes. But compositions from artificial or specially dried plants can look no less advantageous and spectacular. Oriental ikebans and bonsai look especially elegant and stylish.
Paintin
To use this method of decoration, you need to have minimal artistic skills. For example, it is allowed to paint the lamp with dot technique, for mastering which the master will need only accuracy and perseverance. Hand-painted home decor elements can be decorated with motifs of any degree of complexity. Sometimes a sketchy drawing of a butterfly on the walls can look no less impressive than an intricate pattern.
Thread
This way to make a stylish home decor with your own hands – for those who have the skills to work with wood. For the rest, we recommend that you turn to other room decoration techniques. We assure you that a lamp with a simple but high-quality pattern will look better than its counterpart with unprofessional thread.
Walls: Home Decor with Your Own Hands
An apartment or office, where the wall space is empty, clearly indicates that the interior was decorated by a layman. Therefore, decorating the wall space is especially important in creating a custom interior. You can make original decor not only with paint. But in terms of material costs, using this technique is most advantageous. Patterns are applied to the walls according to the stencil, one or many strips are drawn, large geometric shapes…
A win-win option is to decorate the walls of the room with original photos within the framework. Any photos are placed diagonally or in random order. Instead of photographs, the walls in the room can be decorated with abstract paintings, empty frames of bright color, one or many stickers. We recommend attaching special stickers to the walls, on the back of which there is an adhesive that is safe for the integrity of the finishing materials.
Homemade panels will also decorate the walls. You can make an original small panel on a marine theme from coarse rope, unusual fabric, several shells and glass pieces brought from vacation on the sea coast. The background must be coated with white or blue acrylic paint. Then complete the composition with themed photographs and frame it. Similarly, you can make panels on any other topic. Such home collages on the wall will become a complete replacement for paintings or photographs. A living room or office, the wall of which is decorated with a three-dimensional picture, acquires a special atmosphere.
The original version of the decor is to make a lot of paper butterflies and fix them in any order. To quickly make butterflies, you need to make one stencil that mimics the silhouette of an insect. The remaining butterflies are cut along the resulting contour. On sale there are wall stickers of this shape.
For the original wall decoration it's nice to use a lot of the same things, the surface of which is painted. Several objects may be larger than others. Use glue or nails to secure them to the wall. What wall decor can I do with my own hands using the described method? Plates, belts, ropes, wooden cuts of the original texture are suitable for the base… As a result, even a room with a modest interior takes on a designer look.
If there are already any decor elements on the wall – mirrors, lamps or paintings – you can transform them by changing, for example, the decoration, painting the frames, adding decorative elements to them. This will quickly refresh the interior without much cost and effort.
Reducing Furniture Cost with Your Own Hands
To make outdated furniture fashionable, and the interior to be individual, it will turn out without resorting to a designer. It is necessary to eliminate the old varnish and paint from the furniture surface. Then decorate the furniture with small stickers or decorate with decoupage. Instead of stickers, pieces of cloth may also work. They will be able to emphasize the necessary style of the interior and add softness, comfort to the atmosphere.
Metal handles on drawers are easy to replace with ropes or straps. If you are not sure about your taste, you need to make the decor of the updated furniture concise. For example, paint in a single color and stick a floral motif or restrained sticker as decoration.
In addition to staining and decoupage techniques, furniture can be intentionally aged, giving it an antique chic. For this purpose special equipment and patined means such as stain, antique wax, lacquer, spatula, degreaser, acrylics and others.
Furniture decoration is a fascinating hobby that can generate income. As a basis for creativity, furniture sets from the Soviet era are optimally suitable. They were made of durable solid wood, the quality of which remains virtually unchanged over time.
Furniture hand-made harmoniously fit into the styles of country, Provence or classic. In order for the results of creativity to leave a good impression, we recommend creating a preliminary sketch on thick cardboard. On it, you can hone your skills in decorating techniques.
Independent Decor for Different Rooms
Kitchen decoration
If the kitchen set is outdated, decorate its drawers with decoupage. In the interior of the kitchen, seasonal decor in the form of compositions of dried vegetables, fruits, spices and flowers will be appropriate. Its creation lasts no more than an hour, and such decor will please its appearance with at least several months. The kitchen looks good a lot of unusual dishes, bright flower pots, original boxes for growing herbs. Do not forget about fabrics: a cozy kitchen can not be imagined without a tablecloth, furniture covers, towels and potholders.
Decorate the living room with paintings and art objects – a classic option
But a modern room can be decorated with posters or photos. The living room is suitable for placing floor decor in it, for example, vases, figurines. Unlike the kitchen, non-functional decor can and should be placed here. The raised fireplace looks great in the living room. Indeed, in a tenement house, a real fireplace with an open fire cannot be equipped. Burning firewood will replace candles.
The decor of the bedroom
Bedroom decoration is a lot of pleasant to the touch fabrics and carpets, unusual lighting fixtures, an originally designed bed headboard. Dust should not accumulate here, so extra jewelry is undesirable. Fabric curtains and a soft plaid make the bedroom comfortable. You can also make desktop decor in the form of miniature storage systems for jewelry, cosmetics and various little things. The whole decor should contribute to relaxation and a relaxing holiday. A full-length mirror does not hurt in the bedroom, and decorate the frame for it yourself.
Decorations for children room
It is better to create with the direct help of its small owners. Assign them to draw pictures, make collages and sculpt polymer clay figurines. It is up to the parents to direct their children's imagination in the right direction and help the kids to master the decoration techniques. It is necessary to provide a place for children's wall painting: paint a section of the wall with a composition for blackboards or paste over with inexpensive light wallpaper. Put a lot of crayons and pencils nearby. Do not forget about the safety of the decor. Salt dough is also useful, the manufacturing process of which in the kitchen lasts a couple of minutes. From it, the baby is able to do anything: from an unusual frame to a new toy. Later, the baby will be able to paste on the frame with pasta, shells and even bored little toys. Conventional cardboard boxes can serve as an affordable storage system in the nursery. Decorated with colored paper, stickers or pieces of fabric. They can make small racks for lightweight items.
Diy bathroom decor
The decor of the bathroom depends on the materials of the original decoration. If it is monophonic ceramics, then it can be revived by painting, picking up special waterproof paints for this. As additional paraphernalia, self-decorated curtains, a rug, a bath screen, and towels will fit well into the bathroom. If the room is quite spacious and bright, it is wonderful to include several living plants in it or add artificial compositions.
Do it yourself decorating corridor
The decoration of the corridor is concentrated mainly on the decor of the walls, the surface of the cabinets and the door. To do this, you can use various stickers, paintings, handmade products. A practical item at the entrance can be a basket or a vase for umbrellas. Homemade key holders, hooks, door wreaths, etc. look original.