Top 11 Chips Of Modern Interior Design 2022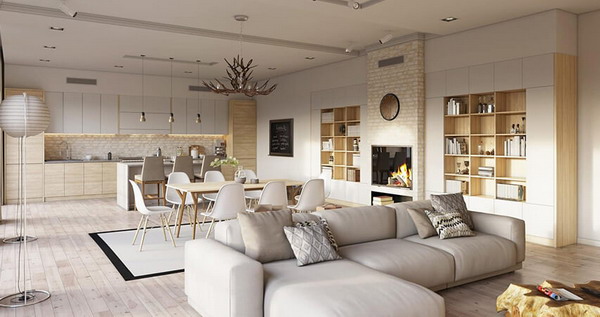 Want a Fresh Vision of Interior Design? Apply new trends – modern interior design 2022!
This year the best option for interior design is "Eco" direction and choice of natural materials. There are also new colors to present in any home, just like old styles and design tricks.
So, without further ado, let's take a look at the top trends in modern interior design this year.
1. Interior Design In Scandinavian Style
This name has a whole story and a sea of sensations, because it is associated with true comfort and coziness, with a sense of security and serenity. Interior design in the Scandinavian style, which has become just a way of life for many, where comfort and pleasure are above all, conquers wide horizons.
Looks very simple, with fun but muted colors in an earthy palette. Natural materials, hanging plants, and pleasant and comfortable lighting for an intimate atmosphere of relaxation. With the less is more interior design philosophy, make sure there is no clutter in things, colors and patterns. The furnishings and colors should be pleasing to the eye. It is cozy and comfortable inside. If you are confused, think about what would you like to see in your home opening the door after a hard day at work?
2. Eco-Kitchen – Modern Interior Design
The eco-friendly, compact and sustainable kitchen is one of the top trends this year, and the interior design style makes no difference. Kitchen elements are made from recycled materials – recyclable materials, in order to preserve natural resources. In general, there should be many different elements in modern interior design. Which are made from various recycled materials, or reusable in everyday life, for kitchen purposes and not only.
The end result of interior design should be a stylish kitchen, but not at the expense of the environment. Wooden worktops and brass large taps, as well as a variety of plants that make the kitchen more compact, stylish and easier to use.
3. Great Textures In Interior Design
So, interior design textures are a very "tactile" trend that smoothly flows into a "tangible" one. It is based on the rhythm of a measured life and with an emphasis on natural materials, pleasure and comfort. Everything should be cozy to make you feel great.
Catchy pillows and blankets are very important here. The design focuses on natural materials and patterns, one-of-a-kind furniture, instead of "just fit" items. Textiles should be truly gorgeous, soft and sophisticated, relaxed in an interior design atmosphere. This is especially important for living areas as well as bedrooms for children and adults.
4. Skillfully Mix And Match. Maybe A Little Fusion?
The minimalist style of interior design has been replaced by pattern and is the key this season. You have to combine different patterns and styles and use them together. Keep the color palette in the same tone, but mix, for example, materials and designs that you like. If you have simple furniture, then throws and pillows should be colorful and have different patterns. The floors should also be decorated with different rugs in different colors and designs. It is appropriate and prioritized to use various types and patterns of wallpaper and so on. The key is to create a cohesive look with multiple designs and textures in a single, fresh interior design style.
5. Mustard Color In Modern Interior Design
Mustard was indeed a dominant element in many interior designs during the summer, but now it has spread to other seasons and furniture of all shades. Feel free to give preference to mustard color! This color will visually and favorably distinguish it among the elements of interior design.
It is a truly refreshing yet soft color that will bring plenty of sunshine to any home. It is very versatile and does the job brilliantly.
6. Furniture From The Past Mid-Century
The use of furniture in interior design has been popular for several years. It would seem time to change the trend, but newfangled trends zealously keep it relevant. Sleek lines, stylish table legs and simplicity are the keys to this great style. With this type of furniture, you can fill any corner of your personal space with comfort.
This style of interior design can suit both minimalists and maximalists who want to fit more things into the living space. The palette should be limited to a few colors, and the shapes should occupy the center of the scene. This furniture is durable, sophisticated and very beautiful.
7. Organic Ceramics In Decor
Organic ceramics with beautiful and unique subtle patterns look great and fresh, enhancing modern interior design. Organic ceramics are very popular in interior design. You can use in interior design such a peculiar element of decor as jugs, vases of natural pink or black colors. Fill them with flowers and greenery and enjoy the great view.
8. Open Cabinets And Shelves – Accent In Design 2022
Instead of hiding things behind cabinet doors, the new trend is to show off the items you have. The clarity and visual accessibility of objects is what you need!
In the kitchen, you can grab a few different food cans, lay out all the items in your living room, and remove the doors from the walls completely. The fact is that the closed cabinets remain at the bottom, and the walls remain clean and open to the eyes. Shelves ask for a stylish design in metal, which once again emphasizes the zest on the shelf.
9. An Unfinished Image In Modern Interior Design
Unfinished image? Is this a flaw or a new style of interior design? When choosing classic interior design elements such as shutters, tables and chairs – any type of furniture, in fact, make sure it is durable, not disposable, and choose something that is very fragile, airy, graceful in the center of everything that is solid and massive…
Look for something that looks unfinished, unfinished and stylish at the same time, and something that will be timeless in your home.
10. Zigzags And Jagged Shapes Are In Trend!
Scalloped furniture like chairs looks amazing and is really comfortable and enjoyable to enjoy. The scalloped shape is great for many items like beds, tiles, sinks and more. This is similar to the Art Deco era, when it was all over the place, and now it has spread to furniture and many use it in interior design. For some people, geometric shapes in the form of zigzags, bends, sharp cut lines seem a little old, but this year the fashion is back. The reclining chairs and couches are really soft and comfortable, they look vintage and inviting. The colors you need to choose for this type of furniture should be bold and the accents even bigger. Patterns, obvious lines, transitions of shapes by steps, design in the form of bends and zigzags, contrasting and bright contours are appropriate.
11. Color Of The Year – Coral
Living coral, which is a truly warm, natural and intense shade that will bring positive energy into your home and make everything alive. This color is the basis of many different but similar shades. Take inspiration from earthy minerals and shells, because these colors not only evoke that natural feeling, but also have a warm and soothing note.
It matches many different colors, and can prevail in your home's interior design colors. If you want a natural interior design style, you should stick to a subdued range of coral with soft textures. Achieve a spectacular and colorful interior design will allow bright and catchy elements of decor or furniture of this color – a sunset glow in a burning color of an iridescent flame!