Wallpaper Trends 2022: these patterns are now in!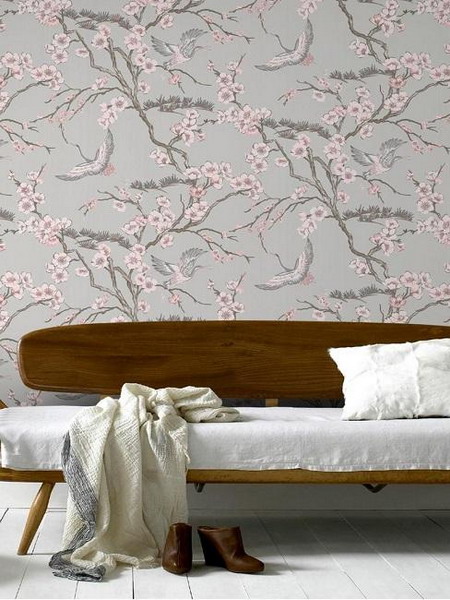 Two thousand and twenty is in full swing and the year is all about wall design. Whether geometric shapes, motifs from bygone eras or tropical jungle prints – no one can avoid wallpaper this year. Our living experts will tell you which trends you can look forward to in the coming months. Let yourself be inspired by the ideas and give your home a feeling of security and security with the right wallpaper trends 2022!
This is what we attach importance to in 2022: biodegradable and environmentally friendly
The topic of sustainability is of course not to be neglected in connection with the wall design. So when buying your new wallpaper you should make sure that you use a high-quality design. Because a healthy environment is very important to us. In 2022, we attach particular importance to wallpapers that are biodegradable, odorless and free of PVC. In the best case, the material is also FSC-certified, which stands for sustainable forest management by the respective company.
Non-woven wallpapers, paper wallpapers & photo wallpapers: you should pay attention to that
Wallpapering is not as difficult as you might think. Sure, it requires a little manual skill. But if the basis is right, hardly anything can go wrong. Of course, this also includes knowing which wallpaper is suitable for what. Paper wallpaper, non-woven wallpaper or photo wallpaper?
Non-woven wallpapers are particularly easy to install even for inexperienced people due to their material properties. Here the paste is brushed directly onto the wall. No need to soak the wallpaper.
Paper wallpapers , on the other hand, are very environmentally friendly, breathable and moisture-regulating. Depending on the quality, they also impress with their high lightfastness. This means that the wallpaper is prevented from yellowing or at least delayed.
Photo wallpapers are quasi XXL art for the wall and do not differ much from the other wallpapers. Here, however, a particularly exact way of working is necessary so that the motif can be brought perfectly to the wall.
We will be totally into this pattern in 2022!
From tropical motifs to floral prints to colorful patterns – we present the wallpaper trends 2022.
Welcome to the jungle!
Turn your home into an exotic jungle. Fortunately, the trend of 2021 will remain with us this year. In your four walls, it can be like paradise. Colorful wallpaper patterns let us immerse ourselves in another world. Whether tropical leaves, strong colors or ethnic motifs – in a mix with an authentic color spectrum it gets wild. If you don't like it so extravagant, you can use the oriental-looking flora in light pastel colors or a reduced black and white look.
Flowers in harmony
We also saw delicate flowers on the walls in 2019 and this trend remains. The floral designs not only form a reliable basis for many furnishing styles, but also satisfy the need for harmony in your own four walls. Non-woven wallpapers with subtle patterns and in restrained colors are a must for anyone who wants to withdraw and arrive at home! Filigree floral decorations in fresh shades of green bring the necessary lightness and light-heartedness into your everyday life.
Geometric pattern
Simple, modern and with an extra helping of style! Geometric patterns are also a welcome design classic in the wallpaper trends for 2022. Timeless motifs, which skilfully link to extravagance, come with constructive, contrasting shapes and in noble tones such as rose gold or gray with a little gold. This wall covering brings a touch of nostalgia and provides a lot of glamor in your living room.
Chinese flair
There's a dash of Asian understatement with Japanese chic wallpapers. The designs, which are all too happy to be kept in earthy tones, ensure peace and quiet in your home. The Japanese style is quite simple and uses materials that are borrowed from nature. Wallpapers with Chinese flair make your life more harmonious. This is mainly due to the fact that the motifs are deceptively real. Here you can simply relax wonderfully!
Eye-catching patterns
Wallpaper with striking patterns or with the look of marble, stone and concrete will continue to be a trend theme in 2022. Although many designs may appear a little more discreet at first glance, the extraordinary look makes every room look much nobler. Whether colorful dots or glamorous patterns in the 20s style – these trend wallpapers provide charm and cosiness.
Extremely good!
Wild animals from the jungle or pink birds of paradise let our imaginations run wild and are not used as wall paintings today, but as wallpaper. Eye-catching animal prints with effective surfaces ensure a real wow experience. Especially large rooms with high ceilings tolerate such animal-friendly wallpaper designs. Extravagant predator motifs with noble applications are also wonderful on just one wall.