Outdoor news: 2022 trends in outdoor furniture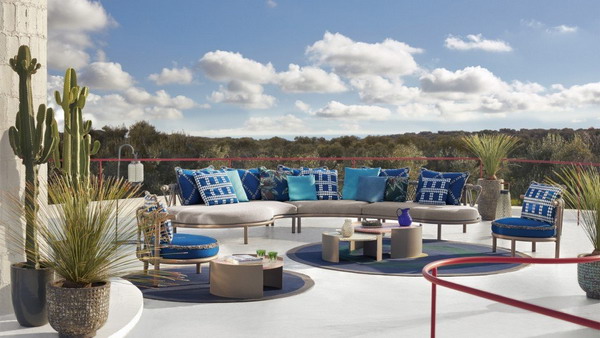 As soon as the first rays of sun begin to appear more regularly, we know that the time of year for outdoor furniture arrives. Terraces and gardens are preparing to dress up with the latest trends from the best contemporary design brands: Cassina, Kettal, Dedon, Gandía Blasco… Let's see what trends this summer 2022 has in store for us in armchairs, day-beds, tables, outdoor rugs or even a brazier.
Although we come from a somewhat anomalous year, this does not stop. Or rather, whoever stops pedaling will fall off the bike. So, without fairs but with great enthusiasm, the large companies in the sector are presenting their latest outdoor products.
Broadly speaking, organic shapes, natural fabrics and modular pieces are the most popular trends in a year where the interest of individuals and professionals for open spaces has increased notably. The gardens, patios, terraces, rooftops and balconies are now our little oasis of well-being.
Trampoline, the archipelago of Patricia Urquiola for Cassina
The organic shapes, the woven polypropylene and the nylon rope are the central axis of the new collection of Italians, designed by its artistic director. It includes a love-bed (main attraction), an armchair, a two-seater sofa and three combinable modules to create the composition that each one wants. "The out-of-scale interlacing that accompanies the back of the seat alludes to the taut strings of the trampolines, and those strings also become fringes on the cushions," explains Urquiola.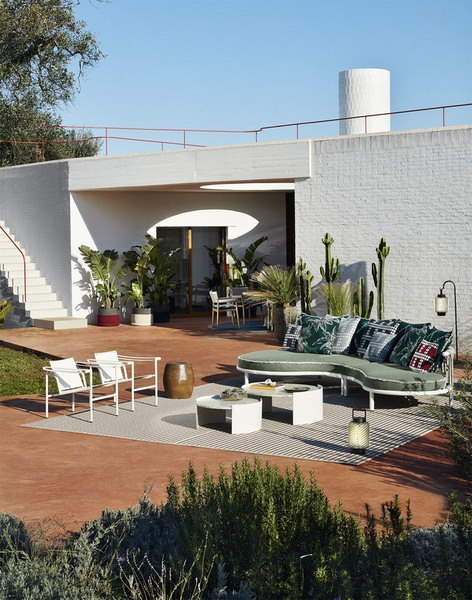 © De Pasquale + Maffini
The geometric patterns and prints also have their dose of prominence through pads of different shapes and sizes. And, as the times we live in demand, everything is made with recycled and environmentally friendly materials.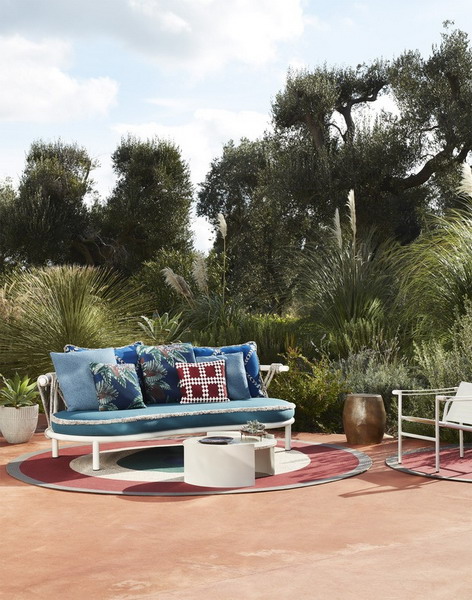 © De Pasquale + Maffini
KIDA, Stephen Burks' flying seesaw for DEDON
It is not Burks' first collection for DEDON, but it is surely the most aerodynamic. The KIDA hanging chair is as aesthetically pleasing as it is when using it. KIDA invites you to cuddle as if it were a cradle and to swing over infinity. To conceive it, Burks worked closely with DEDON's master weavers in the Philippines. From his experience there, he says that "it was magical to be in the factory and challenge everyone to find new ways of doing things".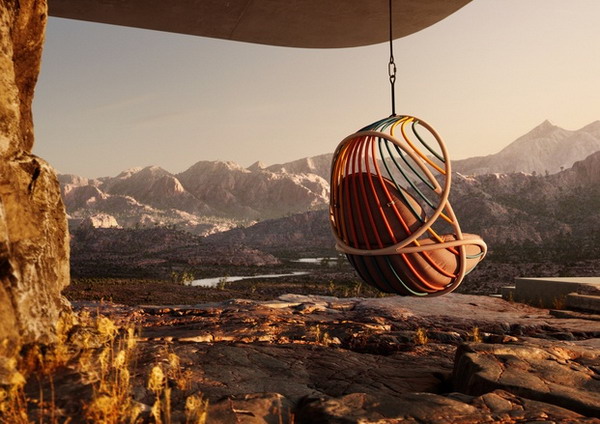 It is composed of an aluminum frame covered with fiber, which is especially soft to the touch. The cushions, both the one for the body and the small one for reclining the head, are plush.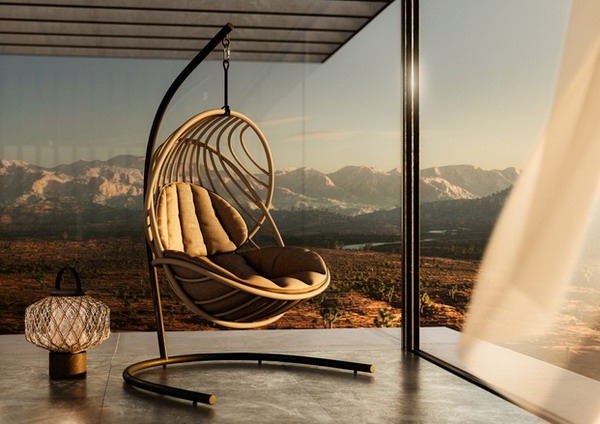 New Molo, the puzzle by Rodolfo Dordoni for Kettal
Like a puzzle, the collection is articulated and fitted together in a totally customizable way. Its orthogonal geometry is conceived as a grid that adapts to any space and situation. Each module can be disassembled and rearranged, allowing the creation of infinite configurations, even curves, with the 60º corner.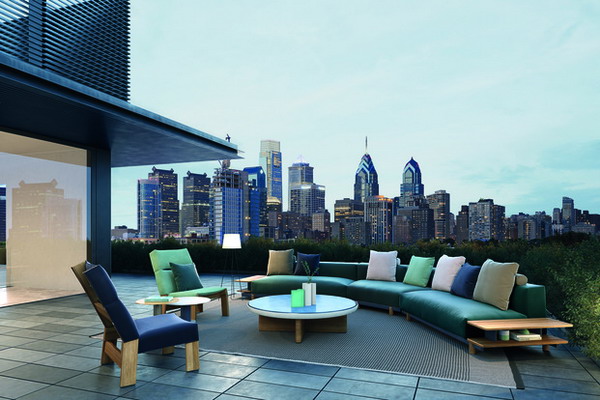 A rational design of oversized volumes with all the intention. Stripped in its entirety of decorative details, Dordoni wanted to emphasize the multitude of combinations of fabrics, colors and finishes in the collection. Among others, it includes three different leg systems (teak, concrete or aluminum), as well as new integrated side tables.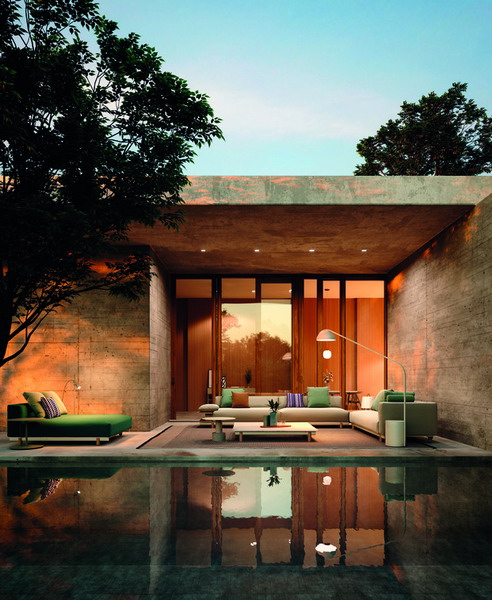 CAPA, Søren Rose's hygge philosophy for Gandía Blasco
Rose has fused the Scandinavian concept of hygge (which defines a tasty, intimate and welcoming state of mind) with the Mediterranean modus vivendi. As a result, it has created a three-piece collection (armchair, double sofa and coffee table) that stands out for its minimalism and sobriety.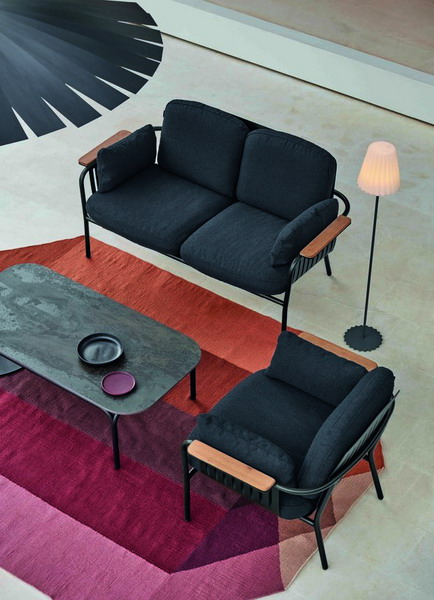 CAPA also stands out for its great resistance to inclement weather. "The environment is changing, leading to unusual weather conditions that can be a real challenge when creating outdoor parts. The elements have to be able to overcome the wear caused by these extreme climatic situations ", explains the Danish designer.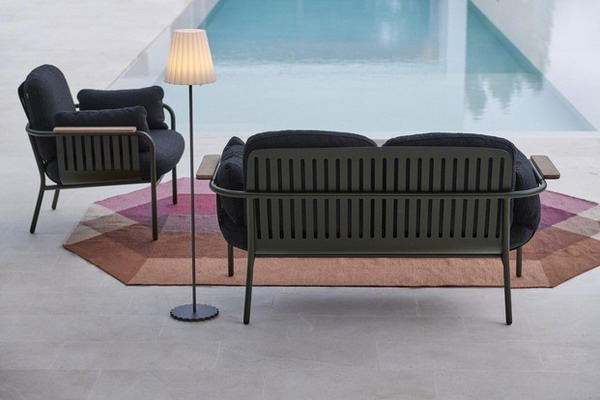 Vineyard, Ramón Esteve's house for Vondom
Like a small retreat with a classic gabled roof, Vondom's new day-bed is the perfect place to enjoy a sunset. The structure is made of aluminum and the interior, double and reclining mattress increases your comfort.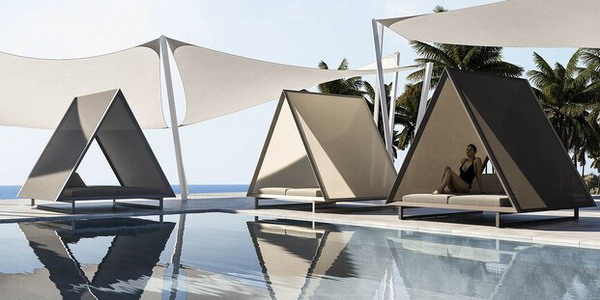 It is available in two versions: with the Sunvision fabric roof or with braided rope on a stainless structure.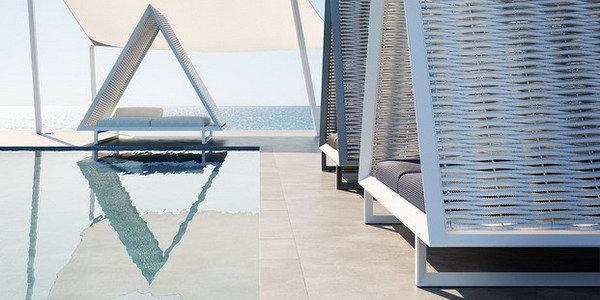 ARP, metal harps by Made Studio for Diabla
A tubular structure in textured thermo-lacquered aluminum is the starting point of this light and colorful Diabla collection, very much in line with its youthful style. Its authors, Borja García and Laura Ros from Made Studio, say that «the general concept lies in the proliferation of the use of metal in England in the 19th century, when the Crystal Palace was positioned as the maximum exponent of the structural and compositional possibilities of this material. This gives rise to the characteristic motif of the collection on all its backs, a geometric succession built on vertical aluminum lines that reminds us of harp strings. "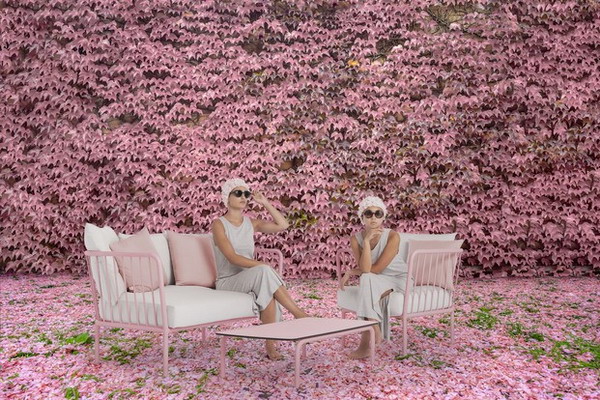 This is how this set of armchair, two-seater sofa, cushions and two tables of various sizes has become a totally contemporary collection, as well as chameleon. Its multiple configurations and the variety of colors make it fit everywhere, at any time of the year.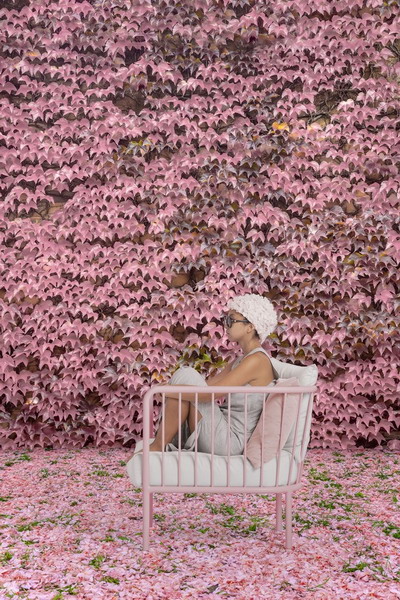 Three, from nanimarquina. In and Out.
Launched in 2016, the Tres rugs collection designed by Nani Marquina and Elisa Padrón quickly became the new best seller for the Barcelona brand. Its success responded to a timeless design, at the same time contemporary, at an affordable price that did not affect the usual quality standard.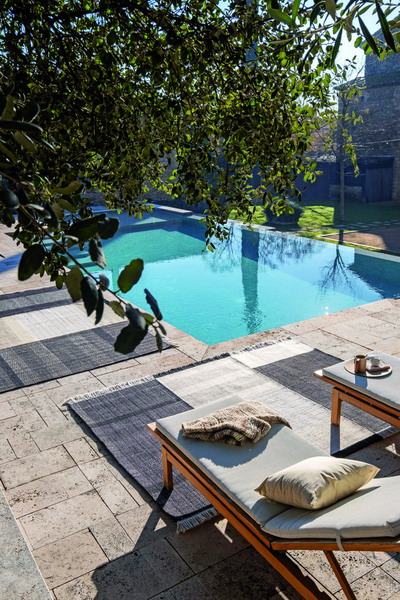 © Albert Font
Today the brand launches an exterior version of the original model, made with 100% recycled PET fiber. As always, craftsmanship is present in his production technique, in this case, Dhurrie.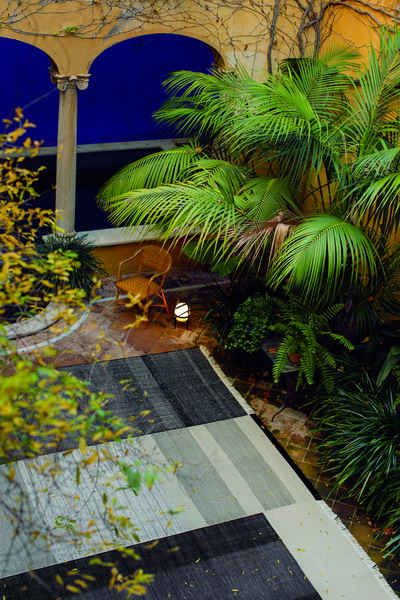 © Jara Varela
Bubble, a brazier in the garden by Christophe Ploye for Focus
Fireplace in the garden? Yes. And brazier too. Focus, the benchmark brand in contemporary design fireplaces, this year incorporates a family of barbecues and braziers to its outdoor range (which already has seven models of fireplaces available). It's called Bubble and it's portable thanks to its two rear wheels. In addition, it is easily disassembled for cleaning and maintenance. Its matte black finish includes an anti-corrosion coating that guarantees its resistance to any inclement weather.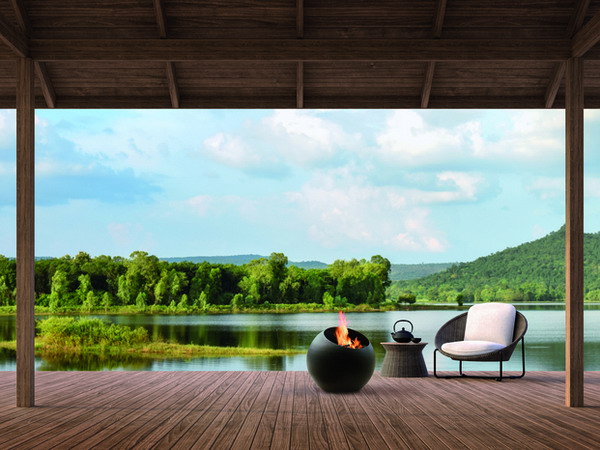 Christophe Pillet for Point
The Alicante company, 2020 National Design Award, faces the summer season with three new collections by Frenchman Christophe Pillet. Among them, City stands out, a tribute to Mediterranean culture. Composed of three pieces (armchair, double sofa and another triple), it combines a powder-coated aluminum structure with teak wood arms. The best? Its fluffy cushions.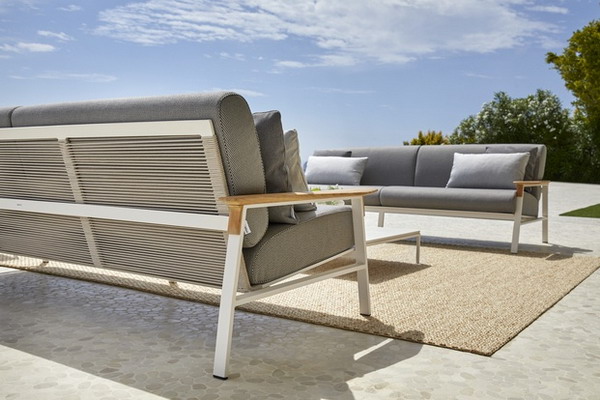 «With this collection I try to describe, in a contemporary way, a Mediterranean art of living, which has nothing to do with time. It is a universe where the sun and the earth come together ", explains Pillet.