The Best Home Interior Design Trends 2022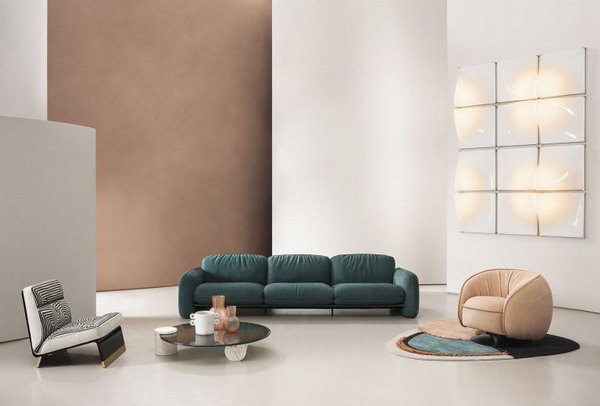 The upcoming year 2022 is just around the corner, and new trends in interior design are already emerging. With environmental protection becoming one of the most important topics these days, Fall 2022 will largely see the return of vintage interior designers looking now for older furniture and recycled materials to create more sustainable and sustainable designs….
From the growing importance of sustainable materials to elegant elements and a celebration of individuality and uniqueness. Every year introduces us to new styles and trends. This year is the time for the 2022 interior trends. Let's take a look at several options for colors, shades and elements for the interior of your home and choose what you like. I will share some of the most interesting news! Try freshening up your home a year in advance with these trends 🙂
Arts and crafts
The new trend includes the iconic 19th century movement born of the Industrial Revolution. The movement was aimed at reforming the way things are made and eliminating the devastating effects of machine-made production by adding value to decorative handicrafts. The revival of arts and crafts is a trend that has been gaining momentum lately. People appreciate the handicraft and decorative styles embodied in this trend.
The handmade trend is reflected in the tableware. Therefore, at the heart of the 2022 decorating trends we see handcrafted ceramics, as well as ceramics, in particular for decorating your tables and decorating your drinks.
Scandinavian style is reborn, now we mix it with elements of industrial decor. 2022 is also focused on the Japandi style (a hybrid decorating trend between Japanese and Scandinavian styles).
Vintage
Antique, recycled, recycled and retro items all have their place in vintage style. The key to this approach is to provide a lot of contrast. Gradually build your scheme in a vintage style. This is the kind of image that needs to be layered, so over time, choose things that mean something to you. Add a few luxurious touches such as furnishings, luxurious fabrics and dramatic lighting to create a modern touch.
Color palette in the interior
Dulux first announces its colors of the year, as you might have guessed, it's all built on a natural, earthy color palette. Saturated with warm hues and greens, deep reds and light browns, they are soothing, with a sense of hospitality, which is exactly what we need in 2022.
Calm, natural hues, we see a trend towards organic traditionalism, which is even bolder with a superbly rich Sherwin-Williams navy blue and a classic Pantone blue. In fact, all of the 2022 color trends outlined by Dulux have a warm, solid foundation to build on, and their palettes showcase exciting new ways to rethink and play with your spaces. Dulux Color Trends 2022 is by no means an exhaustive list, but these palettes are always an exciting starting point and window into the minds of flower growers looking to apply their choices to a range of real-world realizations.
Color palette: Trust Colors
Trust is a calm yet assertive palette.
Color palette: expressive colors
With an expressive palette, Dulux refutes accusations of "muted" tones 🙂 Hot pinks and coral blend surprisingly well with the earthy color of the year, bringing a natural warmth and warmth to your surroundings.
Color palette: earth colors
Earth, arguably our favorite palette, is also most closely related to the color of the year 2020 with its gorgeous cool greens and blues. It's nice to see shades of blue here that are terribly close to another color of the year: the sea.
Color palette: timeless colors
Last but not least, Timeless has a unique take on sepia, honey and gold hues that are not only timeless in their style, but also bring comfort of memories, warmth and tones of sunrise and sunset.
And of course PANTONE colors
Synergy: a palette of calm and caring shades! Color and design trends for 2022 home furnishings lead us into an era of technological and social transformation.  Calming and meditative, this is a soothing and pleasant palette that expresses color collaboration. A deep green, botanical garden serves as the backdrop for lovely mauve and mauve, while Captain's Blue and watery Harbor Blue solidify the palette. Gem green and misty water lift our spirits, while Filmy, a subtle shimmering silvery pink, adds a sheer glow that is subtly striking, encouraging us to explore the boundaries of our imaginations.
The crystallized and satin surfaces featured in the PANTONE Metallic Shimmers palette will continue to play a decisive role in home interiors in 2022. Metallic surfaces, be it focal point or accent, fill with dramatic light, shimmering radiance and contemporary glamor.
Influence of nature
A trend inspired by natural shades and warm natural textures, it pairs perfectly with wood and rattan home accessories. This daring safari experience is inspired by wildlife and the African plains. Influence of nature, as the key trend of the season, both in the interior and in fashion. Now that warm tones are often preferred over cooler grays, this is a key trend in interior design that can be easily transferred into the home. Eco-style, Wabi-Sabi style is trending in 2022!
Eco-style design is natural, eco-friendly materials that we use in the design and decoration of the interior using materials: wood, glass, tiles, clay, stone. They are aimed at improving air quality and reducing environmental impact during use and disposal.  You can make your home interior environmentally friendly!
Eco-style in the interior allows you to touch nature, has a beneficial effect on humans and create a cozy atmosphere at home! In my article I tell you about the features in the design and decor of the eco-style interior and you will see delightful examples of interiors and decor!
The screen is also in friction of 2022, this element in the interior, allowing you to rethink the space without performing complex actions.
Wabi comes from "wabiruba" which means thirst, loneliness and desolation. The word sabi means the fleetingness and nostalgic feeling that accompanies it. Both words together Wabi-Sabi (in this context) mean: a view of the world based on the acceptance of the beauty of transience and imperfection. Now we will talk with you about the philosophy of style, features in the interior, materials, colors, aesthetics, beauty of the Japanese style. I will also show you the variety of interiors of the living room, hallway, bedroom, study, kitchen and bathroom in the Wabi-Sabi style and decor! You can see more about style and variety of examples of interiors and decor in my article here.
This year, reuse and cycling are more relevant than ever, especially with the COVID situation that we have all experienced and are still experiencing. We had already reached a tipping point where more and more people wanted to change the way they consume food and items. We looked at design in a different way, with a focus on reuse and repurposing of furniture and accessories.
Bright floral elements
As we strive for a tropical getaway, interiors inspired by distant shores offer tranquil and relaxing living spaces to make the home a safe and inviting place to recharge. A trend that adds a modern touch to classic floral designs, featuring vibrant colors and different shades. Geometric elements in decoration and decoration are also relevant.
Comfortable furniture
For some time now, there has been a shift in what customers are looking for – more comfortable seats with deeper cushions and more curved overall – places to lie down and sit down. Comfort, surroundings and creating your own world are key themes.
We play with materials such as faux fur, velvet, linen and other natural materials to make the living room very cozy and comfortable!
Curved armchairs and sofas were already trending, and in 2022 this style will take up more space in our interiors.
Blue is just as relevant
2022 Interior Design Trends In Blue That Creates A Calm, Modern Look. The Color of the Year 2022 reflects this hue towards calm yet contemporary interiors with a color known for its association with peace, tranquility and comfort. Ocean blue is the key color trend of the year. The blue color ranges from deep ink tones to soft aqua – the perfect color for a relaxed home.
Shabby chic
This timeless trend epitomizes faded elegance and an impeccable sense of luxury. To create a sense of antiquated luxury from scratch, try mixing new purchases with vintage finds on the market. Look for decorative accessories such as chandeliers and mirrors that have not been completely refurbished but have aged with their character, and choose furniture that seems to be inhabited. Chips in paintwork, faded fabrics and imperfections all add to the charm.
Technology
There are several key trends for 2022 and beyond: nature, health, sustainability, smart technology and oriental renaissance. In 2022, diversity and globalization will go hand in hand. Future technologies such as 5G will be used more and more in home design, and of course, oriental style elements will continue to be the focus of many. The trend is hybrid furniture, of course decorative, but also practical and functional. For example, a chair with a lamp, stand and hanger, or a wall lamp that also offers storage space, a smart accessory for furnishing and lighting.
Biophilia in the interior
One of the most popular interior design trends is indoor plants, which have never been so trendy. From 1970s retro-style hanging vines to lush, beautiful flowers, there is bound to be a plant to suit your style and space. Houseplants went out of style briefly in the 1990s, but we are pleased to announce that they are back – not only are they beautiful, bring brightness and color to our homes, but they also freshen the air by filtering pollutants and releasing oxygen. I have dedicated an article on the topic " Sustainability and Biophilia in the Interior", where you can see a variety of examples of interiors and decor. In practice, we are interior designers focusing on designing people-centered spaces that:
– increase access to natural light and improve artificial light sources;
– increase internal and external views on nature;
– include natural textures, shapes and colors;
– are thermally and acoustically comfortable conditions;
– provide excellent air quality – cleaning, ionization, humidification;
– built from low toxic materials and furniture.
Personal space
The furnishings, created from elements chosen with love and care, are designed for a tasteful and sustainable choice. Biophilic design, natural materials.
In 2020, living and working space merged. There is also a movement towards clean spaces, but with art and craft of organic form, creating contrast and personality. Space for large plants to thrive, sculptural lighting are also key trends.
You can create a comfortable workspace for yourself to dive into your achievement mode! Unsurprisingly, the home office will take an important place in 2022. Ideally, your productive space is where you can sit up straight, which helps your body and brain stay alert. Dress well, in clothes that will allow you to switch from a relaxed morning to a productive day. Surround yourself with the things you love and inspire! I dedicated an article to the topic  "How to organize a comfortable workspace at home"
Rattan furniture can look modern when paired with monochrome accessories or more traditional when paired with bedspreads and cushions. This style should express your personality.
RUSTIC VOGUE country fashion
Anyone who loves modern home comforts but wants to add some personal touch to their living space will love this look. It's perfect for homes that already have some interesting features like exposed beams, original floorboards or paneled walls, but they can equally be recreated with a thoughtful balance of old and new pieces that work together in harmony. Reclaimed wood is the main material that supports this look – look for unique pieces with interesting textures, not pieces with perfect finishes.
Objects of art
An emerging decorating trend, the opposite of all others! In 2022, we find ourselves wanting to express ourselves even more openly and directly. Organic shapes, interesting and harmonious colors and textures.
Mirror and chrome surfaces.
Faces appeared on dishes to replace other decorative items, so much so that there were faces everywhere… On wallpaper, wall decor items, vases. This year we can look forward to a face decorating trend that will bring character to our interiors.
Large mirrors on the floor.
Furniture for pets
Manufacturers keep up with the trend and release collections of furniture for pets.
At the end of 2020, we are looking at the world turned upside down, and we want more to places full of fresh air, greenery and beauty. Escapism at its best! After fully deciphering the decor trends that will usher in 2022, it still seems interesting to wonder about the impact of the latest trends on our lifestyles 🙂
Hope this article was helpful to you!
If you need help with interior design, I will gladly help you!
Photos are taken from the Internet.